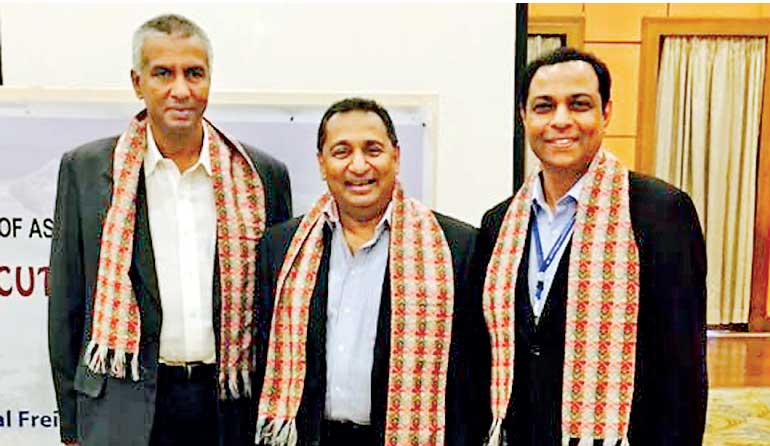 The Federation of Asia Pacific Air Cargo Association (FAPAA) held its 44th Ex Co meeting and Annual General Meeting in Kathmandu, Nepal from 26 to 28 July.

Niral Kadawatharatchie, a Past Chairman of Sri Lanka Logistics and Freight Forwarders Association was conferred the post of Chairman FAPAA, at this meeting to hold this prestigious office for a period of two years.

The Federation of Asia Pacific Air Cargo Associations (FAPAA) was formed in 1985 and has grown steadily to now include 19 countries and regions within the Asia Pacific Region, namely: Australia; Bangladesh; Brunei; China; Taiwan; Hong Kong; India; Indonesia; Japan; Korea; Macau; Malaysia; Nepal; New Zealand; Pakistan; Philippines; Singapore; Sri Lanka; Thailand.

FAPAA was created to provide a body focused on the particular needs of the members of its constituent country or region Associations and to enhance the growth and development of Air Cargo services within the Asia–Pacific. The Asia Pacific Region has the biggest cargo load and the highest growth rate in the Air Cargo industry globally.

Thus, this is a great achievement by a Lankan who has brought about many accolades to the freight forwarding industry having represented the country at numerous international forums dealing with freight forwarding and logistics.

Kadawatharatchie is the second Sri Lankan to be appointed to this coveted post as this position was held by Diren Hallock of drh Logistics Lanka Ltd., who was unanimously appointed the Chairman of FAPAA for two consecutive two year terms in 2000.

During the term under his leadership as Chairman of the Sri Lanka Logistics and Freight Forwarders Association, he brought about so many improvements and strategies to the industry including the setting up of AITT, which is the training and education arm of the association and he continues to actively support the industry in all its activities. He is also the immediate Past Chairman of Chartered Institute of Logistics and Transport, UK Sri Lanka Branch.

Being the co-founder of the Freight Links Group he has an exuberant track record in the freight and logistics Industry having started his career at the John Keells Group, the largest conglomerate in Sri Lanka.

It is with much pride that the freight forwarding fraternity congratulates Kadawatharatchie on this prestigious appointment and wishes him all success.