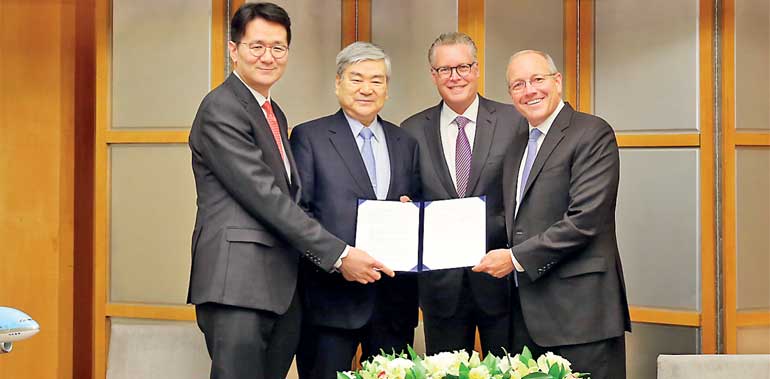 (From left) Korean Air's Walter Cho and Yang Ho Cho; and Delta Air Lines' Ed Bastian and Steve Sear
Korean Air and Delta Air Lines, founding members of SkyTeam, have signed a memorandum of understanding to implement a joint venture.

Highlights of the agreement, subject to regulatory approvals and signing of definitive contracts, include:

The intent to create a fully integrated trans-Pacific joint venture with both airlines sharing the costs and revenues on flights and coordinating schedules for seamless, convenient connections;

A combined network serving more than 290 destinations in the Americas and more than 80 in Asia, providing customers of both airlines with more travel choices than ever before; and

Enhanced frequent flyer benefits, providing customers of both airlines the ability to earn and redeem miles on Delta's Sky Miles and Korean Air's SKYPASS programs.

"This Joint Venture will benefit our customers by providing more convenient connection schedules and widen their opportunities in earning mileages," said Korean Air Chairman and CEO Yang Ho Cho. "With this agreement, we will reinforce Incheon airport's position as a major international hub in North East Asia and support the growth of Korea's aviation industry."

Upon the signing of the final joint venture agreement and subject to regulatory approval, Delta and Korean Air will work together to implement all aspects of the enhanced co-operation including expanded codesharing, frequent flyer programs and joint growth in the trans-Pacific market, with co-location at key hubs with seamless passenger and baggage transit experience. "This agreement deepens our longstanding partnership with Korean Air and will provide the global access and seamless service our customers demand," said Delta CEO Ed Bastian. "We look forward to providing customers of both carriers with industry-leading service between the US and Asia."

Delta will be launching a new nonstop service between Atlanta and Seoul in June 2017, a flight that complements Korean Air's existing service.

At the same time Korean Air will continue to expand its US – Korea network in summer 2017 with the introduction of a third return flight between Los Angeles and Seoul, as well as a second flight between San Francisco and Seoul.