First mega international conference under new regime
Senior Indian speaker delegation will be in Colombo
With the declaration of the first-ever Maritime Week in Sri Lanka by the Government from 21 to 27 September (which falls in line with the world maritime day UN observance on 24 September), the industry is now gearing for a week of activity. The Colombo International Maritime Conference (CIMC2015) will be the mega event with the participation of 30 international speakers.

The maritime sector is considered as one of the key drivers for economic development in Sri Lanka which is yet to harness its full potential according to industry sources. The country is situated strategically to the main east west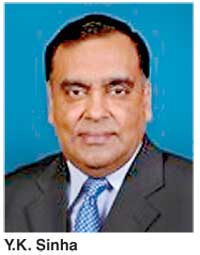 shipping routes, connecting South Asia, with the rest of the world.

It is also adjacent to the giant and promising market of India, which is showing resilience even with the global economy slowing down. Many analysts believe that the economic growth of India, which accounts for nearly 80% of the Indian subcontinent GDP, will help its neighbours to prosper as well.

Sri Lanka has the potential and is considered to be the next Singapore, or Dubai for the region, if the sector is given due focus with policy reforms.

The Colombo International Maritime Conference will be held from 24 to 26 September. Prior to the launch of the official conference, an important forum will be held on the theme of 'India-Sri Lanka Maritime Forum' on 24 September, from 4:30 p.m.-6 p.m., where a number of senior Indian speakers will attend to discuss regional policy, developments and how the two countries can corporate in development of business in one of the most important areas that is linked to global trade and security.

Since opening up the economy in 1977 and promoting containerisation by the late President J.R. Jayawardena Government led by late Minister Lalith Athulathmudali and subsequent governments investing in the sector, the country has emerged as the main transshipment hub for South Asia for the last three decades. It's now evolved to be a modern deep draught port with state of the art equipment that is capable of handling the largest ships in the world. Today out of its 4.2 million transshipment volumes close to 40% is Indian transshipment connecting to multiple ports in India.

Development of trade and transport will be important to both India and Sri Lanka, to expand economic growth and access global markets with faster connectivity. The geography of the two countries have many synergies to work closely to improve and develop, trade, logistics and distribution services linking through the major shipping lanes. No doubt India is rising, latest estimates predicts it may even be the third largest economy within the next decade.

As a result the region is expected to have fast growth in consumer markets as the middle income group is expanding which would demand more consumer goods and increase demand for raw material for manufacturing, creating greater demand for shipping and logistics services. Increased maritime co-corporation would further help strengthen Indo-Sri Lanka Free Trade Agreement as well.

High Commissioner of India in Sri Lanka Y.K. Sinha will inaugurate this pre conference forum as the Chief Guest. Senior Indian speaker delegation will be in Colombo for the forum and the CIMC conference. The forum will be followed by the World Maritime Day declaration/commemoration in Colombo on the evening of 24 September.

Details of the Colombo International Maritime Conference can be found on www.cimc2015.com or on hotline 0773820703 for local registration.