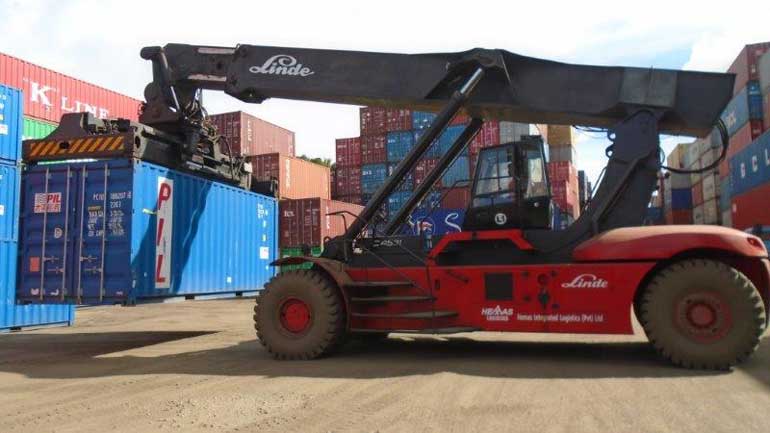 45 ton Hemas reach stacker operating at the Hemas laden container terminal in Welisara
Hemas Logistics, a premier integrated logistics solutions provider, unveiled its second 45 ton top lift container handler to the laden container terminal fleet recently at an event which was held at the Hemas Container terminal in Welisara. The event was graced by almost 200 delegates from local and multinational corporations and public sector officials.

Laden container terminal is a unique service offered by a very few inland container depot (ICD) operators in Sri Lanka. The capital intensive nature and the right mix of capability in terms of maintenance, engineering and marketing and sales have precluded most depot operators from investing in such equipment.

Laden container terminals are used as bulk storage yards of imported raw materials in full container loads bound for manufacturing or interim storage of export bound containers pending vessel opening or bulk storage of commodities to endure market price fluctuations including food commodity containers that require plug-in facilities, for which Hemas Logistics offer 50 plug points with 24 hour backup generator and monitoring capability.

The flagship logistics solutions provider, Hemas Logistics, reinforces its commitment and assurance to its clients by adding the second handler to its unique portfolio of solutions, thereby ensuring the continuity of operations which is of paramount importance for uninterrupted production lines and to meet tight export schedules.

Hemas Transportation sector Managing Director Kasturi Wilson, who believes in partnerships for growth, whilst thanking the customers said, "We are committed to expand our integrated portfolio of logistics solutions, as we believe in giving the best to our customers. Having well experienced logistics experts in our team coupled with the infrastructure empowers us to deliver the best solutions for our customers."

Hemas Transportation sector Chairman Imtiaz Esufally addressing the gathering said, "We thank our clients and business partners for their continuous support. Hemas Holdings is committed to delivering value in the logistics business with highly personalised services of unmatched quality. Meanwhile, I must thank our senior management team and the staff for their customer centric business approach that drives growth and leads to competitive advantage for the benefit of Hemas and our clients."

The event concluded with a live demonstration of the container handler by a team of experienced and well trained operators. The precision guided new laden container handler consists of a comprehensive safety mechanism including high altitude cameras, reach stacking, and load sharing and sensing capability. Finally to the surprise of the audience a 360 degree rotating of the spreaders with over 30 tons of loaded container emerged as a key highlight of the event as a first of its kind in Sri Lanka.

Hemas Logistics offers an end-to-end logistics service, with a complete portfolio of services including container haulage, container yard operations, customs brokerage, container depot management services, automotive logistics, project logistics solutions and warehousing and distribution.

The Hemas Group is one of the leading conglomerates in Sri Lanka with a focus on four key sectors, namely Fast Moving Consumer Goods, Healthcare, Transportation and Leisure.