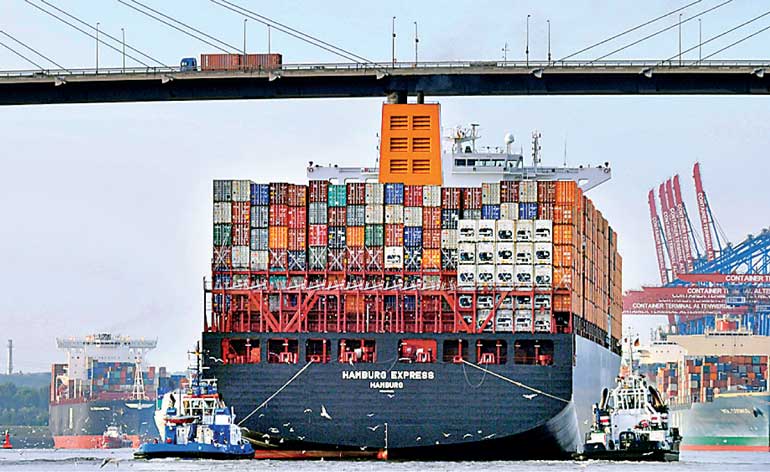 Towboats tow the container ship 'Hamburg Express' of Hapag-Lloyd – REUTERS
Reuters: German container shipping firm Hapag-Lloyd has formed a new alliance with five Asian competitors, it said on Friday, the latest step in an industry reorganisation that is divvying up the global business into partnerships to save costs.

The alliance – dubbed THE Alliance – will join Hamburg-based Hapag-Lloyd with Japan's Nippon Yusen Kaisha (NYK), Kawasaki Kisen Kaisha ("K"-Line) and Mitsui OSK Line (MOL), South Korea's Hanjin Shipping and Taiwan's Yang Ming Marine Transport.

The new group includes most of the companies left out of two previously-announced alliances: M2, started in early 2015 by Maersk and privately owned MSC, and Ocean Alliance, made up of France's CMA CGM, newly merged China Cosco Shipping, Evergreen and OOCL (double O) , and possibly Singaporean Neptune Orient Lines (NOL).

Shipping alliances involve sharing vessels and routes to save costs, and sharing assets and costs to allow better port coverages, sailing frequencies and onshore co-ordination of services.

"This agreement is a milestone and will enable the six partners of the Alliance to offer sailing frequencies and direct coverage in the market," the group said in a statement.

Asked about the Hapag-Lloyd announcement, Maersk Chief Commercial Officer Vincent Clerc said consolidation made sense.

Hapag-Lloyd said THE Alliance is due to begin operating in April 2017, which is also the start date for the Ocean Alliance, and will last for an initial five-year period.

The company did not give details of the anticipated cost savings or of how power would be shared within the group.

It said members of the new group together account for 3.5 million twenty foot equivalent units (TEU) and more than 620 ships in all East-West trade lanes.

Hapag-Lloyd is in talks to merge with the United Arab Shipping Company (UASC), which if realised would raise the new alliance's capacity to more than 4 million TEU.