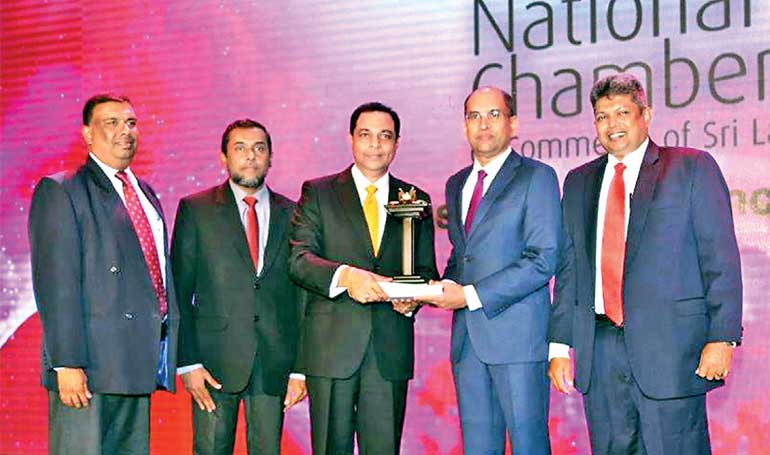 EFL Sri Lanka CEO and Director Jagath Pathirana accepting the Gold award for the Logistics and Transport sector at the National Business Excellence Awards
Following a landmark year of initiatives and milestones, Expolanka Freight Ltd. received the honour for excellence in the Logistics and Transport sector at the National Business Excellence Awards 2016. The National Business Excellence Awards committee found Expolanka to be a top performer in the categories of contribution to leadership, corporate governance, capacity building, CSR, environmental sustainability and performance management. EFL marked several major milestones during the year, including going live on the GT Nexus platform bringing enhanced visibility and collaborative opportunities to the supply chain. The company also opened a solar power unit at the EFL Campus in Orugodawatta to deliver on a sustained commitment to renewable energy, with the unit generating around 78,000 kilowatt hours of energy per month.

In adjudicating, the awards committee evaluated the company's financials for the year in comparison to its previous and found robust top-line growth. The company also announced a marked growth in operational profitability during the year, fuelled by good performance in regional financial markets. During the second quarter, air and ocean freight volumes recorded double digit growth with the group's core markets in Bangladesh, India and Sri Lanka performing very well.

"At EFL we try to look beyond the numbers," noted EFL Sri Lanka Managing Director Saif Yusoof. "Our performance over the last year is definitive proof of this. We have reaffirmed a commitment to sustainable growth and delivered required solutions to our customers while also strengthening our supply chains."

He also added, "It's an honour to be recognised for the work we do, and I would like to thank my team for their continued efforts and dedication."

The National Business Excellence Awards are conducted by the National Chamber of Commerce of Sri Lanka to recognize business enterprises that have demonstrated excellence in business while also contributing to the country's economic progress. The Chief Guest for this year's award ceremony was Central Bank Governor Dr. Indrajit Coomaraswamy. EFL (Expo Freight) is a leading provider of supply chain solutions across 18 countries and over 55 cities. Founded in 1982, EFL is part of the logistics sector of Expolanka Holdings Plc, is ranked among the top five forwarders in the Indian subcontinent and recognised for expertise in fashion logistics.