Reuters: The families of 12 passengers aboard missing Malaysia Airlines flight MH370 filed suits against the carrier on Friday (4 March), in a frantic rush to pursue claims before a two-year deadline for legal action expires.

Under the Montreal Convention, any court action to claim damages from an airline must be made within two years from the date the aircraft arrived or should have arrived. MH370 disappeared on its way to Beijing on 8 March 2014, with 239 passengers and crew aboard.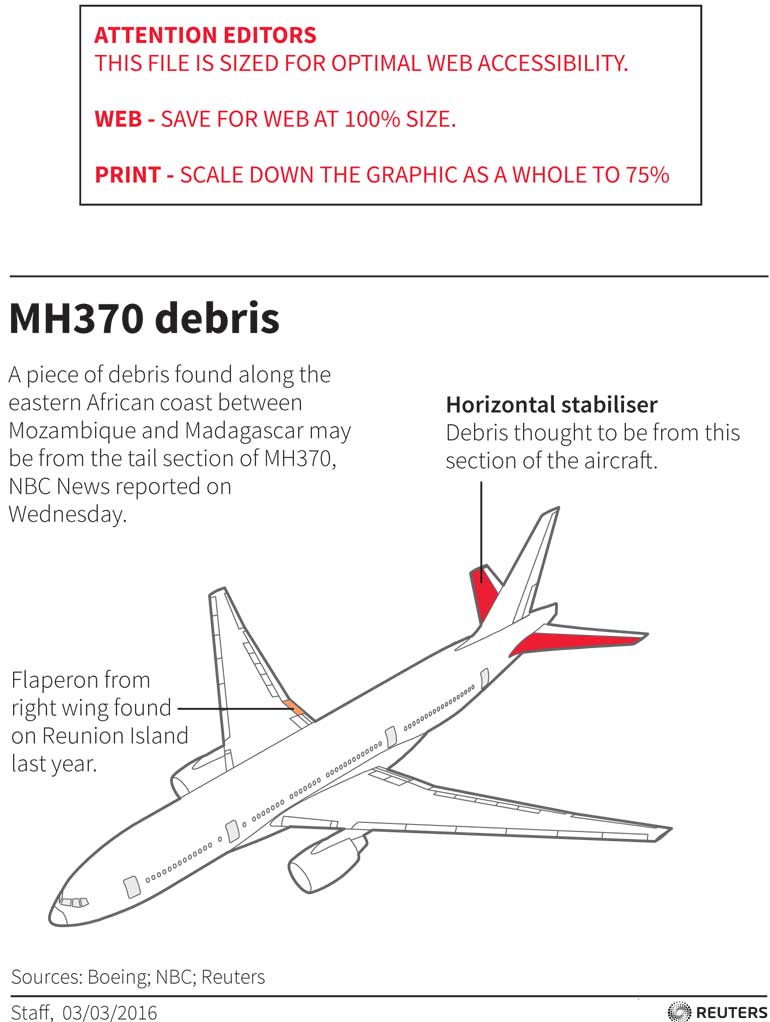 Australia to test debris found two years after Malaysian jet disappeared
Reuters: A piece of debris found off the southeast African coast that could be from a missing Malaysia Airlines flight is being sent to Australia for testing, officials said, two years after the plane carrying 239 people disappeared.

A white, metre-long chunk of metal was found off the coast of Mozambique earlier this week by a U.S. adventurer who has been carrying out an independent search for Malaysia Airlines flight MH370.

"They found a piece. It was found by Mozambican fisherman, and the American tourist that was there identified it as an airplane piece. This piece that is here in front of us, is ninety centimetres long and about fifty seven centimetres wide. Apparently it is an airplane piece but it's very difficult for any accident investigator to affirm to what type of aircraft this piece is from. This is the piece that we received. The only indication that we have is that it says "No step" and we know that it is a material used in aviation," Head of Mozambique's Civil Aviation Institute, Joao Abreu said.

The debris will be tested by officials in Australia, with help from Malaysian authorities and representatives of manufacturer Boeing Co.

Flight MH370 disappeared on 8 March 2014, with 239 passengers and crew on board shortly after taking off from Kuala Lumpur bound for Beijing. It is believed to have crashed in the Indian Ocean and an initial search of a 60,000 sq km (23,000 sq miles) area of sea floor has been extended to another 60,000 sq km.
Four family members each of two Ukrainian passengers, Oleg Volodymyrovych Chustrak and Sergii Grygorovych Deneika, filed suits in the Malaysian High Court against Malaysia Airlines Systems (MAS) for negligence.

"We have filed 10 more today, this morning. Eight are Malaysians, one is a Russian national and one is a Chinese national, passengers, these are the passengers. The defendants, we've cited the same defendant in this suit this morning. Five defendants, MAS, MAB (Malaysia Airlines Berhad), Ketua Pandaran Jabatan, DCA (Department of Civil Aviation), The Royal Malaysia Air Force and the government of Malaysia," said Sangeet Kaur Deo.

Sangeet, the lawyer who is representing Russian, Chinese and Malaysian families, said the families were seeking unspecified damages for negligence, breach of contract and breach of statutory duty.

The High Court on Friday also heard a bid by the Malaysian government and Malaysia Airlines Berhad (MAB) to strike out a suit filed by two teenage children of Tan Ah Meng and Chuang Hsiu Ling, who were aboard flight MH370 with their eldest child, Tan Wei Chew.

In their striking out application, the government and MAB said the suit did not disclose reasonable cause of action and that it was 'frivolous, vexatious and an abuse of the court process'.

MAB also argued that it has no liability on MH370 as it was set up eight months after the plane disappeared.

The case is expected to be of interest to families concerned about the status of MAS, which has since seen its assets and operations transferred to MAB under a restructuring exercise.

In particular, the families are worried that by not naming MAB as a defendant, they would not be able to receive any damages or compensation from MAS even if they won the suit as MAS would not have any assets left to pay after the restructuring process is completed.

Sangeet, who is also representing the Tan family, declined to elaborate on specifics due to the pending case but acknowledged that the status of MAS was still in question.

"Except to say that the act is there, it transfers certain liabilities to MAB. I think a lot of people are concerned about the position and standing of MAS today and really how your suit going to fair if it's only against a company which is currently in administration. Whether they are going to get anything at the end if you are suing a company that you know really is a shell at the moment," she told reporters during a break at the hearing.