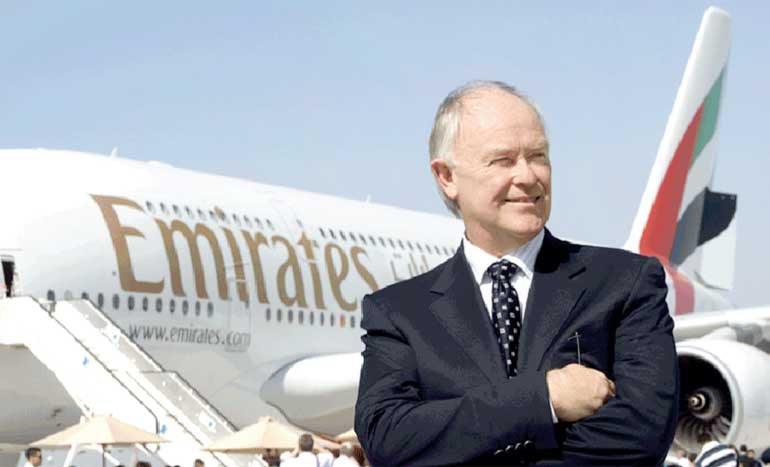 Chairman says 'sensible' not to add flights for now
Demand on some US routes holds, weakens on others
Emirates set goal in 2013 to double US network
DUBAI (Reuters): Emirates signalled last week that its US expansion plans were on hold until demand recovers from a slowdown that the airline has blamed on President Donald Trump's travel restrictions.

The Dubai-based carrier announced last week it would reduce flights to five US cities from May following a "significant deterioration" in demand.

Passenger demand was "holding" on flights to other US cities served by the airline, Emirates Chairman Sheikh Ahmed bin Saeed al-Maktoum said on Tuesday.

Asked how the weaker demand and restrictions could affect Emirates' US expansion plans, Sheikh Ahmed said it would be "sensible" not to add flights "until you see an improvement."

Emirates said in 2013 it would double its US network to 15 cities by 2018. It now has 12 US routes.

The airline will reduce frequencies from next month to Fort Lauderdale, Orlando, Seattle, Boston, and Los Angeles. Other destinations such as New York, Houston and Chicago are not affected.

The US administration's attempts to ban refugees and citizens of some Muslim-majority countries from travelling to the United States, ultimately blocked by US federal judges, prompted many people not to travel, Sheikh Ahmed told reporters in Dubai.

A ban remains on laptops and other large electronic devices from passenger cabins on direct flights to the United States from eight Muslim-majority countries, including the United Arab Emirates.

The measures were taken zbased on intelligence suggesting flights could be targeted for attack.

"We are putting a lot of pressure on the US to take a slightly different view," Dubai airport Chief Executive Paul Griffiths told Reuters after North American passenger traffic fell 4.3 percent in March.

Britain and Australia have asked for extra security checks on flights from the UAE but have not banned electronics devices from the cabin.

Emirates could also eventually add more "fifth freedom" flights to the United States, services which have irked some US airlines critical of the Dubai-based airline's growth, Sheikh Ahmed said, though he said there were no immediate plans.

"Fifth freedom" flights are ones where an airline from one country operates between two different countries. Emirates operates two of these flights, between Milan and New York and between Athens and Newark.

Emirates will soon release its financial results for the year ending March 31, which will show an annual profit despite a "tough year" where stiff competition drove down fares, he said.

The airline reported a 75 percent half-year profit drop in November.