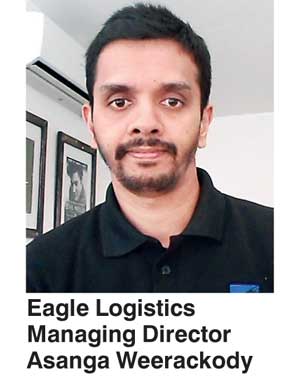 Supply chain logistics company Eagle Logistics has assembled a comprehensive portfolio of supply chain solutions to its customers in Sri Lanka including shipping desk solutions and visibility system to manage its customers orders from the time its placed to the time its arrive the warehouse.

Eagle Logistics Colombo Managing Director Asanga Weerackody said, "Sri Lankan logistics industry stands still with regards to global supply chain changes as most of the freight forwarding companies still act on the traditional freight services such as air freight, sea freight, customs brokerage, etc. This could be one reason why we still have a big CIF import market share as customers have no confidence in the logistics industry to change terms in to FOB. It is evident 90% of Sri Lankan exports are on FOB basis where buyers use their own logistics companies' reason being that those companies offer them not just freight but many other supply chain solutions such as warehousing, distribution, inventory control, etc.

"So we Eagle Logistics started looking at these changes five years ago offering customers with product name shipping desk solutions where customers use us not just for freight and also for total operations from the time making a PO to the time it reaches their warehouse. Customers have given us a very positive response on this during these years and we have expanded same in to many organisations now in Sri Lanka."

Further Weerackody said, "Doing traditional freight forwarding for over 300 customers during last 11 years, we understood that many medium size of trading companies do spend a lot of money on their international import shipping due to lack of knowledge in the total process. So we have organised many public events for these companies to know the importance of supply chain management and also we have a team to consult these operations and give solutions to reduce time and cost."

Eagle Logistics has over 130 staff with seven offices in Sri Lanka and recently started a branch office in the island of Maldives.