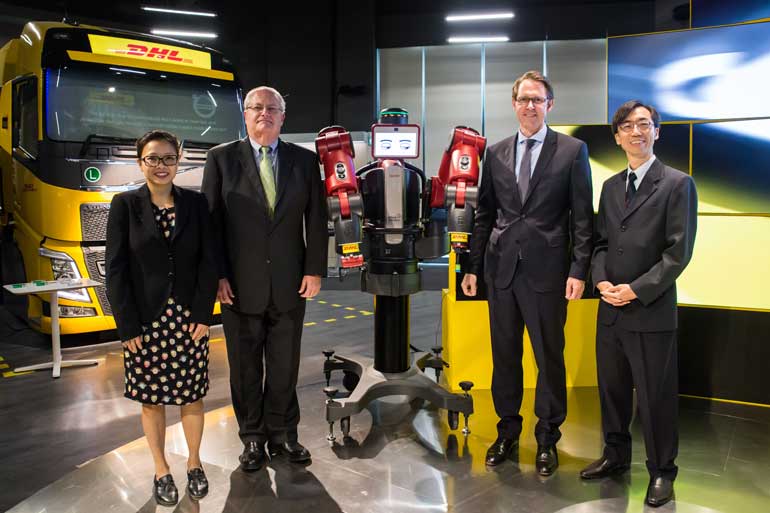 Automation and robotics take centre stage at DHL Asia Pacific Innovation Centre
New Innovation Centre to spearhead development of future logistics and supply chain solutions, leveraging self-driving vehicles, robotics, internet of things and augmented reality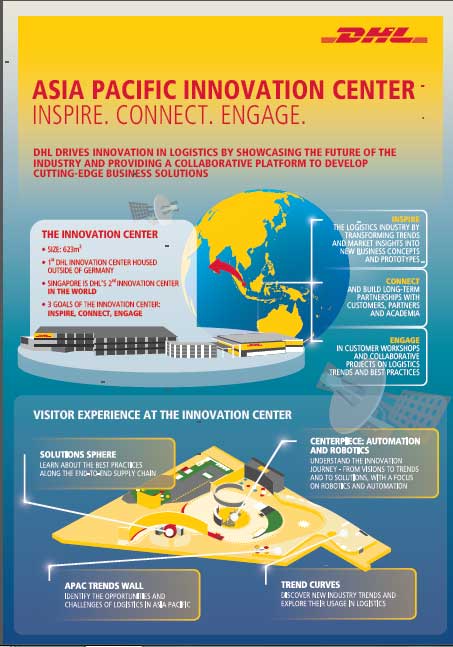 Serves as regional platform for collaborative innovation with customers, industry partners and independent experts

Multi-million dollar centre is first of its kind in Asia Pacific, and DHL's first innovation centre outside of Germany

DHL, the world's leading logistics provider, recently launched its Asia Pacific Innovation Centre (APIC) in Singapore, to offer a visionary view of the logistics world, and develop innovative solutions to meet evolving supply chain needs. The multi-million dollar facility is DHL's first innovation centre outside of Germany, and the first dedicated centre for innovative logistics services in the Asia Pacific region. The centre is located within the €104-million DHL Supply Chain Advanced Regional Centre (ARC) building at Singapore's Tampines Logis Park.

DHL Chief Commercial Officer Bill Meahl said: "With our emerging markets expected to generate 30% of DHL's global revenue by 2020, our sustained industry leadership demands that we successfully differentiate our services in these markets through well-calculated forays into new technologies, processes, and products. The launch of the APIC is a natural step to maintain our lead as a front-runner in innovation, following the success of our first centre in Germany."

The APIC showcases futuristic technologies that will transform logistics operations within the region. These include augmented reality 'smart glasses' for warehouse assembly-lines and product picking; drones for delivery of time-critical goods like medicines; Maintenance on Demand (MoDe) vehicles that use machine-to-machine (M2M) sensors to boost vehicle uptime by 30%; and driverless shuttles for faster, more efficient transportation.

Besides showcasing the latest in logistics trends and innovative solutions, APIC serves as a regional platform for collaborative innovation between DHL, customers, industry partners, and independent experts. The centre will drive DHL's Trend Research initiatives focusing on emerging trends in Asian logistics and economic activity.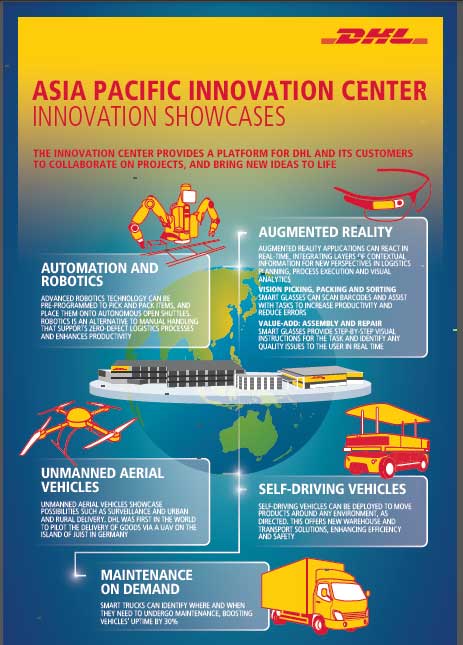 EDB Director, Logistics and Natural Resources Lee Eng Keat said, "The launch of the APIC is another important step towards enhancing Singapore's value-adding role in the realm of global supply chain solutions. With DHL as a strategic partner on this journey, all DHL offices in South Asia are well positioned to serve the needs and harness the opportunities presented by the dynamic supply chain landscape, emerging technology and global trends."

APIC currently offers a selection of services ranging from guided innovation centre tours, to innovation workshops, events and forums. APIC's exhibits include state-of-the-art centrepiece showcasing the trend of automation and robotics in the future of working; Solution Sphere, where visitors can experience the full range of Deutsche Post DHL Group capabilities and solutions such as parcel lockers, sensor technology and warehouse pick and pack using voice and lighting technologies; Trend Curve, which highlights future trends and their applications for the logistics industry; and Vision Wall, which enables visitors to discover inspirational scenarios on what the world of logistics might look like in the year 2050.

DHL Vice President, Innovation, Solution Delivery and Service Management, Asia Pacific Pang Mei Yee said, "APIC is an integral part of our ambition to be at the forefront of innovation in logistics. The centre in Singapore will serve the needs of the Asian market, and enhance the delivery of our customer promise to provide sustainable solutions that simplify their lives. Besides providing a platform for research, experimentation and exchange of best practices, we hope to yield many customer-centric innovations that will add to our customers' success."

The Singapore centre is modelled after DHL's first innovation centre in Germany, which has been highly successful and re-launched with a brand new look earlier this year. Besides providing a second customer-centric innovation platform that caters to the Asian market, APIC will also invest in capabilities in analytics, e-commerce and last mile solutions for Asia Pacific markets.