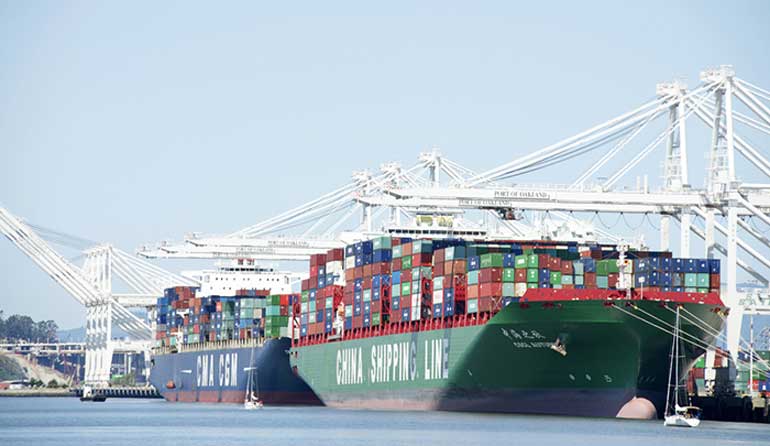 Reuters - China COSCO Shipping and France's CMA CGM sought to reinforce their growing global scale in the container line market last week in a partnership that targets savings on crucial Asia routes during a severe shipping downturn.

Set to be larger in capacity than a rival grouping of Maersk Line and Mediterranean Shipping Co, their "Ocean Alliance" will bring together COSCO Container Lines, CMA CGM, Taiwan's Evergreen Line and Hong Kong-based Orient Overseas Container Line.

An industry shake-up had been expected after the creation of China COSCO Shipping through a state-led merger and following CMA CGM's deal to acquire Singapore's Neptune Orient Lines (NOL) <NEPS.SI.

"All of us had the same wish to create a new alliance after our current alliances expired," COSCO Container Lines' deputy managing director, Zhu Jiandong, told reporters in Shanghai.

Container shipping has seen alliances develop as the industry struggles to recover from a slump in freight rates linked to a glut of ships and slowing Chinese economic growth. Such alliances involve lines sharing certain vessels and routes.

"I can see a lot of changes among the shipping alliances as liner companies regroup and position themselves, but at the same time regulators will be watching closely," said John Lu, chairman of the Singapore National Shippers' Council.

Set to begin in April 2017 following regulatory approval, the Ocean Alliance will run for five years and involve a fleet of 350 container ships with an estimated capacity of 3.5 million twenty-foot equivalent units (TEU), he said.

This would make the new partnership bigger in capacity than Maersk Line and MSC's rival 10-year vessel sharing agreement which has a fleet of 185 ships and capacity of 2.1 million TEU.

CMA CGM said the alliance would offer "the largest number of sailings and port rotations connecting markets in Asia, Europe and the United States."

In a first stage, the operations would offer more than 40 services, it said. Neither COSCO nor CMA CGM gave estimates on potential savings.

CMA CGM is currently part of the "Ocean Three" alliance with China Shipping Group and United Arab Shipping Co, a deal that expires at the end of this year.

As it seeks approval from European Union regulators for its $2.4 billion takeover of NOL, CMA CGM had offered to withdraw NOL from competing alliances, people familiar with the matter said this month. CMA CGM declined to comment.

CMA CGM is the world's third-biggest container line and the NOL takeover would narrow the gap with market leader Maersk and number two line MSC.

China COSCO Shipping Corporation was created from China Ocean Shipping (Group) Company's (COSCO) merger with China Shipping Group.

COSCO is currently part of the CKYHE container alliance that includes Evergreen and which also expires at the end of 2016.
Hanjin Shipping to seek bank-debt restructuring
Reuters: South Korea's Hanjin Shipping Co. Ltd. will ask creditor banks to restructure its debt, the country's largest shipper by assets said, in an attempt to weather a squeeze in margins from a severe industry downturn.

Hanjin, whose chairman Cho Yang-ho also controls flag carrier Korean Air Lines Co. Ltd., had debt of 5.6 trillion won ($ 4.9 billion) and a debt-to-equity ratio of nearly 850% as at the end of 2015, according to the company.

While major global shippers have undertaken merger deals and entered new alliances recently to survive the downturn, Hanjin and Korea's No. 2 shipper Hyundai Merchant Marine Co. Ltd., which is also under voluntary debt restructuring, haven't taken that route yet.

The current shipping alliance that Hanjin is part of, called CKYHE, expires at end-2016 and has seen two high-volume members commit to a new partnership earlier last week.

Recent high-profile mergers and acquisitions in shipping include the creation of China COSCO Shipping through a state-led merger, and CMA CGM's deal to acquire Singapore's Neptune Orient Lines (NOL).
EU regulators to clear $ 2.4 b container shipping deal
Reuters: French shipping group CMA CGM's $ 2.4 billion takeover of Neptune Orient Lines is set to be cleared by the European Union's competition regulators, on condition that NOL pulls out from a rival shipping alliance, two people familiar with the matter said on Thursday. CMA CGM, the world's third-biggest container shipping company, is looking to strengthen its position against bigger rivals Maersk Line and Swiss-based Mediterranean Shipping Co (MSC).

CMA CGM's plan to withdraw NOL from the G6 alliance, which competes with its own Ocean Three alliance, was able to address European Commission concerns, the people said.

Shipping alliances, which involve sharing vessels and routes to save costs, are seen as crucial to helping the industry deal with a severe market downturn.

The concession is similar to that offered by German container shipping company Hapag Lloyd and Chilean peer Compania Sud Americana de Vapores (CSAV) two years ago in return for the EU approving their tie-up.

European Commission spokesman Ricardo Cardoso declined to comment. CMA CGM had no immediate comment on the EU review. Its spokesman said the intention is for NOL to join the Ocean Three group, a four-way alliance unveiled on Wednesday.

An NOL spokeswoman declined to comment on the deal but said that NOL unit APL will remain in the G6 Alliance until the first quarter of 2017.

Ocean Three, whose members include CMA CGM, China's COSCO Container Lines, Evergreen Line and Orient Overseas Container Line, will focus on Asia routes. It has more capacity than the rival grouping of Maersk and MSC.