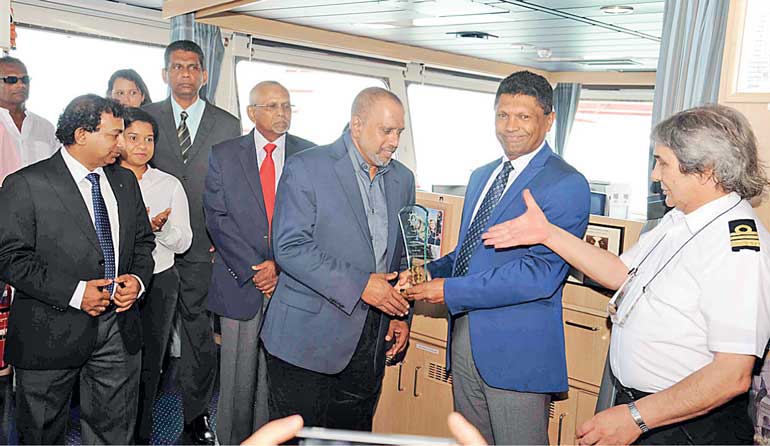 In the picture are the Managing Director of Sri Lanka Ports Authority (SLPA) H. D. A. S. Premachandra, Master of Vessel Capt. Dominico, Director MSC Lanka Rohan De Silva, GM Commercial CICT Tissa Wickramasinghe , CFO MSC Lanka Kelum Warnakulasooriya , AGM Commercial CICT Catriona Jayasundera, Director MSC Lanka Shehara Jayawardena and Director Operations & Regional Operations Manager MSC Lanka Shamal Perera

MSC Maya the largest ever vessel to call on Colombo with a capacity of 19,224 TEUS called at the Colombo International Container Terminal of the Port of Colombo recently. To commemorate the maiden call of the vessel at the Port, plaque exchanges took place on board the vessel between the port, local agents and the captain of the vessel. Managing Director of the Sri Lanka Ports Authority (SLPA) H.D.A.S.Premachandra and Senior Deputy Harbour Master of Sri Lanka Ports Authority (SLPA) Capt. A.Hewavitharana exchanged plaques with the captain of the vessel and MSC Lanka Limited, on behalf of SLPA.

Director Operations and Regional Operation Manager for MSC Geneva Shamal Perera said that MSC Maya is the world largest container ship which is now calling on the Port of Colombo under SWAN service. "There will be 6 more similarly classed ships to call on Colombo in the near future under the same service. MSC REEF, MSC ZOE, MSC JADE, MSC MIRJA, MSC DITTE, MSC ELONANE all of which are 19,224 TEUS in capacity, will be calling Colombo. We are proud to be a part of MSC family, the 2nd largest Shipping Line in the world who are always keen on strategic changes and added Colombo to their service fleet which has the world's largest ships," he said.

Further expressing views he said that it is proven that the Port of Colombo is on par with major hub ports in the world which can handle the world's largest container ships. " I must thank the Management and the staff of SLPA for their highest support extended to MSC through-out the growth in the Port of Colombo which aided such achievements," he added.

Perera also thanked the management and the staff of Colombo International Container Terminal (CICT) and China Merchant Port Holding Co Ltd for building up deep Water Terminals on a fast-track and providing a world-class facility through the Port of Colombo where at present MSC and other shipping Lines can plan for larger container vessels to call on Colombo as benefitting to customers in Sri Lanka and in the entire region.

Senior officials of the Sri Lanka Ports Authority (SLPA) including Director (Security) Major Gen.Nissanka Wijesinghe, Chief Manager (Container Operations)) I.K.Ghanathilake, Chief Manager (Marketing & Business development /Communication & Public relations) Upul Jayatissa and Senior Deputy Harbour Master Capt. A. Hewavitharana also attended the occasion.