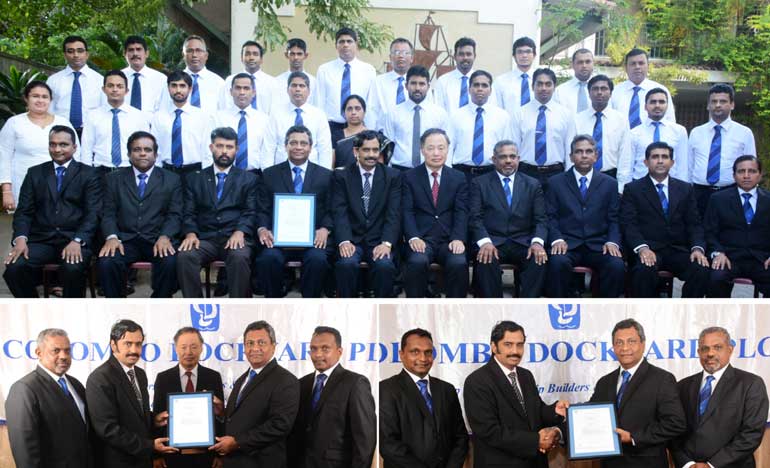 The Technical Review Committee of LRQA has approved the issue of OHSAS 18001: 2007 & ISO 14001: 2015 certificates to Colombo Dockyard PLC (CDPLC) making them the very first organisation in Sri Lanka to receive, from LRQA, a certification to ISO 14001: 2015.

As a major ship repair, shipbuilding and heavy engineering service provider in one of the most strategic geographical locations, Colombo Dockyard is now certified to Occupational Health and Safety as well as Environmental Management System in accordance with the requirements of OHSAS 18001: 2007 & ISO 14001: 2015 standards. CDPLC has had its Quality Management System (QMS) certified, since 1999, to the ISO 9001 standard (currently for ISO 9001:2008).

The visionary guidance and unqualified commitment from the top management team of Chairman Dr. Toru Takehara, Managing Director Ranil Wijegunawardana and Chief Operating Officer D.V. Abeysinghe to attain these business critical certification upgrades is bearing fruit, within a relatively short span of time, after a dedicated companywide drive.

The project leadership was taken by Manager (Compliance)/Management Representative Manjula Hettiarachchie and his dedicated team, supported by sectional compliance representatives who were instrumental in guiding all the divisions, production and nonproduction, effectively to meet with the targeted system requirements. This was a challenging task to all across the system, as the shipyard was fully occupied and busy during the period these system requirements were implemented and audited by LRQA auditors prior to issuing the certification. The excellent guidance capabilities and the patience of the operational leadership need to be mentioned at the point of time of celebration.

The official certificate was handed over at a ceremony on 11 August by LRQA General Manager – Key Accounts (South West Asia) G. Venkatakuppuswamy. The certificate was received by Chairman Dr. T. Takehara, MD R. Wijegunawardana, COO D.V. Abeysinghe and Manager (Compliance)/ MR Manjula Hettiarachchie. These international certification provides Colombo Dockyard a competitive edge and the necessary recognition as being amongst the best the regional and international shipyards. Colombo Dockyard has been operating in collaboration with Onomichi Dockyard Co. Ltd., Japan since 1993, as a shipyard capable of providing premium quality shipbuilding, repairs and Heavy and offshore engineering. This international certification marks a significant milestone in the corporate calendar of Colombo Dockyard's odyssey of excellence.
Sinochem Shipping, China places confidence in Colombo Dockyard for repair requirements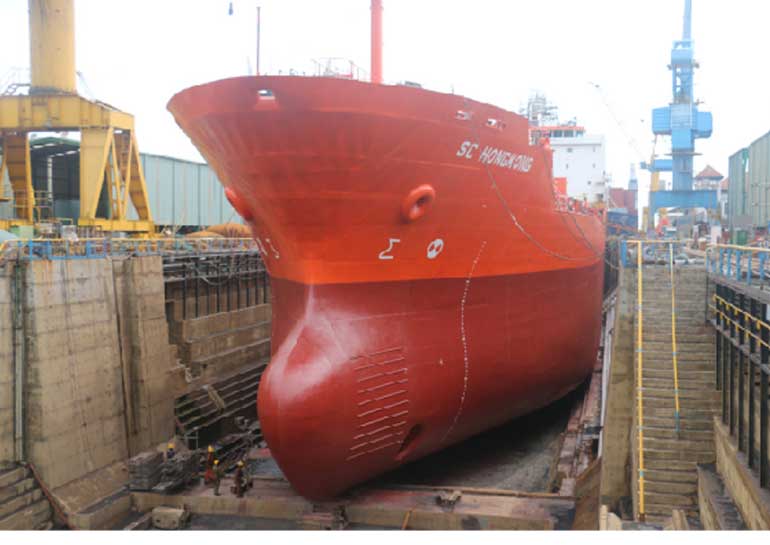 Sinochem Shipping Co. Ltd. (Hainan) owned and Aoxing Ship Management (Shanghai) Ltd. managed Tanker SC Hong Kong called Colombo Dockyard for drydocking and lay up repairs. This was the first experience for Sinochem Shipping in Colombo. Sinochem group, China is fortune 500 company with more than 300 subsidiaries inside and outside China.

Aoxing Ship Management (Shanghai) Ltd., China managed MT. SC Hong Kong (DWT: 22,100, LOA: 159.60 M, Beam: 23.00 M) called in for drydock repairs during mid July 2016. The chemical carrier trading in the regional waters selected Colombo as the repair centre for her CAP survey requirements.

The business had been secured as a result of the proven track record of Colombo Dockyard as a reliable shipyard which delivers quality repairs with focus on timely completion. Owners/managers were confident of stemming the vessel to Colombo, given Colombo's wide experience on tanker repairs.

During this call the vessel was accommodated in Drydock No. 1A+1B (30,000 DWT) which is ideally suited to handle medium size tankers, dredgers and container carriers among other types of vessels.

Yard teams worked in a focused approach to ensure that the vessel was re-delivered to on schedule to meet her next loading port in Far East.

The major repair scope during this call consisted of CAP (Condition Assessment Programme) survey requirements, main deck conduit lines, chain locker steel renewal of approximately 5 tons were renewed. Routine drydocking related repairs were carried out.

The strategic geographical location of Colombo Dockyard, close to the main sea routes, while being located inside the port of Colombo itself minimised any down time for the managers as she was received directly in to yard repair berth soon upon completing her cargo discharging in one of the Indian coastal ports.

Colombo's professional approach and flexibility of service was appreciated by the owners/managers, as the repair project was re-delivered on schedule meeting owner's requirements. The project team was headed by Ship Manager D.S. Arangala who was well supported by all production departments in redelivering this project.

The owner's interests were looked after by Zang Yingui – Technical Manager, Tang Jian –Technical Superintendent and OM Prakash, Technical Superintendent. The repairs were carried out meeting the Lloyd Register class society requirements. M/s. Prudential Shipping Ltd. handled the local husbanding work smoothly.