China Ocean Shipping and China Shipping Group merge to form China Cosco Shipping Corp Corporation
New entity COSCOCS will control one of the world's largest fleets of dry bulk vessels, container ships and oil tankers
Debut comes as industry battles prolonged downturnAnalysts say COSCOCS needs to slim down
COSCOCS Chairman says no salary cuts, layoffs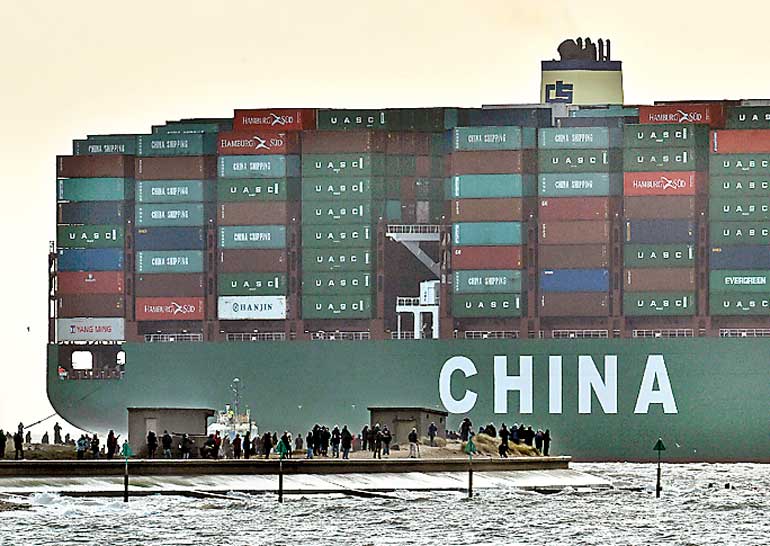 Onlookers watch from a harbour wall as the largest container ship in world, CSCL Globe, docks during its maiden voyage, at the port of Felixstowe in south east England in this 7 January 2015 file picture – REUTERS
Reuters: China last week launched a challenge to global shippers AP Moller Maersk and Mitsui OSK Lines, but analysts said the giant company must slim down its workforce and order book to weather one of the industry's worst-ever slumps.

Created from the state-driven merger of former rivals China Ocean Shipping (Group) Company and China Shipping Group, China Cosco Shipping Corporation (COSCOCS) will control one of the world's largest fleets of dry bulk vessels, container ships and oil tankers.

Its debut, however, coincides with some of the leanest times for shipping firms already mired in the longest downturn in three decades: maritime consultancy Drewry forecasts the global container shipping industry will make a combined loss of $ 5 billion this year due to lacklustre freight rates and cargo volumes, ship lay-ups and higher operating costs.

"Few liner companies are set up at the moment to handle current challenges. Perhaps the first challenge is to shrink the new combined company. Without that, the bleeding will continue at a faster pace," said veteran shipping analyst Charles De Trenck.

Shipping firms have endured years of losses since the global financial crisis brought the shipping boom to an end, as new vessels ordered before the downturn created an oversupply and depressed freight rates to record lows.

At the COSCOCS launch event, company chairman Xu Lirong acknowledged the industry was experiencing its worst downturn since 2008 and said mergers were key to riding out slump. However, he said COSCOCS had told staff that there would be no salary cuts or layoffs, a policy of many Chinese state-owned firms but which industry insiders said made little sense.

"To me they're missing a huge opportunity there to improve their competitiveness," said a China-based shipping executive at a rival firm, who wanted to remain anonymous due to the sensitivity of the matter.

COSCOCS currently employ 180,000 workers, more than double the workforce of Maersk.

It also owns 830 vessels including container ships, dry bulk vessels and tankers, almost twice the combined fleet of Maersk and Mitsui O.S.K Lines, according to data from ship valuation firm Vessels Value, which does not take into account chartered-in vessels.

COSCOCS' sheer size works to its advantage as it allows it to better compete for market share than if it had remained two separate, loss-making companies, experts said.

"The merger gives them a fighting chance," said Shanghai-based Essence Securities analyst Jiang Ming. "If they didn't merge the status quo would have remained the same."

The merger, however, threatens the current make-up of vessel-sharing alliances on container routes, which firms entered to lower costs, these experts added.

COSCOCS launch comes two months after CMA CGM proposed to buy Singapore's Neptune Orient Lines for $ 2.4 billion, in the biggest-ever acquisition by the French container shipping giant to help it to ride out the severe downturn.

"While the latest mergers should further consolidate market share, pricing competition typically intensifies post mergers, based on prior experiences," Deutsche Bank analysts Sky Hong and Joe Liew said in a research note published last week.