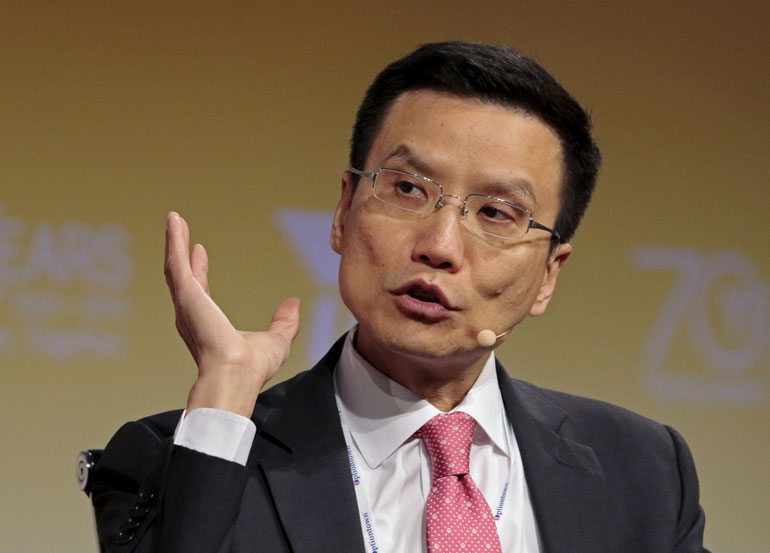 Cathay Pacific Airlines CEO Ivan Chu makes a point during a panel discussion at the 2015 International Air Transport Association (IATA) Annual General Meeting (AGM) and World Air Transport Summit in Miami Beach, Florida 9 June. Cathay Pacific Airways Ltd has seen a drop in bookings on its routes from Hong Kong to cities in South Korea after the recent uptick in Middle East Respiratory Syndrome (MERS) cases there, Chu said on Tuesday on the sidelines of the meeting – REUTERS
Reuters: Cathay Pacific Airways Ltd saw air cargo demand soften in the second quarter but expects a rebound in the long run on the backs of US and Asian consumers, Chief Executive Ivan Chu said last week.

The remarks, made on the sidelines of the International Air Transport Association's (IATA) annual meeting, follow a report by the trade group last week that demand growth for air freight is slowing.


Chu said cargo results have softened slightly since the Hong Kong-based airline posted strong first-quarter results.

"It's hard to tell" how the cargo operation will fare in August and beyond as the peak season for cargo picks up, he said. "The long-term revival of cargo is definitely there."


Helping the gradual rebound was greater Asian consumer demand, especially in China, for fresh produce, high-quality fruits, technology products and machinery, Chu said.

Profit at Cathay Pacific, one of the world's largest air cargo carriers, grew 20% last year largely due to a recovery in its cargo business. Demand had bottomed in the first half of 2014, Chu said.

The airline has expanded its cargo destinations in part to take advantage of dock-worker strikes on the US West Coast that in the past year hampered shipping companies.


Cargo demand "correlates with the world economy," Chu said. "We count on the US consumers to continue to buy."

He said European cargo demand has been soft but is slowly returning.

Air cargo volumes for companies globally rose 3.3% in April, compared with average growth of 5.3% over the first quarter, according to monthly freight statistics released by IATA last week. Only the Asia-Pacific and Middle East regions reported growth, IATA said.