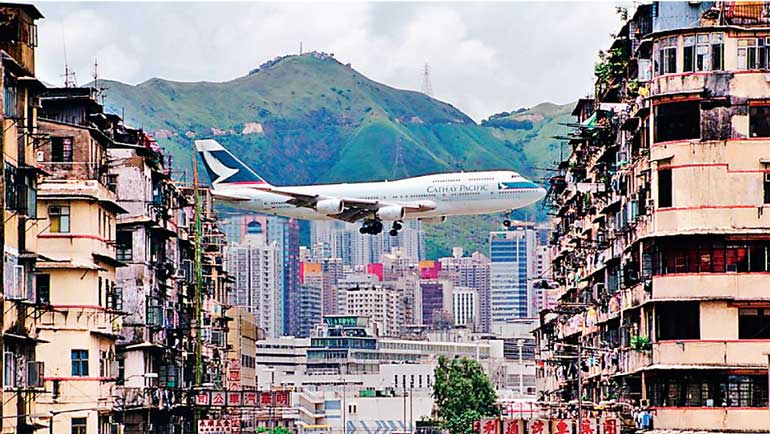 To commemorate the retirement of the iconic Boeing 747-400 aircraft from its passenger fleet, and to help raise funds in support of Breast Cancer Awareness Month, Cathay Pacific on Saturday operated a special charity flight for its staff.

With the approval of the Civil Aviation Department, the 60-minute flight CX8747 included a Victoria Harbour flyover, giving Hong Kong one final opportunity to bid farewell to Cathay Pacific's "Queen of the Skies".

Some 300 of the airline's staff, many of whom have a long attachment to the 747, have made a minimum donation of HK$747 to secure their seats onboard the historic flight.

With Cathay Pacific absorbing the flight's operating costs, all funds raised will benefit the Hong Kong Breast Cancer Foundation.

The flight took off from Hong Kong International Airport at 10.30 am and initially head east over Victoria Harbour, passing the former Kai Tak Airport and out over the Lei Yue Mun Gap.

The best vantage points for members of the public to watch the farewell flight included the Peak, Lion Rock, Kennedy Town promenade, West Kowloon Cultural District, the harbour facing sides of ICC and IFC, Tsim Sha Tsui promenade, Tamar, the Kai Tak Cruise Terminal, Golden Bauhinia Square, MegaBox and the Tsing Ma Bridge Observation Deck.

Fans who posted their photos on the official Cathay Pacific Facebook page had a chance to win a 747-8F aircraft model, autographed by the late Joe Sutter, Boeing's chief engineer who will forever be remembered as the "Father of the 747".

The 747 first entered Cathay Pacific's passenger fleet in 1979 and made an immediate impact. Able to carry far greater numbers of people for far greater distances than any other aircraft of its era, the 747 helped transform the company from being a primarily regional carrier into the truly global airline it is today.

The 747 also played a significant role in growing Hong Kong into an international aviation hub.