By Madushka Balasuriya

The second annual Colombo International Maritime Conference (CIMC) concluded on Friday, and with it marked a significant step forward in Sri Lanka's efforts at positioning itself as South Asia's premier maritime hub.

Over 60 speakers, including several high-level Government officials, addressed the three-day conference on a variety of topics and issues, but the overarching theme – as it was last year – was on how to better utilise Sri Lanka's strategic location in the Indian Ocean and South Asia as a whole.



Delegates and speakers from Pakistan, Bangladesh and Maldives joined Indian and Sri Lankan stakeholders at the conference this year ensuring that all the major players in the South Asian region were in attendance, while the presence of representatives from wider Asia – most notably Singapore and China – as well as other key global maritime nations meant that this year's attendees were the most diverse and accomplished group yet to set foot on Sri Lankan shores.

The direction the discourse would take over the three days was encapsulated on the second morning by Prime Minister Ranil Wickremesinghe, who in his keynote address spoke of Sri Lanka righting a historical wrong in its quest towards becoming a sea and air-based economy. Along with other nations in the region, he said, Sri Lanka had forgotten the importance of global trade post World War II.

"The geo-strategic location of Sri Lanka has meant that all sea trade has had to pass through our country from East to West. Our whole economy was dependent on sea trade. The glory of the Anuradhapura kingdom, the glory of the Kotte kingdom, all of it was based on sea trade. With the opening of the Suez Canal, Sri Lanka became even more important. The whole of the allied efforts in WWII depended on what Sri Lanka did, this is the importance that we've had," noted Wickremesinghe.

"Unfortunately in two or three decades, with our closed socialist economy, we like India forgot the importance of trade – so did China, so did Vietnam – and we became land-based economies, when in fact we had that much potential to become sea-based economies. And our location was ideal, not only for shipping, but also for airlines."

Outlining his vision for Sri Lanka, the Prime Minister expressed confidence over the National Government's ability to continue what President J.R. Jayewardene started when he liberalised the shipping industry nearly 40 years ago.

"What you're seeing here now is just an extension of what started in 1977 when President Jayewardene decided to liberalise shipping and [then Trade Minister] Lalith Athulathmudali started the process. Our plan is again to build up our strengths, which is the location and the people. If the location is not working, most of the people are getting on a plane and going off to foreign countries; if the location is successful then they will all stay in Sri Lanka."

"We're building on the plan to expand Sri Lanka to make it into a centre for shipping, for aviation, for communications, a logistics hub and a business hub," he added.


Geopolitics at play

Wickremesinghe's remarks were given added context as the opening day of the conference centred primarily on the Indo-Sri Lanka trading relationship and how to further it. 95% of India's global trade is conducted via sea, and the Port of Colombo accounts for 30% of India's total transhipment. This in turn is 70% of the port's total transhipment volume, pointed out outgoing Indian High Commissioner to Sri Lanka Y.K. Sinha, as he was keen to emphasise the importance of bilateral relations between the two neighbours.

"Sri Lanka plays a crucial part in India's global trade, in fact we have had interaction in the maritime trade for millennia," he said on the opening day of conference. "Sri Lanka has also always had an important role in this region's maritime trade as a whole. The reason for this is twofold: one it is perhaps because of its strategic location; but in modern times, perhaps more so because of the facilities and infrastructure developed in Sri Lanka, particularly in Colombo."

Sinha added that the next logical step in furthering this partnership was for Indian companies to invest in the expansion of the Port of Colombo, something which the Indian Government has already approached several firms about.

"Cooperation in the maritime sector between our two countries, though very robust and vibrant, needs to be further strengthened to focus on areas of mutual benefit," he added.

Indeed, Sri Lanka has been actively encouraging Indian investment in the port, with the Government last month putting out a tender for a $ 400 million dollar contract to develop the east terminal under the strict condition that at least a 20% stake of the consortia bidding for the contract be held by a firm from the Indian subcontinent.

At present two Chinese firms are among 20 that have already purchased the bidding documents for the new terminal, therefore the move to involve India, Pakistan or Bangladesh could be seen as a means of neutralising Chinese influence.

"It's evident that geopolitical equations are at play," observed Aitken Spence Maritime CEO Dr. Parakrama Dissanayake.

Acknowledging Dr. Dissanayake's insight, Hauer Associates India Senior Partner S.N. Srikantha – summarising the opening session – offered an alternate take. He humorously noted that many see Sri Lanka's relationship with India and China as that of a relationship between a man, his wife, and his mistress, similar to the one depicted in the popular Bollywood movie 'Pati Patni Aur Woh'. This in reality, he said, is plainly not the case.

"While there is some doubt as to which country is the wife, and which country is the mistress, the hero is undoubtedly Sri Lanka," he joked.

"The parallel however is a bit unfair," he continued taking a more serious tone. "The three countries can indeed co-exist in the maritime domain."



Srikantha
acknowledged that the Indian Government harbours concerns over the possibility of China's sea port investments in the region – part of their OBOR (One Belt One Road) initiative – giving them military control of the Indian Ocean. There are also concerns surrounding the possibility of India's neighbours using China as counterweight in negotiations with the subcontinental giant, he added.

"But these are concerns that can be overcome if you realise that India and China are not on a see-saw. When one is up the other doesn't have to go down," he opined. "The three countries – India, Sri Lanka and China – are in this together. It was 300 years ago that India and China accounted for 50% of global GDP. Today India is down to 2 or 3 percent. But the rise has begun again, and if India and China take this forward, the countries in the region are apt to follow."

Drawing attention to India's Sagar Mala port development project – which Prime Minister Ranil Wickremesinghe has already expressed an interest in partnering with – Srikantha suggested it could dovetail well with China's Maritime Silk Road plans.

"Given India's congested roads, coastal shipping is an option that has not been developed adequately. And there is also the potential for Colombo to act as a hub for transhipment of domestic Indian containers which go from one port in India to another port. Colombo, of course, could also serve to decongest Indian ports as they are surely bound to be in the very near future."

Turning back to his earlier analogy of India and China on two ends of a see-saw, Srikantha offered instead a picture of Indian Prime Minister Narendra Modi and Chinese President Xi Jinping together on a swing.

"India and China are not on a see-saw, in fact they are on a swing," he commented. "And if you know anything about swings, you'll know that both of them will go up at the same time and down at the same time. So they better learn to cooperate with each other. I think they will, and guess who facilitates the whole thing? Sri Lanka."


Pivot to Africa

Not everyone, however, was in agreement about Sri Lanka's long-term security as a transhipment hub for India. Mervin Chetty, General Manager at Transnet Port Terminals in South Africa – one of South Africa's largest port operators, managing 13 terminals in six ports – believes that it is "complacent" for Sri Lanka to continue to rely on transhipment traffic from India, calling on the Port of Colombo to be "a bit more visionary" in identifying new markets.

"We're a bit too complacent in the sense that we shouldn't think of the Port of Colombo as relying too heavily on Indian subcontinent traffic. I disagree with some of the speakers over the last few days that said transhipment traffic will be here to stay. The economics just doesn't make sense," stated Chetty.

Drawing on the example of the collapse of Hanjin (more on that later), Chetty pointed out that the dire shape the shipping industry is in at the moment does not bode well for Sri Lanka's transhipment ambitions.

"The shipping line industry globally has lost $ 18 billion from January to July this year. You've seen the collapse of certain lines, Hanjin in particular. We've seen them merging, as well as the alliances of several lines. I don't believe that transhipment will continue to be there.

"And on top of that, if the Indian market has their ports getting deeper, certainly there will be a lot more direct calls coming in. And those calls will certainly reduce the traffic in to the Port of Colombo," he added.

Chetty believes Sri Lanka should instead be targeting East and Southern African regions as a new growth market. At present China is Africa's largest trading partner with annual trade totalling $ 2 billion, and he suggested China's development of the Maritime Silk Route may provide a blueprint for Sri Lanka going forward.

"The thinking in some circles is, that the Maritime Silk Route was actually put in place to make sure some of the cargo from the African continent gets evacuated via the Silk Route. If you look at the Chinese investments going in - not just in Sri Lanka and its Asian neighbours – they have also made investments in Djibouti as part of Phase 1, while in Kenya they're building the first three berths in the Port of Lamu. These are opening up avenues to get cargo out of Central Africa.

"This together with key indicators around the growth potentials of India and Sri Lanka – certainly around the Maritime Silk Route – plays directly in the space of how the Port of Colombo can integrate itself into the African market."


Africa's potential

The African market is certainly one to keep an eye on. Playing host to 10 of the fastest growing economies in the world and $ 375 billion worth of transport-related projects being undertaken in the continent, it is seen by many as a sleeping giant.

Pointing to five key converging forces – unprecedented population growth, with it set to double to two billion by 2040; a growing middle class; rise in the role of Africa's youth in economic development; rapid urbanisation, with the urban population expected to grow by 11% by 2030; and growth in technology, with telecommunications growth in the continent recorded as the fastest globally in the past five years – Chetty is confident that a mutually-beneficial relationship can be built between Colombo and the Africa.

"A significant amount of traffic is actually going from the Port of Durban in South Africa and the Eastern Cape towards Singapore. The cargo that's going to Singapore is bound for India and some parts of the Far East," Chetty noted, adding that Transnet's analysis has shown that it would be more cost effective to have that same cargo transhipped through Colombo.

"It has several advantages to liners such reduced voyage time, lower costs, and a lot less days in transit."

Chetty's thoughts mirrored those of Aitken Spence Maritime Director/COO Iqram Cuttilan, who referred to Africa as "home to the world's biggest opportunities".

Sri Lanka is located at the half way point between Africa and East Asia which gives it "a great geographic advantage," according to Cuttilan, in addition to already being strategically located as a gateway to South Asia and the South West Asian regions.

"The location of Colombo gives it an edge, as the transhipment hub linking Asia and Africa. Shipping lines will need to carry throughput cargo to African ports and tranship in Colombo, thereby connecting the South Asian region to Africa and vice versa. The services could operate from South Africa to Colombo and then Far East Asia, and there is no need to have separate services calling at South Asian ports," he said.

"There will be no diversions, no delays, and easy movement of cargo via Colombo. And Colombo could definitely be the hub for African cargo. Colombo also offers a comparatively low tariff in the region and a high level of efficiency in productivity of vessel and cargo handling."

Despite the positive sentiments Chetty acknowledged that it was still early days in Sri Lanka's relationship with Africa, while at the same time urging port operators in the island nation to think more broadly when it comes to expanding into new markets. He also called on the Government to streamline their policies for improving the country's manufacturing sector if it wants to hit its trade targets.

"These are obviously fairly young thoughts to put into the house for discussion. Our interest at Transnet has certainly been to look at this market in Colombo – hence our interest in the East Colombo terminal – and I think there are good logistics capabilities here. More importantly, I think it's important that you're a lot more visionary, and try to look at new markets and see how we can grow the traffic for Sri Lanka by tapping into the African market.

"I don't believe that the import/export trade within the Sri Lankan market will grow as rapidly into double digits up until the Government starts to introduce policies and procedures to inject a lot more manufacturing capabilities within Sri Lanka. Right now the traffic is predominantly skewed towards transhipment and I think the system needs to be a lot more fluid, visionary, and look at new markets like Africa."


Heeding Hanjin

Throughout the deliberations and outward showing of optimism, there was a distinct sense of unease in the air, with the looming spectre of the deepening crisis facing the global shipping industry casting an inescapable shadow over proceedings.

Just a few weeks prior to the start of the conference, news broke of the collapse of South Korea's Hanjin Shipping, the world's seventh largest container carrier. The collapse had been a long time coming, with Hanjin recording losses for four of the last five financial years, yet its eventual demise shook the shipping industry to its very core.

The immediate consequence of the crisis is the estimated $ 14 billion worth of cargo tied up globally as Hanjin ships lay idle outside ports, which refuse to let them dock for fear of non-payment. This has also resulted in crew and passengers being stranded aboard ships, with food and water running low, as they await a legal resolution.

But in the long term, confidence in the system as a whole may have taken a significant hit. The assumption had always been that major container-ship owners would somehow find a way to survive, even if that was by means of a government bailout. This assumption went out the proverbial window the moment South Korea decided it could not afford to be a safety net (Hanjin's debts totalled $ 5.5 billion at the end of June).

And while the removal of a player from the market saw an initial boon for Hanjin's competitors with shipping rates rising, the problem of overcapacity remains – a problem which strikes at the heart of the crisis.

Hanjin's problems are far from unique; of the 12 biggest shipping companies, 11 have announced huge losses in the past quarter. The crisis has not even spared the largest shipping line in the world Maersk Line, as it is expected to be in the 'red' this year. While the collapse can't be attributed to one sole issue, some have definitely played more of a role than others.

"Shipping lines have collectively done two things well in the last two years," explained Maersk Lanka Country Manager Zeeshan Mukhi. "We have managed to make the cost of shipping low, and we have been able to make it more energy efficient. So contrary to the perception floating around, shipping lines have actually made it extremely efficient and cost-effective to do shipping."


Overcapacity conundrum

So how does this 'efficiency' tie in to the industry's overcapacity problem? Mukhi calls it the "vicious cycle of container shipping," where the incentive of larger economies of scale leads companies to invest in bigger ships, which in turn lowers unit costs and increases competitiveness. He points out that this the results in a scenario where "one or two shipping lines" become more competitive than the rest, which then leads to "a mentality where others order ships as well." This is showcased by the fact that 2015 saw supply growth for ships at 8.5%, while demand was just 2-3%.

"When you look at it in hindsight it looks very obvious," acknowledged Mukhi. "This has basically happened now two to three times over the last few years and with different sizes of ships."

UNCTAD (United Nations Conference on Trade and Development) Transport Economist Dr. Vincent Valentine, echoed Mukhi's sentiments pointing to the fragmented nature of the container fleet segment.

"Supply is outgrowing demand, hence leading to depressed freight rates," Valentine said, noting that the top three dominant players in the market have 15%, 13%, and 9% market share respectively, while Hanjin is in eighth position with just 3%. But when it comes to average vessel size however, Hanjin is ranked second in the top 10, he revealed.

"Is vessel size an indicator of vulnerability? Clearly it's not one simple figure, you have to look at the balance sheet of the company, you need to know where it's trading and what business it has. But maybe there's a clue there. Everybody is looking for pointers, who is going to be the next company that may fall into a difficult situation?"

Mukhi believes there are few things that can be done to alleviate some of the problems plaguing the industry: consolidation; improve services; and automation.

"What we haven't done very well is make money for our investors, or bring an improved service level – other industries have seen big improvements in this area – but when it's container shipping lines, it's still very traditional.

"At Maersk we're looking at the need to differentiate our service and improve our service level. We want to understand the customers' business better, improve accessibility, and offer innovative solutions to add value to their business. We also need to automate and move with the technology. The container shipping industry really needs to move in that direction.

"But we also see the need to consolidate," he concluded.


Eye on environment

Another topic that garnered keen interest at the conference was the potential for cruise tourism in Sri Lanka, which many hope can be a top five earner in Sri Lanka's economy. For that to become a reality however, another, more sobering reality, must be addressed: environmental conservation in the midst of rapid growth.

As per Slam.lk, Sri Lanka's coastal regions plays host to 27 species of marine mammal, including the dugong. Sightings of fin whales, sei whales, minke whales and the finless porpoise have also been observed, but these are questionable or unconfirmed. This can, of course, be clarified with further scientific research, which has the added benefit of improving the data on population sizes and the distribution of existing species.

Sri Lanka's most famous sighting however is of blue whales, which can been seen in large aggregations, while more recently orcas have also been arriving in Sri Lankan waters every month as they are a transient species.

"Everything is seasonal," explains Marine consultant and Slam.lk founder Howard Martenstyn. "We have four seasons in Sri Lanka, so there are some species you will see more often than not in different parts of the island."

Sri Lanka is also home to over 100 species of sharks and rays, with some species, according to Martenstyn, having "tremendous touristic value" such as the whale shark and giant manta rays.

On the opening day of the conference Parliamentary Speaker Karu Jayasuriya addressed the topic of environmental protection, stating: "An important issue that needs our attention is to effectively prevent, control and manage marine environment pollution with the increasing maritime activities being carried out in our environment.

"The Government agencies entrusted with this responsibility have to enforce the conventions adopted by the International Maritime Organisation in consultation with stakeholders such as ship-owners, operators, repairers, seafarers, classification societies and insurers."

But the question needs to be asked, is the follow through there or are these simply empty promises? Martenstyn charges that marine life protection laws are woefully inadequate for a country with a coastal region as biodiverse as Sri Lanka's, especially when compared to some of its neighbours.

"None of the species I mentioned are protected at the moment. For example, the Maldives is a complete shark sanctuary, India protects the whale shark. We really need to start moving in that direction as well, because these animals are worth so much more alive than in the fish market."

Sri Lanka's maritime tourism potential doesn't stop at marine life though, with Martenstyn highlighting that Sri Lanka is home to 30 lighthouses "with about half of them operational," with Sri Lanka's best kept secret – on in this case most under-marketed – being shipwrecks.

"Besides whales and dolphins, shipwrecks are really important. And people haven't realised this. These are two of the things that are really special if you're in the leisure business," explained Martenstyn.

"Sri Lanka is one of the best places in the world for shipwreck diving and for whale and dolphin watching. That's an unbeatable combination."

Sri Lanka has an estimated 200 shipwrecks around its coasts, with a lot of WWII-type shipwrecks on the Batticaloa side, more archaeological ones around Galle, and newer ones near Colombo which are "fantastic," according to Martenstyn.

In the end, the common message from Martenstyn as well as several other speakers at the forum was that if Sri Lanka is to capitalise on its rich biodiversity, the Government needs a more cohesive plan in marketing the country as whole, with legislation following suit, while the population too needs to be educated on preserving the country's natural attractions.
Pix by Lasantha Kumara
---
Speaker praises "formidable" growth, but warns against declining volumes
Karu Jayasuriya praised the Port of Colombo's year on year growth of 11% as "formidable" in the context of a global crisis in the shipping industry, but voiced concern over the fact that volumes of transhipment handled by the Sri Lanka Ports Authority (SLPA) have declined since 2013.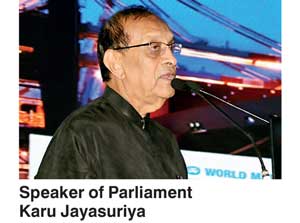 "The Port of Colombo has seen a volume growth of 11% year on year. This is indeed a formidable growth considering that other hub ports are experiencing very marginal growth," said the Speaker of Parliament addressing the opening day of the Colombo International Maritime Conference last week.
"But coming from a shipping and trading background, I am concerned that though the Port of Colombo has shown double digit growth since the year 2013, volumes handled by the SLPA terminals have declined. I hope that the SLPA will be able to stem the decline and increase volumes," he added.
Jayasuriya's comments come in the wake of the industry's biggest ever crisis after South Korea's Hanjin Shipping went into receivership at the end of August. Saddled with over $ 5 billion in debt, Hanjin failed to secure a bailout from the South Korean Government. This has seen several of Hanjin's ships unable to dock or unload at ports, who fear non-payment, causing unspecified delays for an estimated $ 14 billion dollars' worth of cargo, as well as considerable heartache and uncertainty for crew and passengers.
The reason for Hanjin's travails has largely been attributed to the overcapacity issue plaguing the industry, this is something the SLPA must take note of if it is avoid similar problems in the future. Jayasuriya is placing his faith in Sri Lanka's keenest minds come together to ensure Sri Lankan carriers remain in good health.
"Over the decades Sri Lanka has produced extremely high calibre professionals. I earnestly hope that the Minister would draw on their expertise and knowledge. As the saying goes "individually we are one drop, but together we are an Ocean."
Education for seafarers
Jayasuriya in his address also assured that the Government would enact the "necessary reforms" to develop the maritime industry in the country, part of which is seafarer education something he said was "a dire national need".
"I have repeatedly made statements at various forums for the revival and revitalisation of the national merchant fleet and providing seafarer education to the youth of the country. We are aware that the Ceylon Shipping Corporation – the National Sea Carrier has purchased two brand new bulk carrier ships which are now being deployed for coal transportation to the country and also provide on-board training to the Sri Lankan trainee seafarers from the Maritime Training Institutions in the country."
According to Jayasuriya, seafarers are "unsung heroes" who have played an important role in cushioning the country's balance of payments, with the approximately 25,000 registered seafarers generating nearly $ 200 million annually.
"It is understandable that while we cannot afford to invest and develop the Ceylon Shipping Corporation as an International Shipping Line, I believe we have to look at how to develop it as a Regional National Carrier. It would also help to provide more on board vessel training opportunities to trainee seafarers which have now become a dire national need of the country."
"These unsung heroes should be recognised and I hope that the Ministry of Ports and Shipping will look at the prospect of establishing a scheme that could assist them."
Jayasuriya suggested one way to do this would be register foreign owned ships in Sri Lanka as means of creating more employment opportunities for Sri Lanka seafarers.
"Studies should be undertaken to see what benefits could be achieved by promoting to register foreign owned ships in Sri Lanka striking the right balance between regulatory and commercial necessities," he said. "Countries such as Panama, Liberia, Marshall Islands, Hong Kong and Singapore have successfully implemented the open ship registry. This will facilitate Sri Lankan seafarers to secure employment and also the economy with fees, taxes and services from the registered ships."
---