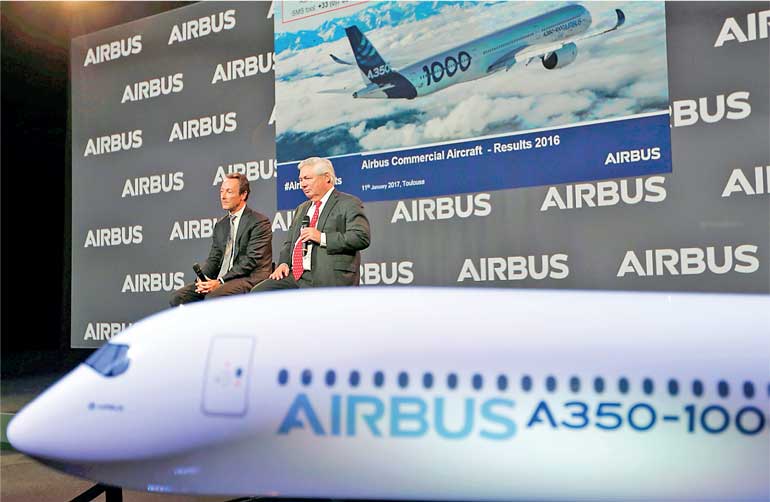 Airbus Chief Executive Officer Fabrice Bregier (L) and Airbus Chief Operating Officer-Customers John Leahy (R) attend the annual Airbus Commercial Press Briefing in Blagnac, Southwestern France – REUTERS
Deliveries totalled X688 last year, net orders 731
Expects more than 700 deliveries this year
Sales chief sees slowdown in orders this year
TOULOUSE, France (Reuters): Airbus has posted an eight percent rise in deliveries last year, beating its own forecasts by a comfortable margin to set a company record, and pulled off a last-minute surge in orders to beat arch-rival Boeing in the race for new orders.

But the European planemaker warned of a further slowdown of industry orders in 2017 as the aerospace industry turns its attention to producing what it already has on its order books, following an extended order boom.

Analysts say orders are shrinking due to concerns over weakening economies and relatively low oil prices, while a wave of demand for new fuel-saving models has mainly run its course.

"What kept the orders party going much longer than usual was new product launches and there are few products to be launched," said Richard Aboulafia, vice president of Teal Group.

"These are not hard times. This is merely the party coming to its inevitable end."

Confirming an estimate published by Reuters, Airbus said it had delivered 688 aircraft in 2016, compared with its most recent forecast of 670. Deliveries rebounded sharply at the year-end after problems in the supply chain.

Airbus chief operating officer and planemaking president Fabrice Bregier told a news conference he expected more than 700 deliveries in 2017, but without the last-minute frenzy seen last year due to problems in receiving engines and cabin equipment.

Airbus announced a fourth successive win in the race for new business after posting 731 net orders for 2016, including more than 300 orders in December, confirming potential business reported earlier by Reuters.

Boeing kept the title of No.1 producer with 748 deliveries but registered a lower figure of 668 net orders.

The surge in Airbus orders included 98 out of 100 aircraft sold to Iran under a historic sanctions deal. The other two were bought back from another customer, sales chief John Leahy said.

Boeing has sold 80 jets to Iran but did not include this in its 2016 tally, a move that would apparently have put it ahead of Airbus.

Airbus posted over 100 orders from unidentified customers, which industry sources have linked to Saudi carrier Flynas and the leasing arm of China's Bank of Communications.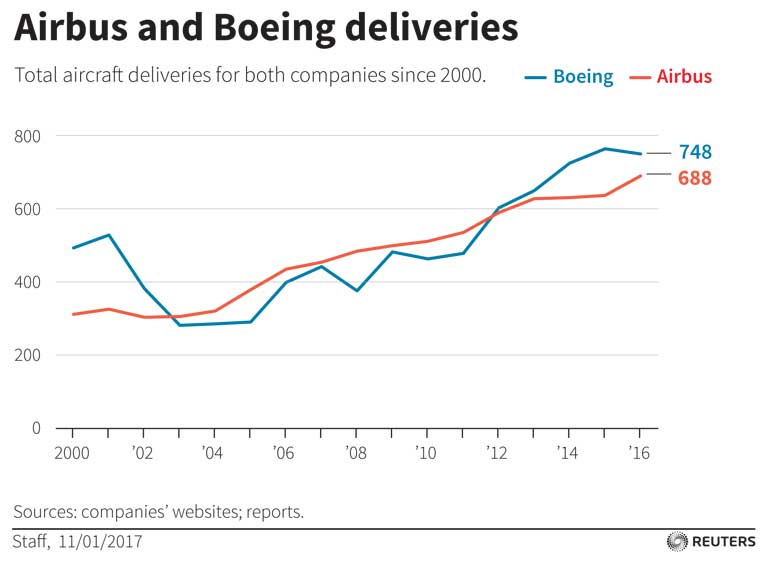 But a December sales flurry by both Airbus and Boeing failed to prevent the combined book-to-bill ratio of the two giants dipping below 1 for the first time since 2009, placing a dent in record industry order backlogs amid concerns over the economy.

Leahy dismissed concerns among some investors over mounting deferrals and cancellations of orders because planemakers typically "overbook" to dampen the risk of airline failures.

Speaking to a group of reporters after the news conference, he insisted deliveries would continue to rise "for several years" despite cyclical swings in orders as planemakers work through record waiting lists for planes. (Reporting by Tim Hepher; editing by Sudip Kar-Gupta, Mark Potter and Bernard Orr)
Airbus CEO sees 'flying car' prototype ready by end of year
MUNICH (Reuters): Airbus Group plans to test a prototype for a self-piloted flying car as a way of avoiding gridlock on city roads by the end of the year, the aerospace group's chief executive said last week.

Airbus last year formed a division called Urban Air Mobility that is exploring concepts such as a vehicle to transport individuals or a helicopter-style vehicle that can carry multiple riders. The aim would be for people to book the vehicle using an app, similar to car-sharing schemes.

"One hundred years ago, urban transport went underground, now we have the technological wherewithal to go above ground," Airbus CEO Tom Enders told the DLD digital tech conference in Munich, adding he hoped the Airbus could fly a demonstration vehicle for single-person transport by the end of the year.

"We are in an experimentation phase, we take this development very seriously," he said, adding that Airbus recognised such technologies would have to be clean to avoid further polluting congested cities.

He said using the skies could also reduce costs for city infrastructure planners. "With flying, you don't need to pour billions into concrete bridges and roads," he said.

Enders said Airbus, as the world's largest maker of commercial helicopters, wanted to invest to make the most of new technologies such as autonomous driving and artificial intelligence, to usher in what amounts to an era of flying cars.

"If we ignore these developments, we will be pushed out of important segments of the business," he said.

A spokesman for Airbus declined to say how much the company was investing in urban mobility.