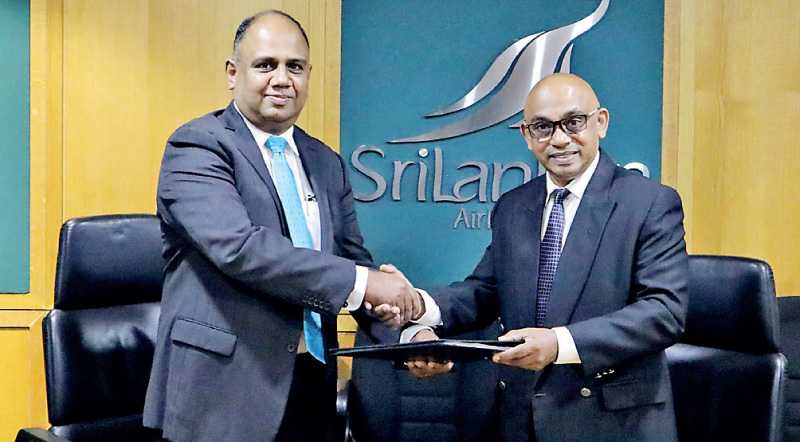 SriLankan Airlines Senior Manager Aircraft Maintenance Arjuna Kapugeekiyana (left) with FITS Aviation Deputy CEO Asitha Ranaweera
---
SriLankan Engineering the engineering and maintenance arm of SriLankan Airlines, signed a 'Total360' aircraft engineering and maintenance agreement with FITS Aviation Ltd. last week. The agreement encompasses tasks involving base maintenance, line maintenance, and other engineering services, for FITS Aviation Ltd.'s Airbus A320 fleet of aircraft, in Sri Lanka.

This agreement marks the beginning of a long-term mutually beneficial partnership that would enable FITS aviation to achieve their goals, whilst SriLankan Airlines will be assuring their aircraft receive the highest standards of maintenance, they require to be airworthy at all times.

SriLankan Airlines Head of Engineering Shevantha Weerasekera stated, "FITS Air has the support and expertise of SriLankan Engineering to start their A320 freighter operation. This also means SriLankan Engineering is open to corporate with any airline in the region and will support with their engineering and maintenance needs."

SriLankan Engineering is accredited with a range of industry certifications of the highest recognised global standards, which includes EASA 145 certifications for Line Maintenance, Base Maintenance and Engineering Workshops, and authorisation to certify aircraft operating to Bandaranaike International Airport and Mattala Rajapaksa International Airport in Sri Lanka.

"We at SriLankan Engineering are delighted to be chosen as a 360 Engineering and maintenance provider by FITS aviation," said SriLankan Airlines Senior Manager Aircraft Maintenance Arjuna Kapugeekiyana.

SriLankan Engineering also holds approvals from numerous national aviation authorities including China, India, Qatar, UAE, Singapore, Seychelles, and Bahrain to carry out aircraft maintenance. It also provides full engineering services for the entire SriLankan Airlines fleet, which comprise of A320, A321 (CEO and NEO versions), and A330 aircraft. Also, SriLankan Engineering provides Line certification of B777, B737 Family, A340, A350, B787 at Colombo and Malé Airports to third-party airline customers.

SriLankan Airlines and its engineering and maintenance arm, SriLankan Engineering take this opportunity to wish FITS Aviation Ltd. the best and look forward to a longstanding sustainable relationship.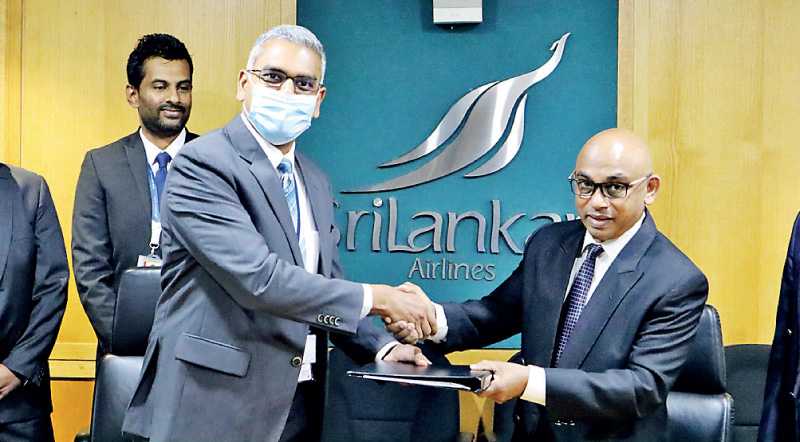 SriLankan Airlines Head of Engineering Shevantha Weerasekera (left) with FITS Aviation Deputy CEO Asitha Ranaweera

SriLankan Engineering management team with FITS Aviation team
---