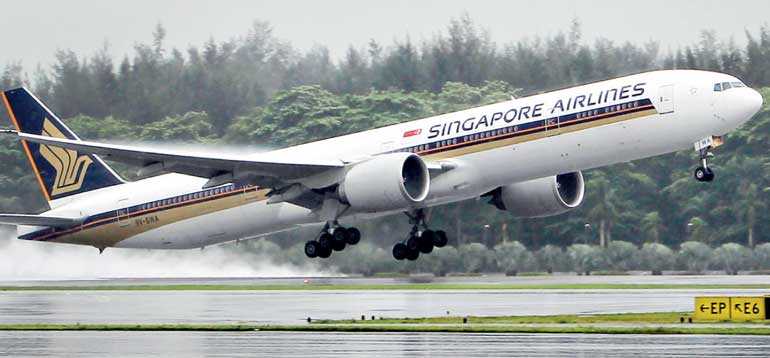 SINGAPORE (Reuters) - Singapore Airlines Ltd reported a 59% fall in first-quarter net profit, below analyst expectations, due to a rise in the oil price, lower airfares and a lack of one-off items that had boosted the prior year.

The carrier, a benchmark for Asia's full-service airline industry, earned S$140 million ($102.89 million) in the three months ended June 30, down from a revised figure of S$338 million a year before, it said in a stock exchange filing.

The prior-year figure was restated due to accounting changes and had included S$175 million of one-off benefits from changes to its frequent flyer program accounting and compensation for aircraft delivery slots.

Maybank had forecast a net profit of S$251 million for the first quarter, based on yields, a proxy for airfares, rising by 5.5%.

Singapore Airlines said yields fell by 3.2% during the quarter, bucking a broader global industry trend toward rising yields.

The figure was dragged down by a 10.3% decline at regional arm SilkAir, which faces stiff competition from budget carriers like AirAsia Group Bhd and is poised to be merged into the parent brand after 2020.Group revenues fell 0.5% to S$3.84 billion during the quarter, with cargo and passenger revenues rising but not by enough to cover the lack of one-off items from the prior year.Singapore Airlines said passenger traffic was expected to grow in the coming months, but costs remained under pressure, especially from higher fuel prices.

Fuel costs rose by S$154 million from a year earlier. The company has hedged 46.3 per cent of its fuel for the remaining nine months of the financial year.

In the first quarter yields at the parent brand fell by 1%, although it filled a higher percentage of seats to boost overall revenue.

Low-cost subsidiary Scoot and SilkAir posted a combined S$1 million in operating profits, down from S$11 million the prior year. Scoot's yields fell by 1.8%.

Singapore Airlines had topped market expectations in May by reporting a 148% rise in full-year net profit to the highest level since 2011, as passenger and cargo revenue rose and it benefited from a transformation program designed to help cut costs and boost revenue.