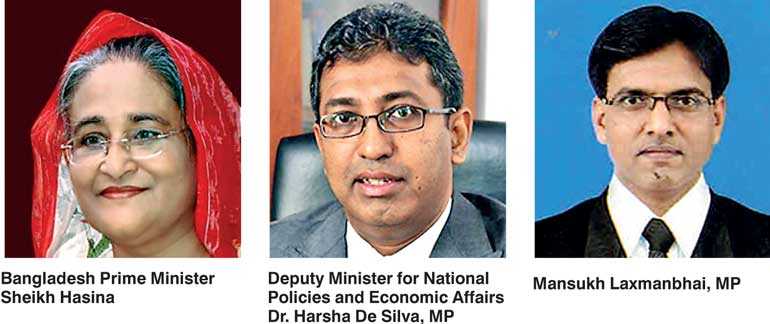 Dr. Harsha De Silva, Deputy Minister for National Policies and Economic Affairs, Guest of Honour
Senior ministers and officials from the region among 1,000-gathering for the opening ceremony
Biggest networking event in South Asia for Maritime and Logistics
For the very first time, a major maritime and logistics conference, the South Asia Maritime and Logistics Forum (SAMLFORUM) will be held in Dhaka, Bangladesh on 9 and 10 October to showcase the emerging South Asian economies.

Bangladesh with a strong economic growth and increasing trade volumes is now listed as a middle-income country by the UN. The Bay of Bengal nation has its own strategic advantages in the BIMSTEC regional connecting both land-lock nations and the Indian Ocean. Focused on export driven growth and being the second largest apparel exporter of the world, maritime and logistics is becoming an important component for its competitiveness.

At the same time a population of 162 million with an emerging strong middle class with over 7% GDP growth the country is now opening for further foreign direct investments for services sector which is a growing demand. Comparatively a low-cost destination, the government of Bangladesh has understood that logistics and shipping are key drivers for it to be in competition as the global connectivity is becoming a crucial factor for export growth.

Sheikh Hasina is the current and 10th Prime Minister of Bangladesh and is very focused on export-led growth and will inaugurate the first major international maritime event of the country amidst a gathering of over 1,500 invitees and delegates. The event will be joined by 200 international participants and senior ministers and officials from India, Sri Lanka, Nepal, Singapore, Hong Kong, Malaysia, China, Bangladesh and many more.

The event is hosted by the Government of Bangladesh and facilitated by the Ministry of Shipping and supported by the Prime Minister's office. The conference itself is managed by Gateway Media, India and Colombo International Maritime Events (CIMC) Sri Lanka. This is the second edition of the SAMLFORUM which was first held in India with the support of the Indian government in 2017. Sri Lankan delegation will include over 40 business leaders who will be joined by Deputy Minister for National Policies and Economic Affairs Dr. Harsha De Silva, who has been invited as the Guest of Honour and will be joined by Indian Union Minster for Road Transport, Highways and Shipping Mansukh Laxmanbhai Mandaviya. Secretary to Ministry Ports and Shipping, Sri Lanka L.P. Jayampathy will represent Minister Mahinda Samarasinghe in the absence of the Minister.

Among areas of interest to Sri Lanka would be transshipment, coastal shipping agreement, feeder and passenger transportation with Ceylon Shipping Corporation and to attract distribution and logistics services to connect Bangladesh exporters. In addition Sri Lankan companies will be able to network with Bangladesh companies and see opportunities for investments in new areas as it opens up FDI and discuss the development of the BIMSTEC economic region.