Amidst a gathering of over 700 delegates, Prime Minister of Bangladesh Sheikh Hasina inaugurated the second South Asia Maritime and Logistics Forum (SAMLF) in Dhaka, Bangladesh on 9-10 October. This was the first-ever major international maritime and logistics conference that was hosted by the Government of Bangladesh as the country is focusing on shipping, maritime and logistics to support its export-led growth.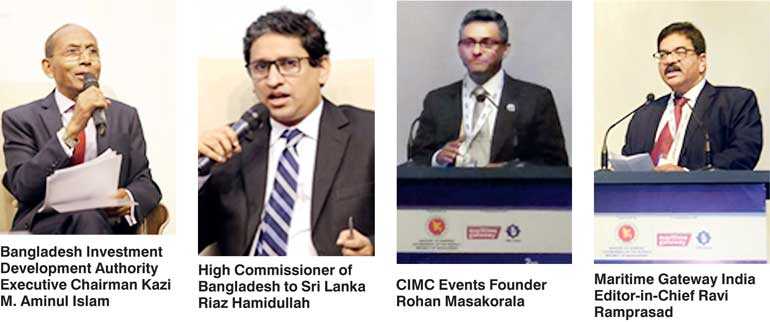 The august gathering represented all Government institutions, ministers and a large number of international participants. The two Guests of Honour were Dr. Harsha De Silva, State Minister for National Policies and Economic Affairs and Mansukh Mandaviya, State Minister for Road Transport and Highways, Shipping and Chemical Fertilisers, India.

Speaking at the event, Sheikh Hasina emphasised her Government's commitment to maritime infrastructure that would support the ongoing rapid economic development and the reforms Bangladesh would take on. Opening for further foreign direct investment to the sector and regional cooperation were among other highlighted areas for connectivity.

Dr. De Silva and the Indian Deputy Union Minister also mentioned that it is very timely that this South Asia Maritime and Logistics Forum had been launched as regional cooperation was vital to increase regional trade among the South Asian block.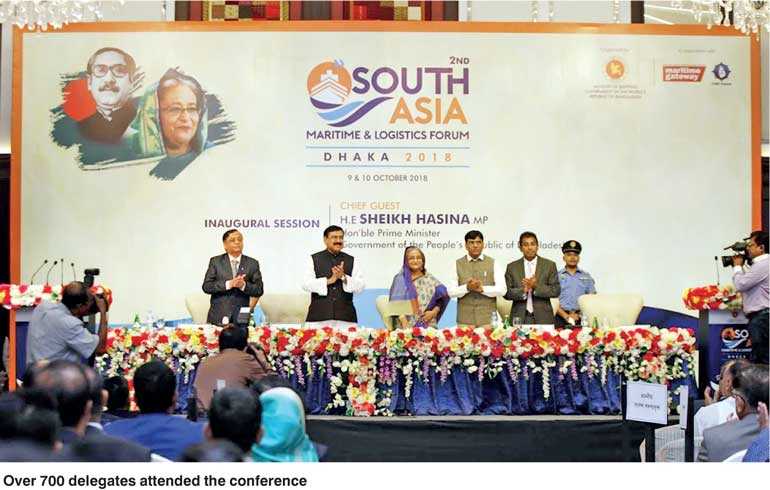 The conference was attended by over 100 delegates from India and Sri Lanka had a delegation of over 40 other Asian and European countries were represented for the two-day dialogue that was based on the plenary session on Investment Opportunities and Infrastructure Development in Maritime Sector of Bangladesh and four key tracks of Ports and Terminals Track, Logistics Track, Maritime Allied Infrastructure Track and Policy Track. Major Indian and Sri Lankan port representatives were present to talk about each one's strengths and discuss the future challenges, changes and opportunities of shipping and logistics and the role each country can play to support trade growth.

The second SAML Forum was a follow up event from Mumbai, India where the formal launch happened in 2017 with 300 participants. However, the SAML Forum was initiated in Colombo 2016, at the Colombo International Maritime Conference (CIMC), where Prime Minister Ranil Wickremesinghe was the Chief Guest.

Within a short period, this event has gained track and momentum as South Asia's main maritime and logistics event, supported by respective governments. Already the next event has been scheduled to be held in Dubai, UAE. The forum builds a platform for delegates from all sectors of maritime and logistics to meet, network and build business connections along with government representatives. The objective of the conference is twofold. One is to bring together the South Asian regional players and secondly to jointly promote the South Asia brand and its investment opportunities to the world.

Daily FT was the event's Official Print Media Partner.