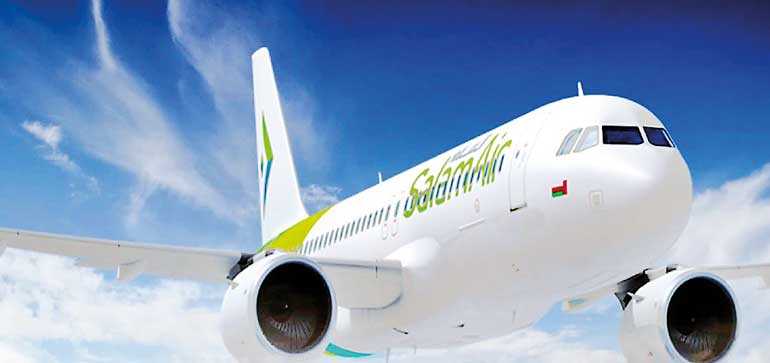 SalamAir to fly between Colombo and Muscat from 25 November
New route will operate four times a week initially
Oman's capital Muscat is a perfect destination for adventure
Expanding its subcontinent profile, Sultanate's fastest-growing value-for-money airline, SalamAir, has announced direct flight service from Colombo to Muscat from today (25 November).

Oman's capital Muscat is a city of extraordinary beauty, an oasis of history and culture surrounded by sea, mountains and desert. Muscat is a vital hub for commerce, economic and trade activities and is considered the economic and administrative centre of Oman.

The Muscat-Colombo direct route marks SalamAir's first entry into the Sri Lankan market. The airline now flies to seven destination in the subcontinent, including Colombo, Dhaka, Kathmandu, Karachi, Multan, Sialkot and Chattogram (Chittagong). Scheduled to commence on 25 November, the route is scheduled to operate four times a week on Monday, Wednesday, Friday and Sunday, departing Colombo at 09:10 local time and arriving in Muscat at 12:10 local time. The flight will depart Muscat at 02:40 local time arriving in Colombo at 8:10 local time. One-way tickets to Muscat are now available at a special promotional fare of Rs. 19,999 (OMR 45). SalamAir CEO Captain Mohamed Ahmed said: "Introduction of flights between Colombo and Muscat will contribute to further growth and strengthening of ties between Oman and Sri Lanka. It will also cater to the leisure and business travellers from and to Oman and Sri Lanka. With beaches, deserts, mountains, greenery, wadis, Oman is an enthralling tapestry of different terrains. This direct flight to the stunningly beautiful capital city provides a great opportunity to discover the incredible Oman."

He added, "We will continue to expand our network to meet the requirements of our guests. It is our constant endeavour to provide affordable and proficient services to all the destinations we fly."

Further,

MAC Aviation Services Ltd. (fully owned subsidiary of MAC Holdings Ltd. and GSA for SalamAir in Sri Lanka) Chairman/Managing Director Andre Fernando said: "We are delighted to represent a dynamic airline as SalamAir in Sri Lanka. We will be providing a variety of services to support the airline and the discerning customer choosing SalamAir as its preferred carrier to Muscat. The new route to the incredibly beautiful city of Muscat further solidifies the close links between Oman and Sri Lanka."

Oman is an idyllic adventure destination with varied options for abseiling, trekking, rafting, scuba diving, canyoning, hiking, jet skiing and other outdoor activities. Oman has been charming tourists from across the world because of the exclusivity of tourism options it offers and the fact that a variety of tourist attractions are available just hours away from each other. Its varied climate with a coastline of over 3,000 km is an added blessing.

The splendour of the Sultan Qaboos Grand Mosque, the stunning shades of Muttrah Souq, the breath-taking mountains of Jebel Al Akhdar, the top-notch shows at the Royal Opera House Muscat, the significant cave chamber in Majlis Al Jinn, spectacular Fjords of Musandam, the endless Wahiba Sands – you can find the depth of Oman in tourist spots such as these and more. Embodying the country's luxuriant culture, and captivating natural beauty each of tourist attraction in Oman is an enigmatic experience.

SalamAir currently operates three Airbus A320 aircraft and four Airbus A320neo aircraft making it the first Omani carrier to utilise the highly-rated single aisle aircraft. SalamAir flies to international destinations including Chittagong and Dhaka, Dubai and Abu Dhabi, Doha, Jeddah and Riyadh, Karachi, Multan, Sialkot, Shiraz and Tehran, Kathmandu, Khartoum, Alexandria, Kuwait, Istanbul and to domestic routes Muscat, Salalah, and Suhar.

Additional passenger services to complement the customer experience on the home-grown airline include options for extra luggage, seat and meal selection. Customers can book their tickets through the airline's official website on www.salamair.com.