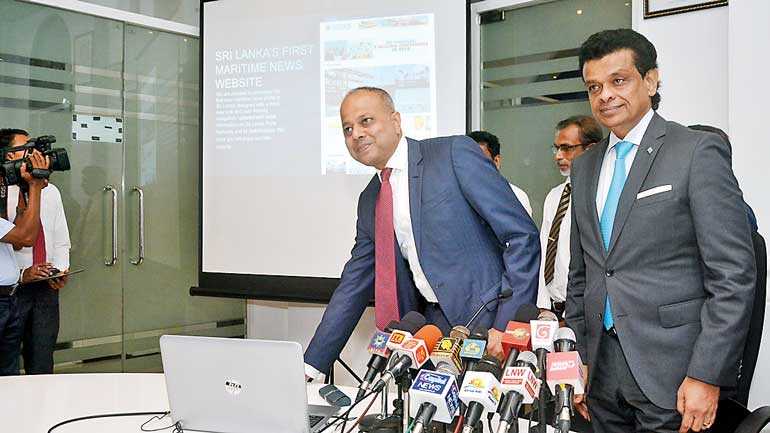 SLPA last week launched a maritime news website (news.slpa.lk) to disseminate up-to-date information on the ports and shipping sector — a move that would strengthen Sri Lanka's image in the global maritime sector. Here Ports, Shipping and Southern Development Minister Sagala Ratnayake inaugurates the web site along with Secretary Dr. Parakrama Dissanayake- Pic by Upul Abayasekara
By Charumini de Silva

Ports, Shipping and Southern Development Ministry Secretary Dr. Parakrama Dissanayake last week expressed confidence that Sri Lanka Ports Authority (SLPA) would be able to post a double-digit growth in TEUs this year.

"SLPA is looking at a double-digit growth of 10% this year. We have the capacity, but it needs to be further pushed by efficiency and productivity. Currently, we are at the borderline of our capacity and we have to replace our equipment with new ones, which we are in the process of doing now," he told reporters in Colombo yesterday.

In moving forward, Dr. Dissanayake noted it was important to understand the change in the competition dynamics and act according to changes taking place within the shipping lines and the shipping industry, which should be strategically addressed in time.

The Ministry Secretary also said the Port of Colombo was ranked the world's fastest growing port in 2018, followed by Singapore. "This achievement was not by accident. It was possible because SLPA had plans in place. Port of Colombo had the right level of efficiency," he stressed. Noting that around 80% of the operations of the Port of Colombo are transhipments, Dr. Dissanayake asserted that the Port of Colombo had a growth of 19.3% while State-run JCT's transhipment growth was 20.3%.