The Executive Committee from left: Rohan Induruwa (Secretary General), Roshan Silva (Vice Chairman), Rajendra Theagarajah (Chief Guest), Jagath Pathirane (Chairman SLFFA), Dushmantha Karannagoda (Past Chairman), Dinesh Sri Chandrasekara (Treasurer) Standing from left: Sadeeptha Illangatilleke (Ace Cargo), Chaminda Hewamallika (Maersk Lanka), Channa Gunawardena (Expelogix), Peter Jasinghe (Mack International Freight), Ahmed Fazlee (DHL Global Forwarding Lanka), Prasansa Rodrigo (Speedmark Transportation Lanka), Prasaj Pathirana (MAC Supply Chain Solutions) and Erandi Ponnamperuma (Manager SLFFA)
The Sri Lanka Logistics & Freight Forwarders' Association (SLFFA) held its 37th Annual General Meeting on 6 July at the Colombo Hilton Residences. The Chief Guest for the occasion was Rajendra Theagarajah, Managing Director/CEO of Cargills Bank Ltd. and the Chairman of the Ceylon Chamber of Commerce. Jagath Pathirane, Director/CEO of Expolanka Freight Ltd. and CAO of Expolanka Holdings PLC was re-elected for the second consecutive year as the Chairman for the period 2018/2019 whilst Roshan Silva, Managing Director, CL Synergy Ltd. and Dinesh Sri Chandrasekara, Director HTL Logistics Ltd. were elected Vice Chairman and Treasurer respectively.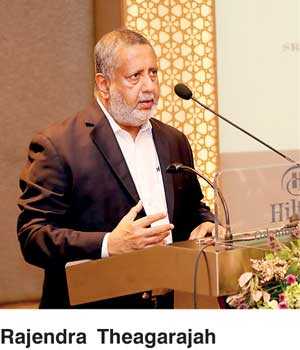 The Executive Committee elected for the period 2018/2019 comprises of Ace Cargo Ltd., Expelogix Ltd., DHL Global Forwarding Lanka Ltd., MAC Supply Chain Solutions Ltd., Maersk Lanka Ltd., Mack International Freight Ltd., and Speedmark Transportation Lanka Ltd.

The Chief Guest Rajendra Theagarajah in his address stated that, "From the Chamber perspective I think that our association with your body cannot be stressed enough, given the fact that one of the key pillars of the Ceylon Chamber is to continuously foster trade, both domestically as well as internationally and what you do as a profession is the influencing element in that whole process," and he also said, "I think from the time perspective the importance of the industry from the national economic growth cannot be underscored. The current government stated their focus on economic growth which has been a twin focus, the FDI on one side and secondly the Value Added Exports on the other side. And being an island nation one cannot really do exports without there also being imports. There has to be some sort of imports and processing in addition to locally what we have. So I think from that perspective the connectivity between a domestic production imports and exports as part of an overall integrated strategy cannot be stressed enough."

During his speech, Pathirane pointed out, in keeping in line with the observations that he made in his inaugural speech when he was first elected last year that there was a dire necessity then and there is a necessity now to work together as an industry to raise the Logistics Performance Index (LPI) of the country which is stated very low. He further said that SLFFA has managed to work together and to keep to its pledge by working cohesively with all industry colleagues, associations and stakeholders successfully and to face some hurdles and achieve milestones together.

Also he expressed his delight in the significant achievements gained during past year related to Corporate Tax being reduced to 14% for logistic operations, voicing the SLFFA opinion to liberalise shipping agency representation in Sri Lanka, strong leadership provided by SLFFA to prevent the introduction of Cargo Account Settlement System (CASS) being implemented in Sri Lanka, etc. He further explained the active role played by SLFFA in key areas of National importance such as Formulation of the National Maritime Policy, development of the Entrepot trade and National Export Strategy. He also stated, "We have realised the need to raise Sri Lanka's position in Logistics Performance Index which is stuck in a very low position as we speak. In realising this upheaval task SLFFA embarked on a cohesive approach and have managed to achieve many things which individually could not have been achieved."

Most importantly Chairman highlighted the association's vision in the future, "SLFFA will continue to maintain its pledge to be inclusive in all what we do with our stake holders. With our work together and with other industry bodies and stakeholders, our priority is to gain a better position for the shipping and logistic sector and to be the preferred Hub of Asia."

Among the guests were officials from Sri Lanka Customs, Ministry of Ports and Highways, CASA, Shippers Council, Past Chairman's of the association and delegates of member companies.