Expresses confidence of industry growth
Welcomes reform to build the Indian
Ocean hub for logistics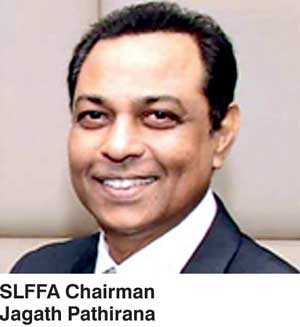 The Sri Lanka Logistics and Freight Forwarders Association (SLFFA), the apex body representing a key industry in the transportation and logistics activities, has hailed a recent government policy decision on taxation on the sector.

SLFFA which supports the exports, imports, logistics and trading industry of Sri Lanka has expressed its sincere appreciation to the government that after many long years of canvassing they have been recognised as a catalyst of export promotion. The Finance Ministry/Minister and the government as a matter of principle has brought freight and logistics under the 14% tax threshold where it was previously listed on the 28% level.

SLLFFA Chairman Jagath Pathirane said that, their members are delighted that the Government saw the importance of the logistics industry. "We are now in par with regional hubs and given the low margins we work in a volume business. We can now canvass more regional business to Sri Lanka and be more innovative to support initiatives such as the National Export Strategy (NES) where logistics have been identified as a key driver."

"We would like to extend our appreciation to Minister Managala Samaraweera, all ministry officials and government who looked at our sector in a pragmatic manner. We also take the opportunity to thank all others including other trade associations who supported our initiatives," Pathirane said.

"We as an organisation are also committed to the government's vision 2025 and endorse government policy on the sector. SLFFA recognises the need to support liberalisation of the shipping and freight forwarding and Logistics sectors with checks and balances to ensure that capital input and profit generated is adequately reinvested in the Shipping and Freight Forwarding and Logistics sectors of this country. Our members also now understand that Sri Lanka being a smaller market that we need to expand regionally and globally and to build the critical mass of freight that would move through our country and its ports. We all understand that without economic scale we cannot grow and be a major hub. We look forward to work with the government closely and assist them in formulating policy and support the Government initiatives in making Sri Lanka a logistics hub of the Indian Ocean," the SLFFA Chief added.