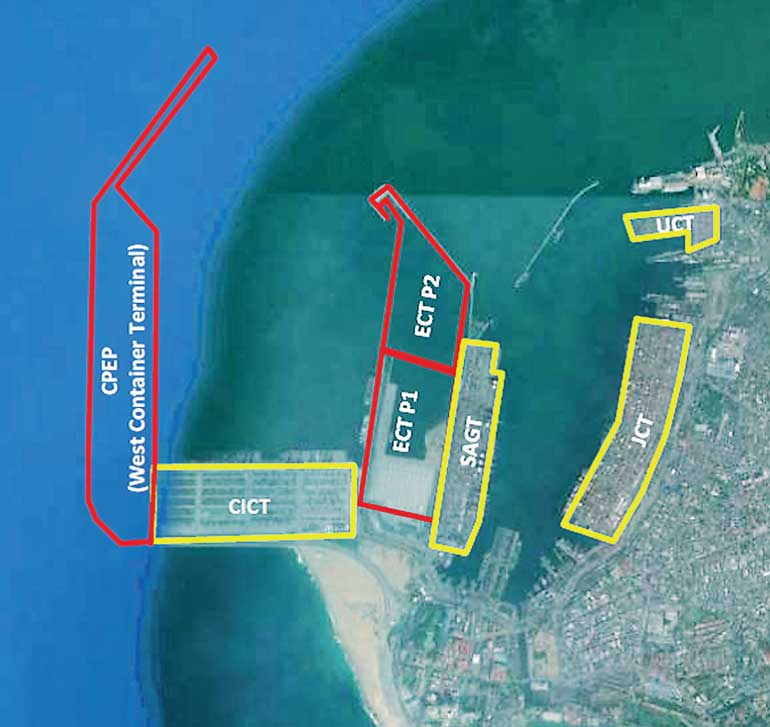 Sri Lanka's journey in becoming a maritime hub is put on the fast track with the signing of the Hambantota port agreement and the expedition the Colombo Port Expansion project. The two deep water terminals in development phase, East Container Terminal and West Container Terminal would add a capacity of 4.8 million TEUs to the Port of Colombo which will strengthen its position in the region whilst attracting much required foreign exchange to the country.

What is a deep water terminal and why do we need them?

With shipping lines looking at taking advantage of economies of scale, more and more companies have added larger container ships to their fleet in recent times. This has led to berthing issues in existing ports with their inability to accommodate the new age ships which require 'deep water terminals'.

So what really is a deep water terminal? A deep water terminal is different from regular port terminals due to their depth and ability to accommodate very large and heavily loaded ships. On a global scale these can go down to a depth of 30 feet or more. At the moment Colombo International Container Terminal (CICT), with an 18m berth depth is the only existing deep water terminal in Sri Lanka.

Such terminals are in high demand due to the increase in size of container vessels over the years and this doesn't just apply to the more developed countries. The CICT reported a throughput of 2 million TEUs for the 12 months ending 31 December 2016, achieving impressive YOY growth of 28% in volume. It's already operating at 80% capacity and will soon exceed capacity creating the need for another deep water terminal in the country.

With Sri Lanka working hard towards establishing itself as a maritime hub, terminals of this nature are increasingly becoming a basic need. With Sri Lanka's central location and ability to cater to the East-West route with such ease, more and more shipping lines will find it beneficial to call Colombo as opposed to other ports in the region. However Sri Lanka will only be able to take advantage of this opportunity if we can cater to the requirements of the large container ships these shipping lines are adding to their fleet. The East Container Terminal (ECT) therefore plays an important role in Sri Lanka's journey of becoming the maritime hub in Asia.

How are global trends affecting deep water terminals?
Over supply and scrapping of container ships
Over supply is a phenomenon where the supply exceeds demand resulting in prices plummeting leading to losses. This was a key reason for the turmoil in the shipping industry, which caused the Hanjing bankruptcy and the subsequent spur of mergers and acquisitions. Following this many shipping lines and ship owners engaged in the scrapping of containerships, to control supply. In such a climate, you may wonder whether there can be a demand for large vessels and enough demand for a deep water terminal.

According to Alphaliner edition 31-2017, although scrapping has hit an all-time high towards the end of 2016, over the last 6 months in 2017, container ship deliveries have surpassed scrapping. It also goes on to show that larger vessels with better capacity and economies of scale are coming into the fleet while the smaller vessels are being booted out.

Brand new vessels of 14,000-21,000 TEUs will continue to flow into the Far East – Europe market, at a rate of at least one per week this summer. During the first six months of this year, 26 ships of over 14,000 TEUs have been delivered and a further dozen new vessels of this size are expected to join before the annual low season begins in October.
Panama Canal expansion
The Panama Canal expansion project, also called the Third Set of Locks Project, doubled the capacity of the Panama Canal by adding a new lane of traffic allowing for a larger number of ships, and increasing the width and depth of the lanes and locks allowing larger ships to pass. The new larger size of ships, called New Panamax, are about one and a half times the size of the previous Panamax and can carry over twice as much cargo. The new lock chambers are 180 ft (54.86 m) wide, 1,400 ft (426.72 m) long, and 60 ft (18.29 m) deep.

Several ship manufacturing companies across the world are already following the new parameters for container ships to match the dimensions of the New Panamax. They are also getting large orders for the New Panamax vessels from shipping companies. These vessels require sufficient berth depth to call at a terminal.

Given this we can safely say that the demand for deep water terminals will only increase in future and if we are to position Sri Lanka as a true maritime hub for this region, we have to be able to cater to the changing needs of the industry by increasing the number of deep water terminals in Sri Lanka.
Impact on transshipment volumes
Statistics show that both India and Bangladesh are experiencing a growth in import/export volumes and these are expected to grow at a compound annual growth rate (CAGR) of 7.9% and 9.5% respectively. With India and Bangladesh being two of Colombo's primary transshipment markets, Colombo needs to be prepared to handle this surge of transshipment cargo in the coming years.

Identifying the strategic importance of this regional growth the Ministry of Ports and Shipping along with the Government is engaging with the Government of Bangladesh to develop the Port of Colombo as the preferred transshipment hub for Bangladesh. In the meantime, India is rapidly investing on their port sector, particularly on the deep water terminal in Vizhinjam which will undoubtedly affect transshipment volumes from India.

However high efficiency and less bureaucracy/red tape could still attract more shipping lines to Colombo, as long as the proper infrastructure is in place. Based on the current environment, it would still be cheaper for Indian ports to be served via transshipment through the port of Colombo than direct calls or transshipment via a port in India. Therefore capacity improvements such as the development of the East Container Terminal and West Container Terminal would strengthen our position in serving these markets.

To attract services which are currently not calling Colombo and to retain the share in a growing regional transshipment market, we need to have more capacity. If not, shipping lines and exporters would look for alternative ports to direct their transshipment volumes. The port of Colombo at present operates at a very competitive pricing level and to go to a price war with a competing port will make it increasingly difficult for us in the long run, leading to less investments on productivity and people. Therefore staying ahead of the demand curve is of paramount importance not just for growth but for the survival of the port of Colombo as a transshipment port.
Way forwar
The decision made by the Ministry of Ports and Shipping to lease-out the Port of Hambantota and free the SLPA from the burden of loan repayment is indeed a timely initiative. The proclamation by the Minister that by letting go of this burden, the SLPA can speed up the operationalisation of the ECT is indeed heartening news to the maritime industry stakeholders in Sri Lanka.

It would be prudent for the SLPA to plan not only to equip the present 440m of the ECT by expediting the installation of cranes, but at the same time commence the rest of the construction of the ECT. At present only two vessels with a length of 360m can be accommodated in the port of Colombo at any given point of time. This should at least increase to four vessels if we are to attract multiple east-west services to the port of Colombo. If we are unable to attract these services, we may see a decline in the share of transshipment that is attracted by the port of Colombo.

Source: Ceylon Association of Shipping Agents (CASA)