India-Sri Lanka takes join initiative to promote South Asia maritime and logistics to the world
Over 250 delegates from South Asia gather in one platform
World Bank to present and discuss regional report,
Drewry to present global overview
A platform for new business/investments and regional networking to be created
The idea
Maritime Gateway a leading Indian magazine of Gateway Media and Colombo International Maritime Conference Events (CIMC Events) of Sri Lanka have joined hands to collaborate and promote South Asia to the world and reach out to investors and partners to increase shipping and logistics activities in South Asia. The first ever South Asia Maritime and Logistics forum (SAML Forum) is to be launched on 7 September in Mumbai by the Union Minister for Road Transport and Highways and Shipping of India, Shri Nitin Gadkari.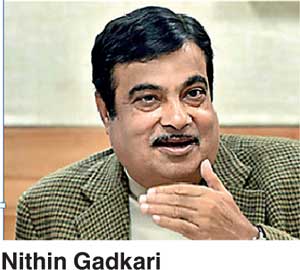 The concept behind this forum was born in Colombo at the second Colombo International Maritime Conference (CIMC) in 2016 where Prime Minister of Sri Lanka Ranil Wickremesinghe was the chief guest and he was instrumental and passionate of developing the maritime related eco system for South Asia to economically transform Sri Lanka and its neighbours. South Asia within Asia remains the weaker link in advancement in maritime and logistics industry compared to other countries in Asia, but this is rapidly changing as the India led economic growth has made South Asia one of the major global geographic regions that has shown steady economic output stabilising the global economy.

All maritime nations in South Asia in addition to India and Sri Lanka, which includes Pakistan, Bangladesh and on the Bay of Bengal Myanmar are heavily focusing on expansion of maritime and logistics industry as the future looks very promising with a population of two billion and a fast-growing consumer based middleclass emerging across South Asia.

South Asian trade and market expansion and growth in turn have created a massive opportunity to expand logistics and maritime related services. Highlighted by the world's fastest growing major economy of India South Asia offers many business prospects for global transportation industry. It is expected that intra-Asia trade and South Asia's greater trade expansion with Africa will have a sound growth over the next decades to come. In this backdrop increasing shipping and logistics capacities and connecting people and businesses along with governments of South Asia needs an organised platform.

The South Asia Maritime and Logistics Forum aims to bring together governments, trade associations and industry in South Asian Region with leading business enterprises from Europe, Middle East, and South-East Asia and beyond. The goal of this annual one-day conference is to explore opportunities, find solutions for the existing challenges, share best practices and identify ways to collaborate.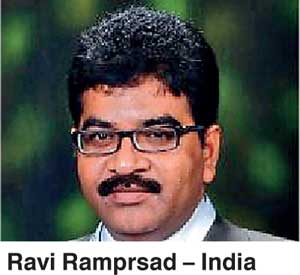 Commenting on the event Ravi Ramprasad Editor in Chief of Gateway Media, says that this event will uplift South Asian unity among business communities and open new opportunities for both business and government to understand each other better. "This initiative came in Colombo when I visited Sri Lanka in 2016 for the CIMC. We saw a gap in the region and a wonderful opportunity to bring something to the industry where all the countries in South Asia can benefit and promote and work together to harness our strengths as a region. I am greatly honoured that our Shipping Minister has taken a keen interest on this and has accepted to inaugurate this joint effort by India and Sri Lanka. We have invited all the countries and I have visited Sri Lanka and has requested both government and private sector in Sri Lanka to participate in the SAML forum as it is the best platform to be in and build corporation. As we know Sri Lankan ports enjoy 70% of cargo coming through Indian shippers and we need to build the best possible partnership with Sri Lanka and other countries in the region to develop better connectivity and logistics to expand trade." Commenting on the forum, Rohan Masakorala, the founder of Colombo CIMC, said, "I want to see that Sri Lanka enters and sees the larger picture and promote itself globally. India is the major economy and I am a firm believer that if India is doing well in its international commerce, then we as a country has a lot of opportunity as a hub and the same will benefit our other neighbours to increase commerce. It is time for us in South Asia to move away from negative thinking and work together as a region to promote its opportunities to the world. I am happy that close to 40 Sri Lankan industry persons are taking part in the first inaugural launch in India as speakers and delegates.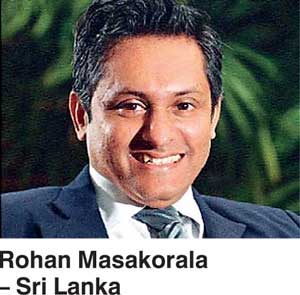 "We should use this event as the platform to start marketing shipping and logistics opportunities in South Asia to increase business and investments. As we go along we will have this event in all the countries in South Asia and we hope to take this forum beyond the geography of South Asia as well. We need to make awareness of what is available in each country in South Asia to the world. Each county needs to market its own capabilities through this platform. We are very grateful to all the authorities of all the countries who have given the fullest support to start this project and also, I need to acknowledge the sponsorship support we have got from stakeholders. Many in the Sri Lankan industry too have understood the larger picture that we are trying to create here."
The forum
Through thoughtful and constructive sessions and interactions, the forum expects to encourage and facilitate business relationships among the participants. Over time, this conference hopes to become a prominent forum and play a key role in maritime relations in South Asia.

Organisers say that the forum will play a key role in bringing deep insights into maritime infrastructure, focus on investment opportunities and bring meaningful relationships to the table.

The forum will be based on four tracks focusing on the following areas of discussions: Carrier Perspective - South Asia Shipping, South Asia Ports – Country briefs: India, Sri Lanka, Pakistan, Bangladesh, Maldives, Myanmar-Best Practices in Shipping /logistics -South Asia Logistics Scenario – Country briefs: India, Sri Lanka, Pakistan, Bangladesh, Maldives, Nepal, Myanmar) &summing up session

Very senior speakers from the region's leading ports, shipping and logistics companies will be in the forum which will be also presented with the World Bank report on South Asian ports and an independent analysis by Drewry.

The organisers point out that this is not another typical conference but a more discussion oriented forum, so that collectively we can call for reforms and work on a common agenda to develop South Asian ports, shipping, maritime and logistics.

Interested parties may contact the organisers through www.samlforum.com.