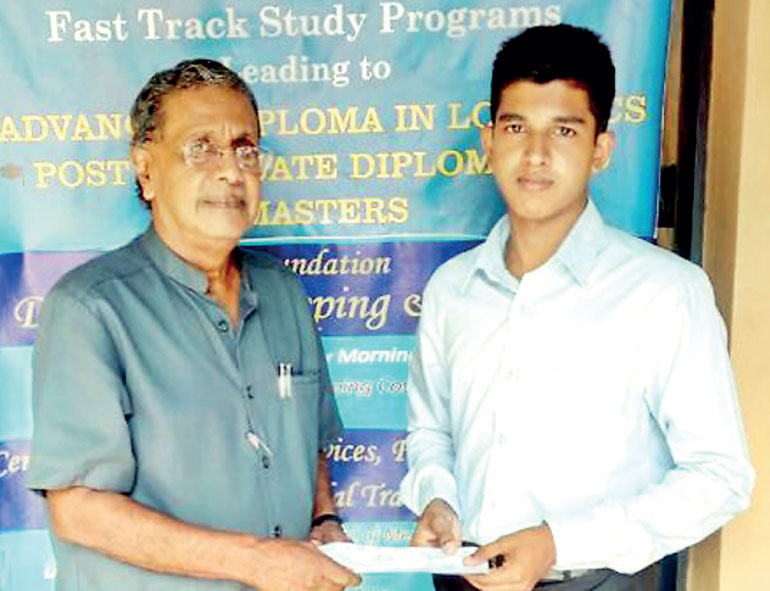 Institute of Shipping and Logistics Managing Director and CEO Gihan Warusavitarne presents the scholarship to Lahiru Galhena of Richmond College.
Another scholarship on offer for April intake
To celebrate its 35th anniversary, the Institute of Shipping and Logistics (IOSL) has awarded a scholarship to an 'A' Level completer from Richmond College Galle, to pursue the Foundation Diploma in Shipping and Logistics and the Certificate in Logistics Services, Freight Forwarding and Multi Modal Transport, the latter of which is a mandatory training program for Freight Forwarding companies, and which is authorised by the Director General of Merchant Shipping of the Ports & Shipping Ministry.

Both courses are conducted concurrently, and Lahiru Galhena, the recipient of the scholarship, is currently following the six months program. Participants receive two certificates for the price of one after successful completion of the courses.

The IOSL has awarded seven scholarships for deserving young people to study shipping and logistics and secure job opportunities during the past eight years. The next intake is scheduled to commence in early April, for which lectures would be held at the Ladies College Institute of Professional Studies, Colombo 3. IOSL will offer another scholarship for April intake along with four half-scholarships.

The Institute is presently inviting applications from the public for one more 35th Anniversary Scholarship, to be awarded to a deserving young person in respect of their April 2018 intake. Applicants should possess good 'O' Levels, including English Language (compulsory) or at least one 'A' Level subject, and preferably should be from a less privileged and/or Ranaviru family, aged under 22 years. The admission criteria could be obtained via email from iosl.cmb@gmail.com.

Applications will close on 26 March (Monday).

The IOSL intends to offer shortly a career path leading to an Advanced Diploma in Logistics, a Post-Graduate Diploma and Masters Degree for professionals in the industry, together with their overseas affiliate.