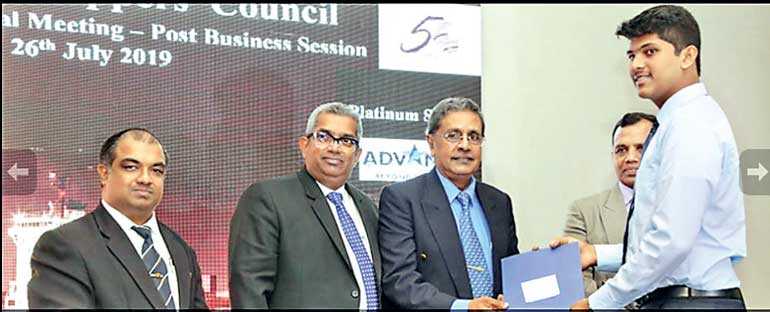 IOSL CEO Gihan Warusavitarne awarding the diploma scholarship to Timothy J. George, management trainee attached to m/s Ceylon Tea Marketing. Also seen (from left): Sri Lanka Shippers Council Chairman Suren Abeysekera and SLSC Immediate Past Chairman Chrisso De Mel
---
The Institute of Shipping and Logistics (IOSL) awarded a scholarship to a nominee of the Sri Lanka Shippers Council to follow their Diploma in Shipping and Logistics Course at the recently-concluded Post AGM fellowship event of the SLSC.

The IOSL is the pioneer commercial shipping training institute which was established in 1982. The founders of the IOSL were Gihan Warusavitarne, a well-known professional in the liner shipping and logistics industry and Jagath Savanadasa, former Secretary General of the National Chamber of Commerce of Sri Lanka. Collectively the co-founders have over 95 years' experience in the industry.

The IOSL awarded this scholarship at the request of Sri Lanka Shippers Council Immediate Past Chairman Chrisso De Mel. The Institute responded positively in line with the council's export strategy to enhance the skill levels and achieve capacity building of their members' employees in the international trade and logistics sector.

During the past several years, the IOSL has awarded eight scholarships to deserving young candidates to follow their diploma course which is of six months duration. This diploma consists of 25 very comprehensive modules and includes the Certificate in Logistics Services and Freight Forwarding course (15 modules), which is approved by the DG of Merchant Shipping of the Ministry of Ports and Shipping. The course is delivered by 10 eminent and highly qualified professionals with vast experience in the logistics industry.

Further details of these training courses could be obtained via hotline: 0777 891 767 and or email: [email protected]. All scholarships awarded by the Institute represent its CSR policy and is also offered as a Community and Vocational service project of the Rotary Club of Colombo Fort, of which the CEO of IOSL Gihan Warusavitarne is a Past President.

There are two to three intakes per year and the institute shortly intends to launch a 'Fast Track' program in end September basis lectures on Saturday afternoons and on Sunday mornings. The lectures are conducted at the Ladies College Institute of Professional Studies, Colombo 3. After completion of the Diploma in Shipping and Logistics, students can proceed to the Advance Diploma in Shipping and Logistics leading to a part-time one year degree awarded by an overseas university. This weekend degree program is especially meant for working professionals in the industry to further their qualifications. The institute is planning to launch more industry-related courses and workshops in the near future.

The mission of the institute is to raise the standard of professionalism within the shipping and logistics industry at all levels. The institute has taught a large number of working professionals attached to shipping and freight forwarding companies, shipping agents, importers/exporters, school leavers and many others.