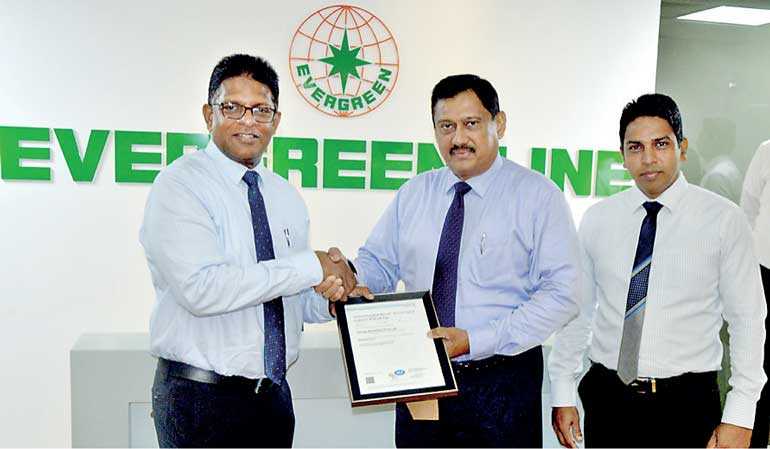 Executive Director Preethilal Fernando receiving the award from Rakitha De Silva
Hemas Maritime Ltd. was awarded ISO 9001:2015 Quality Management System Certification by DNV – GL – Country Manager Rakitha De Silva recently.

Hemas Maritime is a member of the Hemas Group and offers a full range of maritime related services involving Shipping, Maritime, Chartering, Project Logistics services. The company represents Taiwan based one of the world's leading container shipping line namely M/s. Evergreen Line as the General Agent in Sri Lanka. Evergreen Line today ranked as the sixth largest cargo shipping company in the world operating one of the largest shipping container fleet in the world with 94 container ships with a capacity of over one million TEUS (Twenty Foot Equivalent Units) calls at 240 ports in 80 countries worldwide. EMC has been operating in Sri Lanka since 1986 and is today the third largest mainline carrier to the Port of Colombo, EMC currently operates 17 services to Colombo weekly and regular basis using Colombo Port as its Transhipment Hub in the region.

Evergreen Line/Hemas Maritime was recently awarded the Best Shipping Agent in Customer Service for the 'Gulf & Red Sea Trade Lane' for the year 2017/18 at the Annual Awards Ceremony of The Institute of Chartered Shipbrokers – Sri Lanka (ICS-SL).

Hemas Maritime Ltd. is with International repute and wide experience, offers a wide range of services to its principals' and clients including Liner/Feeder and Tramp Vessels Port Agency, Husbandry Services, Bunkering, Hospitality Logistics, Spare parts logistics and Onshore/ Offshore support services.

Hemas Maritime Top Management has many years expertise in Shipping, Marine and Logistics industries and specialised in handling Project Logistics and Offshore Maritime operations. Company presently provides a range of services to its worldwide Principals all types of vessels calls at all ports in Sri Lanka.

Hemas Maritime Ltd. successfully clinched three awards at the prestigious 'National Business Excellence Awards 2017' held in December 2017, with two 'Gold' Awards and one 'Silver' Award. The awards secured by Hemas Maritime were for the categories of the Criteria Award for 'Excellence in Business and Financial Results' and the Sector Award for 'Shipping and Shipping Related Services Sector' in which they emerged as 'Winner', while the 'Silver' Award was a Category Award for the 'Medium Category Companies'. The awards serve as a testament to the many strengths of Hemas Maritime arm, establishing it as a benchmark of service excellence within the Maritime Sector.

The ISO Quality Management System assures the quality enhancement in all of these services. The prime motivation to acquire ISO Certification stems from its desire for continuous improvement of services so as to be the recognised as the preferred service provider to its loyal and prospective customer base.