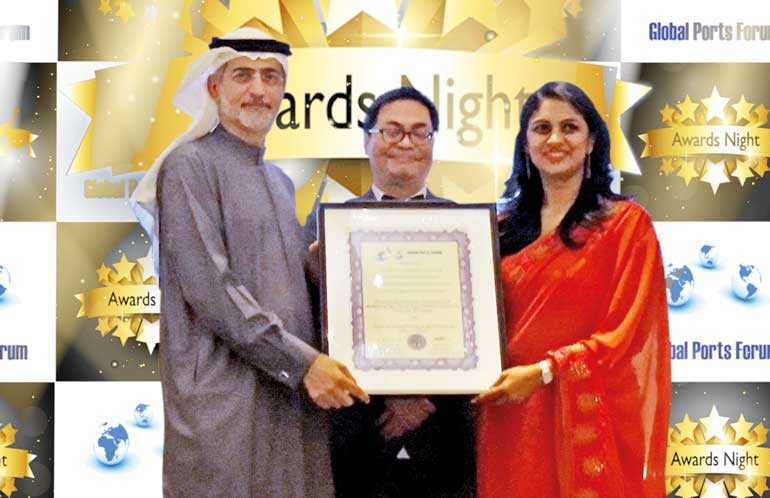 South Asia Gateway Terminals Commercial and Marketing Manager Dhashma Karunaratne receiving the award from Assistant Minister of Foreign Affairs and International Co-operation for Economic and Trade Affairs of UAE Mohammed Sharaf, in the presence of The Global Ports Forum Chairman Thiomas Ng
South Asia Gateway Terminals (SAGT) Commercial and Marketing Manager Dhashma Karunaratne was awarded the 'Most Inspiring Woman in Ports 2019'. Dhashma received the Global Ports Forum of Singapore award at a glitzy ceremony held at Dubai's Hyatt Regency Hotel.

In accepting the award, she said "I dedicate this award to all the hard-working women in our industry; who sacrifice immensely each day to balance career responsibilities and family." She also added, "My mother tops them all, she sacrificed much for me and believed in me from the day God knitted me in her womb."

In her capacity as the Commercial and Marketing Manager at SAGT, Dhashma is responsible for executing the Commercial and Marketing Strategy. She drives initiatives for business growth integrating contractual performance monitoring and compliance. In her professional career she has held diverse roles, including Corporate Finance, Business Strategy, Management Accounting, Compliance and New Business Development.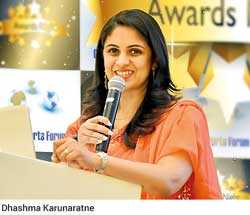 Dhashma holds two Charters and she currently serves as the Chairperson of Women in Logistics and Transport Sri Lanka (WiLAT SL) and serves on the council of parent body, Chartered Institute of Logistics and Transport Sri Lanka (CILT SL). She is a strong proponent for gender empowerment and family-work-life balance and serves as a mentor for emerging women leaders in the industry. She launched the HeForShe awards in partnership with

UN Women and has successfully implemented programs to position women in logistics and transport as an integral contributor to the economy. Dhashma holds a Master's Degree in Business Studies from the University of Colombo (SL) and she is a Fellow of the CIMA (UK), a Chartered Global Management Accountant (CGMA) and a Chartered Member of Chartered Institute of Logistics and Transport (CMILT). She is Certified by Central Bank of SL as a Treasury and Forex Dealer and is an Affiliate Member of the Institute of Personnel Management (HR).

Dhashma has spoken on youth development and women empowerment at various fora, such as the SAARC Business leaders' conclave, Asia Women's Rugby 7s Captains Forum, University of Moratuwa and WiLAT Ignite. She volunteers for community work at the Centre of Hope and serves as a governing body member at People's Church, Colombo.