Brilliance and formidable intellect is nothing new to employees at GAC Group Sri Lanka. While excelling at work, they manage to stand out and top the masses through academic achievements as well.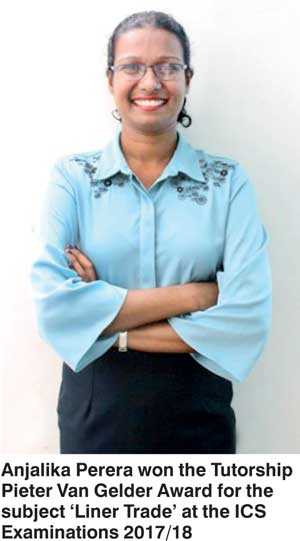 Anjalika Perera topped the global shipping academic rankings, as one of the two Sri Lankans who won a world prize at the Institute of Chartered Ship Brokers (UK) (ICS) academic examinations of 2017/18.

Anjalika Perera won her world prize for the subject 'Liner Trade' out of a student base of almost 2000 and will be receiving the Tutorship Pieter Van Gelder Award.

Together with her fellow graduates, Anjalika will be attending the award ceremony at Trinity House, London where she will be recognised for her academic excellence. At her young age of 27, Anjalika rose to the top at a global level and set the benchmark for aspiring future Sri Lankans to invite resilience and hard work into their lives.

"I'm overjoyed with my achievement and proud to represent my company and country at the Award Ceremony in London. I thank everyone who has helped me in this journey, especially GAC – who has given me so many opportunities in my career to grow. I was told numerous times that the shipping industry was no place for a woman, but the amazing support I continuously received from my team and my need to constantly learn new things, has helped me come this far. Shipping has become my passion and I hope to continue down this career path in the years to come and I'm sure ICS is going to be a great booster for it," Anjalika said.

Starting her career as a Management Trainee at GAC Sri Lanka, a McLarens Group company, Anjalika has impressed and excelled since day one and has come a long way. Today, as a Senior Executive of Operations, she handles business development and vessel agency operations while being an active member of Women's International Shipping & Trading Association (WISTA). With the exposure and the experience she gained from working at GAC Sri Lanka, the need to further broaden her understanding of the maritime industry and her thirst for knowledge pushed her to enroll as a student in the Institute of Chartered Ship Brokers (UK).

"We've always encouraged our staff members to broaden their horizons and feed their inquisitiveness. I couldn't be prouder of Anjalika for setting an example for the younger generations. To have achieved this recognition so early on in her career only highlights her undeniable potential in her future endeavors. I wish her all the best and have no doubt she will continue to achieve greatness," commented Mahesh Kurukulasuriya, Managing Director, GAC Group Sri Lanka.

Anjalika is the second candidate in the company to win a world prize at the ICS UK examinations. Richard Rodrigo, currently Manager, Commercial for GAC Marine, won the world prize in 2013 for the subject "Port Agency"and received the ArmacAward. Encouraging our employees to seek new challenges and step out of their comfort zones has been the reason more and more of them have enrolled with ICS UK. The industry insights and the vast knowledge they gain from internationally recognised professionals will help them further enrich their careers.