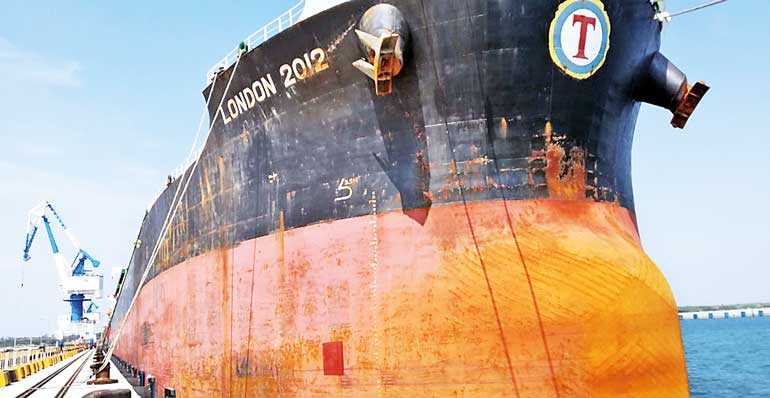 MV London 2012, attending shell plate renewal on Fwd Port including internal frames with the means of hanging staging with access man basket
The MV London 2012 (DWT 82,562, LOA 228.99, Beam 32.20) bulk carrier owned by Tsakos Columbia Ship Management SA, Greece, called in at HIPG facility on 9 February for ship-side steel renewal repairs. The vessel was initially planned for Colombo, but due to shortage of suitable berthing, the vessel's repairs were smoothly shifted to the HIPG facility.
Colombo Dockyard's recently launched branch office at Hambantota moved into action, providing the required logistics and repair services. The project was co-ordinated swiftly with the HIPG team and necessary services were mobilised from Colombo, as the major scope was the renewal of ship-side steel (curved plates), internal and miscellaneous repairs.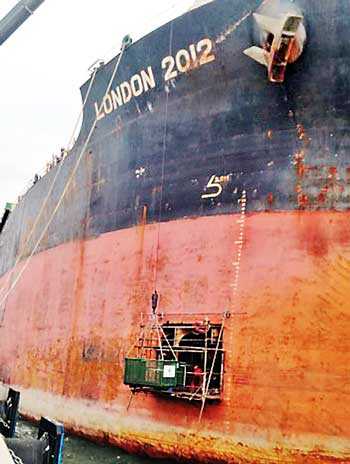 The project team assigned to the HIP facility comprised Afloat Repairs Senior Engineer Venura Wanasinghe, Ship Manager Samitha Silva, HIPG Project Engineer I.K.L.C. Weerasinghe, Engine Repair Engineer Janith Nilaweera and Steel Repair Engineer Manjula Abeysundara. They were well supported by the team in Colombo, especially Planning Senior Engineer Avantha Gunatillake, to meet the continuous resource requirements in completing the project and meeting the owners' and Bureau Veritas class requirements.
Starting off the Hambantota afloat repair operations on 3 February, Colombo Dockyard team is busy attending to three more afloat projects, namely MV APJ Mahadeva, Drill Ship Aban Abraham and MT SCF. Sayan. The opening of the highway up to Hambantota planned for 23 February will make logistics and resource mobilisation faster and more efficient, and the location a practical and viable one for ship owners and managers.
The strategic maritime location of Hambantota in close proximity to key maritime routes will allow Colombo Dockyard to offer afloat repair services to a multitude of vessels calling for transhipment, bunkering and other operations, as well as dedicated afloat repairs. The HIPG is a deep draft port with extensive berths that can handle vessels up to 17-meter draft, going up to VLCC. Colombo Dockyard's recently launched the Rapid Response Afloat Repair Service (RRARS) with a clear focus to provide afloat repairs at all Sri Lankan ports, that will play a crucial role in providing the required repair support to the vessels calling at Hambantota Port. This capacity augmentation for afloat repairs in Sri Lanka is expected to bring in much-needed foreign exchange to the Sri Lankan economy. Thus expanding the ship repair footprint in Sri Lanka to the deep south of the island, continuing the odyssey of excellence.