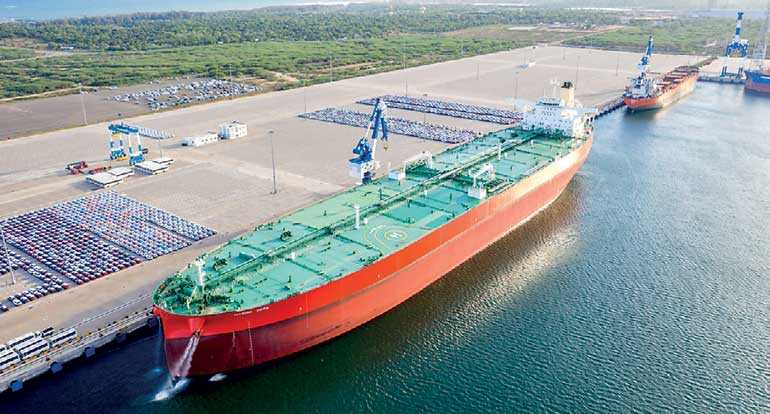 MT Marine Hope accommodated at the HIPG berth for afloat repairs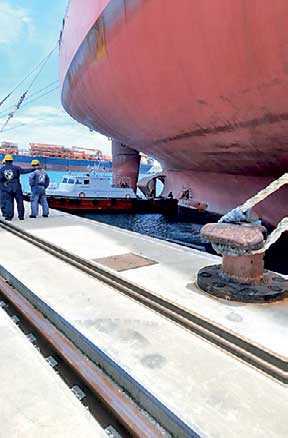 The Ango Eastern Tanker Management, Hong Kong managed VLCC (Very Large Crude-oil Carrier) LOA, 332.98 metres with a gross tonnage of 159,962, arrived in Hambantota Port for emergency repairs on the overboard line. Anglo-Eastern is one of the leading global organisations, with over 600 ships under full-third party ship management and operating from 25 locations spread across the globe.

The Colombo Dockyard afloat repair team was geared to provide the required service to the vessel, through the branch office operating at HIPG. This also marked a milestone at the HIG Port as she was the largest tanker to be handled at the Hambantota Port. This project was handled cautiously taking into consideration the COVID-19 health guidelines and in strict compliance with safety practices.

The yard prefabricated the Sch 140, Dia 250mm stub pipe piece as per the drawings provided and renewed the existing leaking line on arrival to berth. The vessel was trimmed in order the overboard line location was above the waterline. The job was done with means of hanging staging at berth, gaining safe access to the repair location.

The project team was headed by P.L. Ramesh Lahiru while co-ordination support was extended by Venura Wanasinghe, Senior Engineer (Afloat Repair) the owner's interest was looked after by Arvinder Pal Singh, operating remotely from Hong Kong.

The classification society American Bureau of Shipping (ABS) attended the vessel at HIPG to inspect and clear the repair scope carried out by the shipyard, as per industry requirements. The local husbanding matters were coordinated by Malship (Ceylon) Ltd.