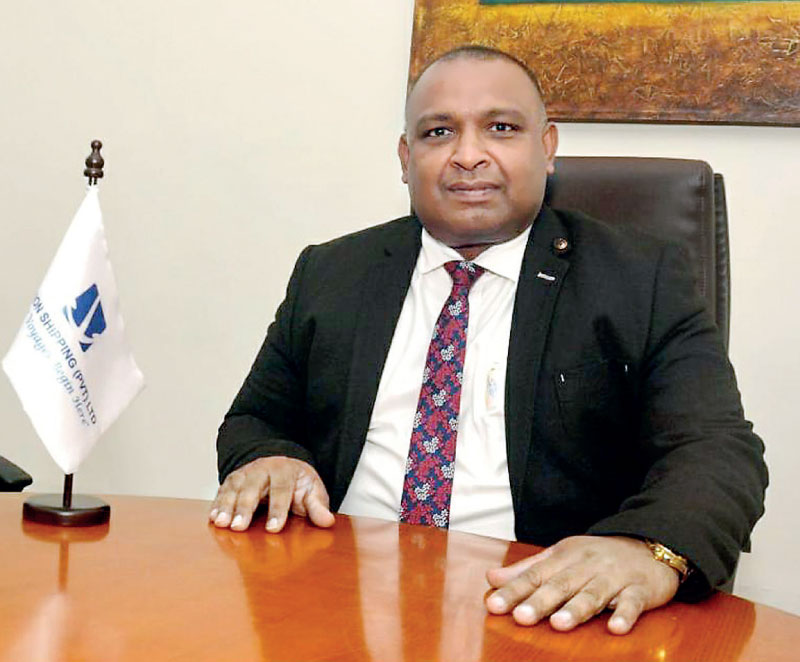 Clarion Shipping Director/CEO Tharanga Perera
---
The shipping and logistics industry in Sri Lanka is a vital component that contributes immensely to the country's economy and is instrumental in ensuring business and economic growth in the region. With the COVID-19 pandemic that has engulfed the entire world, Sri Lanka, too, has faced exponential challenges across every industry and business sector. However, shipping entities such as Clarion Shipping Ltd. have been resilient throughout this period and ensured that new processes were introduced to advance its service provision and add more value to the company. Clarion Shipping Director/CEO Tharanga Perera, who has had an extensive career in the shipping sector, recently reached a milestone, having completed 25 years in the industry. Having started from humble beginnings, today he heads Clarion Shipping., which is a subsidiary of Hayleys Advantis. He is a product of Thurstan College and went on to complete his MBA aspirations from Buckinghamshire New University, UK. He is an avid boxer and a keen badminton player. Here, Perera shares his perspective on the current industry environment:
---
Q: What is the significance behind Sri Lanka as a logistics hub, and how has the aftermath of COVID-19 impacted the country's shipping industry?
Sri Lanka is strategically located in the centre of the Indian Ocean, roughly about 10 nautical miles off the traditional East-West maritime trade route, with approximately 60,000 ships passing through annually. The Port of Colombo is a significant player in the region and acts as a major transhipment hub connecting India and other countries.

At the initial stages of the pandemic, there was a substantial fall in international trade, and Sri Lanka being a key trading hub in the region, experienced a fall in cargo volumes. Similar to transhipment volumes, due to broad import restrictions, we saw a steady decline of imports to the country as well.

However, recently a modest upturn in maritime trade has begun to emerge as new services introduced during the pandemic, supported the Port of Colombo to maintain its momentum.

The SLPA's initiatives such as integrating paperless solutions to many port-related services and digitalising and streamlining port-related processes supported immensely with the uninterrupted continuation of port operations.


Q: What strategies should be implemented in instigating a recovery process that would also assist when facing similar situations in the future?

One of the best strategies would be investing in technology. The world is increasingly relying on digital technology to help weather the current COVID-19 storm. Furthermore, the continuous development in this area would assist in better managing unforeseen events in future. With social distancing protocols and work from home practices being the new norm today, adopting modern technology such as the cloud, the internet-of-things and data analytics will create new ways to move products.

Under the current circumstances we see that businesses and consumers have adopted a digital approach by buying and selling goods online. For Sri Lanka to gain from this trend, prioritising national digital readiness should be given utmost importance so that more local businesses can benefit from the digital economy.


Q: Is your organisation working on any systems implementation focusing on maximising your operations or increasing your efficiency?

Since its inception in 1999, Clarion Shipping has expanded its service portfolio to cover all aspects of logistics services, cementing its position as a reliable logistics partner in Sri Lanka. Clarion is also a pioneer shipping agency with license to operate in all commercial and fisheries ports in Colombo, Galle, Hambantota, Trincomalee and Kankesanthurai. The company's parent company is Hayleys Advantis Ltd., the transportation and logistics arm of Hayleys PLC.

Clarion Shipping is shouldered by four pillars; Clarion Marine, Clarion Freight, Clarion Containers and Clarion Bulk. Moving forward, our company has taken steps to integrate all four pillars to provide our customers with the benefit of experiencing end-to-end visibility across diversified logistics needs and, hence, initiate a hassle-free one point of contact with this integration.

Additionally, we are expanding horizontally to reach out to our stakeholders and customers from every part of the country. We are currently expanding our branch network and have shortlisted two office locations in Trincomalee and Hambantota and will also expand into Kankesanthurai, making Clarion Shipping the only fully-fledged company to have that additional reach set in place, covering a vast customer base in Sri Lanka.
Q: What can cause challenges in the logistics industry at present?
With the globalisation of businesses and subsequent competitive pressures, almost every company is striving to deliver customised products worldwide with an emphasis on reliability and timely delivery. Some of the industry's challenges can be attributed to inefficiencies in business process improvement, reverse logistics, inventory control, visibility, etc.
Q: What makes the logistics sector exciting, and what kind of career opportunities can a new entrant to the industry expect to find?

The transportation and logistics industry is the pillar of any economy, and the driving force behind all sectors, be it agriculture, manufacturing or services. It covers several facets and levels. Therefore, opportunities for career advancement is always available. By learning and training on the job, employees within the logistics sector can learn about operations from the beginning and move upwards to enhance their career prospects through abundant experiences.


Q: In your opinion, how do you see the future in the logistics industry in Sri Lanka?

Like most industries, the transportation and logistics industry is confronting immense change. Like any other change, this brings both risks and opportunities. For logistics companies to succeed, they should focus on new technology, new market entrants, customer expectations and new business models.

As consumers are increasingly using online platforms to buy and sell their goods more frequently than ever, logistics demand is most certainly growing exponentially. To keep up with the increased demand, we will witness the emergence of robotised warehouses, drones for deliveries, unmanned vehicles and advanced analytics through big data harvesting thereby digitally revolutionising the logistics industry in Sri Lanka.