COSCO Shipping Aries, China's first 20,000 TEU containership with proprietary IPRs built by Nantong COSCO KHI Ship Engineering Ltd. (NACKS) affiliated to COSCO Shipping, on 16 January was named and delivered in Nantong.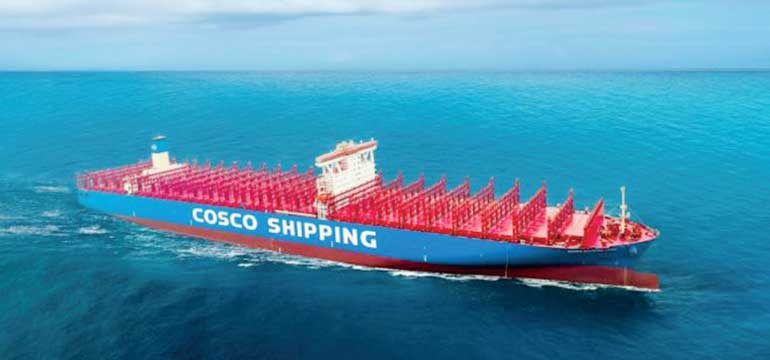 It is the first 20,000 TEU containership built by NACKS for COSCO Shipping Lines as well as another masterpiece after the 13,386 TEU containership independently designed by the company in 2013. The new vessel not only breaks the record of the largest containership delivered in China, but also signifies that COSCO Shipping Heavy Industry has remained at the forefront in the world in the building of ultra large containerships.

COSCO S Shipping Aries is the largest and most advanced containership delivered by a Chinese shipyard to date. Known as 'Sea Castle', it is the one of the longest vessels in the world, with an overall length of 400 meters, moulded beam and depth of 58.6 and 30.7 metres, maximum deadweight of 197,000 tons and a deck area larger than four standard soccer fields. The design of this vessel, a model of next-generation ULCS, embraces the philosophy of environmental protection.

It is fitted with an intelligent ship energy efficiency system and offers advantages in low fuel consumption, large capacity, high intelligence and strong port worthiness. Its carrying capacity, operating speed and safety performance are among the top worldwide while its energy consumption is far less than its peers, and energy efficiency index about 50% lower than the industry benchmark, meeting the international emission standard in a decade. An LNG system is reserved on board for the future conversion of large-capacity LNG bunker serving in specific routes.

COSCO Shipping Aries is planned to serve in the route from the Far East to Northwest Europe as the first 20,000 TEU containership in the fleet of COSCO Shipping Lines, strongly boosting the company's efforts to optimise its global liner network and container transportation services.

The port rotation of the Far East to Northwest Europe loop of COSCO Shipping Lines is reported to be Piraeus (Greece), Rotterdam (the Netherlands) and Hamburg (Germany), offering rapid and trusted direct shipping service from North China, East China and Southeast Asia to Greece and major northwestern European countries.

In addition, by virtue of the huge and effective feeder networks, such route can be linked with Turkey, the Adriatic Sea, the Black Sea, the eastern Mediterranean and North Africa via the Port of Piraeus, providing customers with convenient and rapid services.

With Piraeus as a pivot, it may extend services via the China-Europe Land-Sea Express Line to landlocked countries in Central Europe and on the Balkan Peninsula by means of multimodal transport. Making use of COSCO Shipping's global container shipping network and multimodal transport and extended service network, compounded with the excellent performance, eco-friendliness and safety design of COSCO Shipping Aries, COSCO Shipping Lines will offer more clients easy, reliable and safe one-stop supply chain transportation services.