Ceyline Group ceremoniously opened their new office in the Port of Hambantota last week. The occasion was graced by dignitaries from Hambantota International Port Group (HIPG) as well as Directors and Senior Managers from Ceyline Group Companies.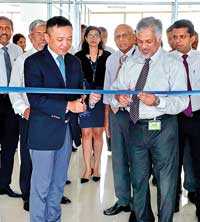 Ceyline intends on adding value to the Port and assisting HIPG in their mission by being a service provider to ships, crew, charterers and ship owners that call at the Port of Hambantota. Ceyline Group, through its subsidiary companies, are able to provide ship provisions and supplies, ship repair services, port agency services, ship and cargo surveys, reefer container management, logistics and transportation services.

"We cannot ignore the strategic significance of the Hambantota Port. China Merchant Port Holdings coming in as a stake holder will only accelerate its progress," stated Ceyline Group Chairman Captain Ajith Peiris. "We thank HIPG CEO Ray Ren and his team for facilitating our office set-up and for encouraging the industry to establish their operations in Hambantota," he further stated.

The Ceyline Group office is located on the 7th floor at the Administrations Building of Hambantota International Port Group (HIPG).