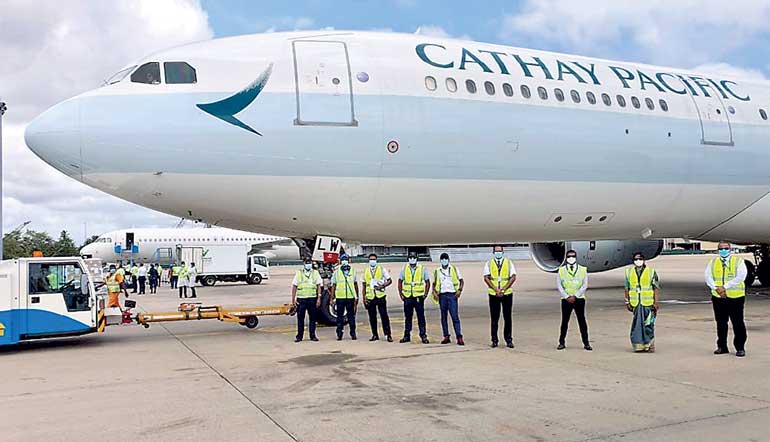 Airline transports over 11,000 kilos of essential Rapid Diagnostic Tests
Cathay Pacific Cargo recently deployed a special charter flight that transported vital Rapid Diagnostic Testing kits to Sri Lanka.
The shipment on-board the airline's Airbus A333 charter departed Incheon for Colombo via Hong Kong on 16 July. The relief material carried on CX2611 weighed over 11,000 kilogrammes and consisted of COVID-19 500,000 Rapid Diagnostic Tests.

The humanitarian relief on-board was sent by the USAID to the Health Ministry to support the nation's healthcare sector to combat the deadly virus.

"The pandemic has caused significant challenges to Sri Lanka. Among the leaders in air cargo fraternity, we stand ready to support the citizens of Sri Lanka by transporting these much-needed supplies, and helping the country in its valiant efforts in fighting the virus. We further understand the criticality of shipping essential medical supplies and thank the USAID for choosing us as their preferred partner to carry these crucial humanitarian supplies," noted Cathay Pacific's Head of Sales and Country Lead Sri Lanka Karthik Radhakanthan.

While passenger flights between Hong Kong and Colombo remain suspended, Cathay Pacific Cargo has been operating weekly cargo freighters. To further support the growing cargo demand, the airline has also introduced Cargo-Only-Passenger flights in-addition to ad-hoc charters.

Cathay Pacific Airways has grown to become one of the world's leading international air cargo carriers. With an expansive global network, a strong freighter fleet, as well as the ability to deploy Cargo-Only-Passenger flight and ad-hoc charters, the airline continues to operate around the clock carrying essential humanitarian supplies material to support the global efforts to combat the virus.