CASA, the voice of the shipping industry successfully facilitated the seminar on 'Paperless initiatives of Sri Lanka Customs and the use of digital signatures' on 24 May at the Sri Lanka Foundation Institute. The seminar was attended by over 120 participants representing diverse industries who will get benefitted or affected from such paperless initiatives.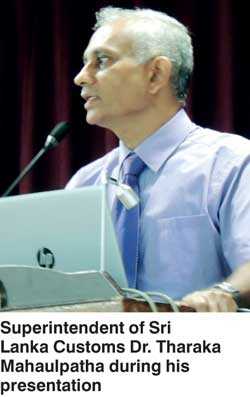 The main speakers were Superintendent of Sri Lanka Customs Dr. Tharaka Mahaulpatha, who has been involved with many national level ICT projects and Lanka Clear Senior Manager IT Security Solutions Duleep Liyanage, who has extensive experience and knowledge of International Standards of IT Security.

The two presentations were followed by a panel discussion which was attended G.D.S.U. Chandrasena, Deputy Director (D-Branch), Sri Lanka Customs; Dinuka Perera, DGM IT and Operations – Lanka Clear; Iqram Cuttilan, Vice Chairman, CASA, Lalindra Gajamange, Senior Manager, Sri Lanka Ports Authority and Shanika Jayasuriya, Manager, Information Systems of the Sri Lanka Ports Authority.

Speaking at the event Chandrasena stated that Sri Lanka Customs has the challenging responsibility of recovering revenue for the government and also to ensure social security while striving to be an enabler to trade, through process improvements and initiatives such as the use of digital signatures. Liyanage explained what a digital signature is and explained the process of obtaining digital signatures. He explained few advantages of using digital signatures including the cost reduction and time savings which will result in significant efficiency gains for all organisations. Liyanage also stated that digital encryption enhances security of documents and there should be less worry than with paper, which can easily be tampered with. Electronic signing capability can automatically detect even minor altering, and it can record more data points than paper. Liyanage went on to demonstrate how a digital signature can be put on a document which was quite informative to the participants

Dr. Mahaulpatha briefed the audience of the paperless initiatives that Sri Lanka Customs has already taken and mentioned that direct access had been given to Customs House Agents and the Shipping Agents to log into The Automated System for Customs Data (ASYCUDA). He also touched on measures taken to address several operational issues that are being faced by the industry at present and informed of an impending systems upgrade at Sri Lanka Customs to improve the current user experience.

He went on to explain the potential of online real time payments between CASA members and their customers through Lanka Clear and urged all Shipping Agents to obtain Digital Signatures for the purpose of submitting e-manifests and Delivery Orders in future. He also requested Shipping Agents to study the provisions of the Electronic Transactions Act in ascertaining how digital signatures can be effectively used with customers.