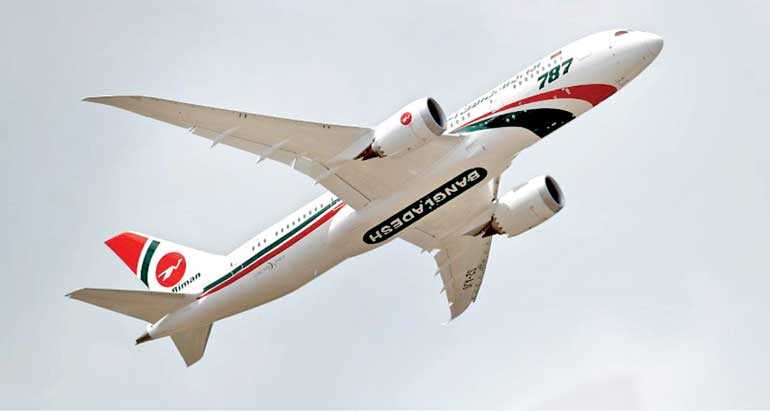 A Boeing 787 puts on a display at the Farnborough Airshow, in Farnborough - REUTERS
World's largest planemaker says won 528 orders and commitments
Airbus reports 431 new deals; AirAsia gives coveted order for 34 extra A330neo jets expanding its purchase to 100.
FARNBOROUGH, England (Reuters): Boeing claimed victory after outselling rival Airbus at last week's Farnborough Airshow, where the world's largest planemakers repeated last year's comparable haul of around 900 orders with the help of leasing industry demand.
The world's largest planemaker said it had won 528 orders and commitments at the event in southern England, while Airbus reported 431 new deals, or 371 excluding the recently acquired Bombardier CSeries, now rebranded A220.

But the tally was overshadowed by some 400 deals where the names of the buyers were withheld - unusual at an event mainly designed to attract publicity, and prompting one delegate leaving Farnborough to quip that he had attended a "UFO show".

Airbus blamed the incognito wave on trade tensions that had made some firms nervous about appearing to side with the United States or other economic powers amid heated trade rhetoric.

"The fact that the world is waking up to see which tweet has hit which part of the world doesn't really help," Airbus sales chief Eric Schulz said, in an apparent reference to U.S. President Donald Trump's frequent use of Twitter.

But the publicity-shy trend was also widely seen as evidence that both giants were anxious to boost their tallies.

Planemakers in some cases accelerate semi-finished business or use shows as a deadline to get airlines to commit even if they are not ready to be named, people familiar with talks said.

"The big 'thing' at this air show has been unknown customers sort-of showing some interest in buying planes," Vertical Research Partners analyst Robert Stallard said.
One airline often in the limelight is fast-growing AirAsia, whose co-founders held announcements in Farnborough and Kuala Lumpur to hand Airbus a coveted order for 34 extra A330neo jets, expanding its purchase to 100.

Negotiations went down to the wire after AirAsia, in a rift with its longstanding supplier, threatened to defect to Boeing for its long-haul needs. The deal saw AirAsia renegotiate and reconfirm an existing order for 66 of the slow-selling A330neos.

Airbus's hopes of securing an immediate top-up order for 100 smaller A321neo from the same airline were dashed, however.

The A330neo has been hit by a series of market losses to the newer Boeing 787, leaving it exposed to an AirAsia cancellation.

The battle for sales in that 250-300-seat segment was underscored on Thursday when Boeing firmed up an order for at least 10 787s from Hawaiian Airlines, secured at the expense of the A330neo.Boeing sales chief Ihssane Mounir, declaring himself in a "Hawaiian mood" as he addressed reporters sporting a Hawaiian-style shirt, said Boeing remained ahead on wide-body orders.

In another key battleground, Airbus hit back by grabbing an order for 50 A321neo jets from Vietnam's VietJet <VJC.HM>, 24 hours after the fast-growing budget carrier placed an order for 100 737 MAX aircraft across the tarmac at Boeing. The A321neo has been far outselling Boeing in that 220-seat niche.

VietJet has ordered heavily from both Airbus and Boeing, reflecting Vietnam's attempts to diversify foreign and defence policies and build business relations with multiple suppliers.
The show was also a test for small jetmakers in the process of being gobbled up by Airbus and Boeing. Airbus recently completed its acquisition of the A220 and Boeing tentatively agreed to buy the commercial aircraft unit of Brazil's Embraer.

Airbus sold 60 A220 and Embraer sold 300 jets, including many too small to compete with the A220, worth $15 billion.

Leasing companies led this week's charge of buyers, including some that have not previously turned up to buy directly from manufacturers, preferring instead to buy freshly built jets from airlines and then rent them back at a profit.

That so-called sale-and-leaseback market has been squeezed as a flood of new investment money piles in looking for returns.

Boeing enjoyed a surge in demand for freighters despite trade tensions, thwarting for now efforts by Airbus to find a customer ready to launch a freighter version of its A330neo, though Schulz said Airbus was looking at its options on freight.

"Cargo is coming back strong," Mounir said, highlighting the strength of e-commerce package freight globally.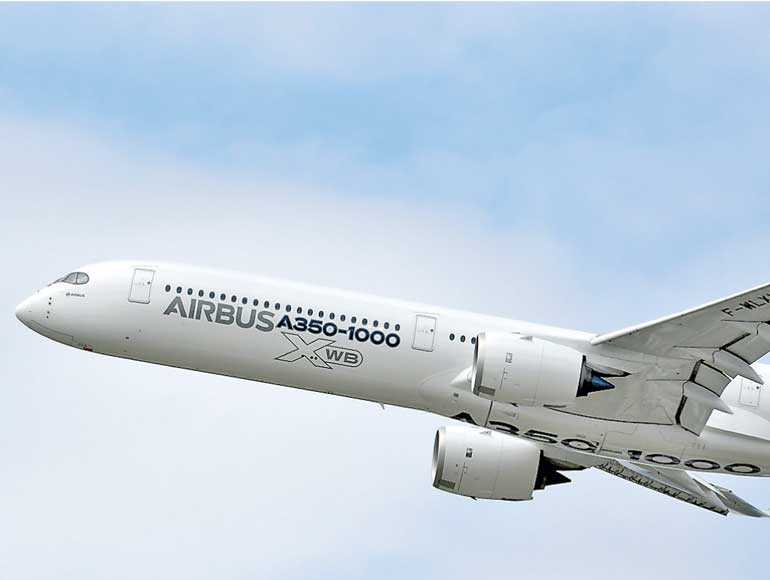 An Airbus A350-1000 passenger plane