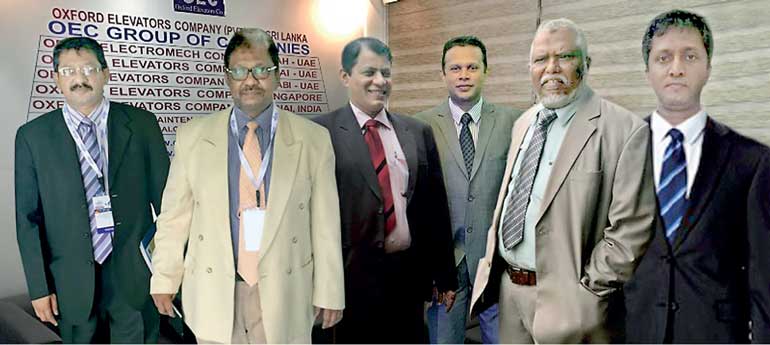 From left: OEC Group Director A.K.M. Mohideen, OEC India Managing Director K.S. Jagubar, OEC Group Founder and Chairman S.J. Kader Sahibu, OEC Sri Lanka Marketing Manager M. Roshan Akthar, OEC Sri Lanka Managing Director Ahamed K Raja and OEC Sri Lanka Director S.S. Ibrahim
With the significant growth in real estate and commercial infrastructure and the increasing need for alternative cost-saving economical maintenance options, Oxford Elevators Company (OEC) recently launched its operations in Sri Lanka.

This was under the vision and direction of OEC Founder and Chairman S.J. Kader Sahibu. Established in Sharjah – United Arab Emirates (UAE), OEC group of companies has offices in Dubai, Abu Dhabi, Singapore and all major metropolitan cities in India namely Chennai, Mumbai, Bengaluru, Kolkata and Ahmedabad. The company boasts over two decades of a vast range of technical, professional and management experience in elevators and escalators.

The company has its own brand 'Oxford' which comes in a wide range and specialises in installing and modernising high-speed, panoramic, home, machine room less (MRL) elevators including car lifts, escalators, travellators, moving walks, scissor lifts, dump waiters, and parking systems.

Oxford Elevators Ltd. (Sri Lanka) Managing Director Ahamed K Raja briefed that, "We are delighted to bring Oxford elevators and escalators to the country with 15 years warranty for new Oxford brand installations and also provide a complete service from maintenance, repairing through to renovation and modernisation of all leading types and brands."

"We are confident to thrive in this market with the Oxford brand and a continued success in providing elevators and escalators modernisation and trouble-free cost effective AMC (annual maintenance contracts) covering all leading brands. The cost especially in maintaining elevators and escalators by OEM (Original Equipment Manufacturer) have been exorbitant and customers globally have turned to look at an alternative 'service provider'.

Many clients are quoted by OEMs with higher maintenance costs; furthermore OEM's not maintaining as promised, unavailable when required, frequently charging extras, and expensive on any modifications. The OEC Group has well established a reputation in being one of the best service providers," he further added.

Oxford Elevators Company currently maintains over 1,500 units of elevators and escalators including its own range of Oxford products, Mitsubishi, Otis, and Sigma amongst many other brands. 1.5 million-dollar worth of elevator spares is available in its central warehouse to support AMCs. The company has installed more than 500 'Oxford' units all across UAE, Singapore, and India. Its maintenance of Mitsubishi elevators and escalators alone covers some of the prestigious shopping complexes, star hotel and high rise towers such as 68-floored Address Down Town Hotel – Dubai, 51-floored Sandus Tower – Sharjah, 40 floored Al Taawun Building – Sharjah, Express Avenue Shopping Complex – Chennai, Hotel Hyatt Regency – Chennai, PurvaVenezia Complex – Bangalore, South city Residencies – Kolkata, Reheja Group – Mumbai, Bhumiraj Group – Mumbai just to name a very few.