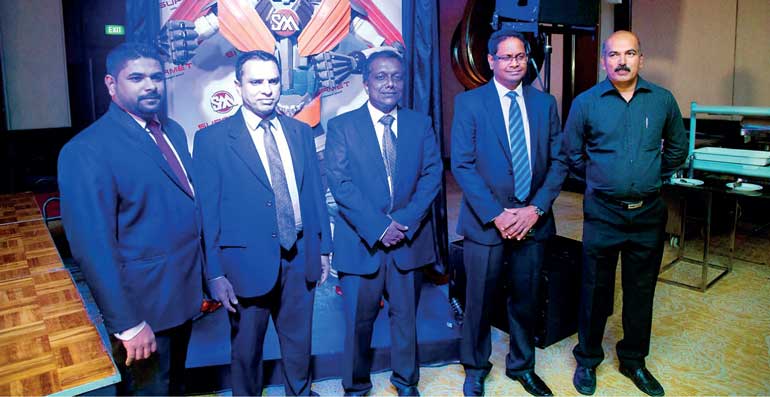 Supermet team at the re launch event (from left): Supermet Building Solutions National Sales Manager Chamika Lakmal Jayasinghe, Supermet Building Solutions Director Jude Fernando, Supermet Building Solutions Managing Director E.J. Gnanam, Supermet Building Solutions Chief Financial Officer Ajith Manoj Weeraman and Rhino Roofing Products Group Marketing Manager Priyantha Jayasinghe
Supermet, the leading provider of superior grade roofing solutions in the country, unveiled its new product line to the market in a ceremony held recently at Cinnamon Lakeside, Colombo. Embracing cutting edge technology and innovation, Supermet has introduced multifarious solutions to the market, encompassing roofing, wall cladding, purlin and gate cladding as well as gutters. Supermet is one of the premium brands of the number one roofing sheet manufacturer in Sri Lanka – the Rhino Group.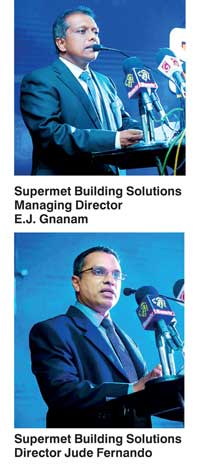 Incorporating innovative design technology, Supermet has introduced five different types of roofing sheets to the market namely - Tile roofing sheet, Hi-Ten roofing sheet, Easy roofing sheet, Curved roofing sheet and Step roofing sheet. The curved roofing sheets are further classified into four varieties to suit different style preferences and requirements. These roofing sheets offer a number of advantages including easy installation and tightly overlapping to thoroughly prevent rainwater leakage.

Supermet uses AZ150 Zinc Aluminium coating to increase the durability of the product, enhancing overall strength to resist high pressures. Furthermore, it offers a diverse range of hi-tensile sheet based products in customisable density, shapes and colours.

Supermet Purlins are made of high quality steel imported from globally recognised South Korean coil manufacturers, giving the material a tensile strength of 450 Mega Pascal. Supermet Purlins are manufactured on par with international quality standards, hence they are highly durable, robust, weather and insect resistant in contrast to the traditional wooden purlins.

To complement with its roofing sheet and purlins, Supermet manufactures an exclusive range of nails and other essential accessories offering higher compatibility and quality. In addition to roofing and purlins, the brand also offers cladding material for walls and gates in varied dimensions, colours and density levels to suit customer requirements and standards.

Expressing his views at the launching ceremony, Supermet Director Jude Fernando said, "Supermet is a benchmark for quality and excellence. We only use finest quality raw material and conduct strict quality checks to ensure the premium quality in our final products. And we also use a coating of high grade zinc aluminium to ensure strength of the highest degree." Elaborating further Jude Fernando noted, "We have the capacity to undertake large scale demands, and supply Supermet roofing and allied material in large quantities for massive projects such as warehouses, mega constructions and factories."

Supermet Managing Director E.J. Gnanam concluded that the day has marked a historical milestone for the company, embarking Supermet on a long journey to provide the industry with innovative, futuristic and pragmatic solutions.