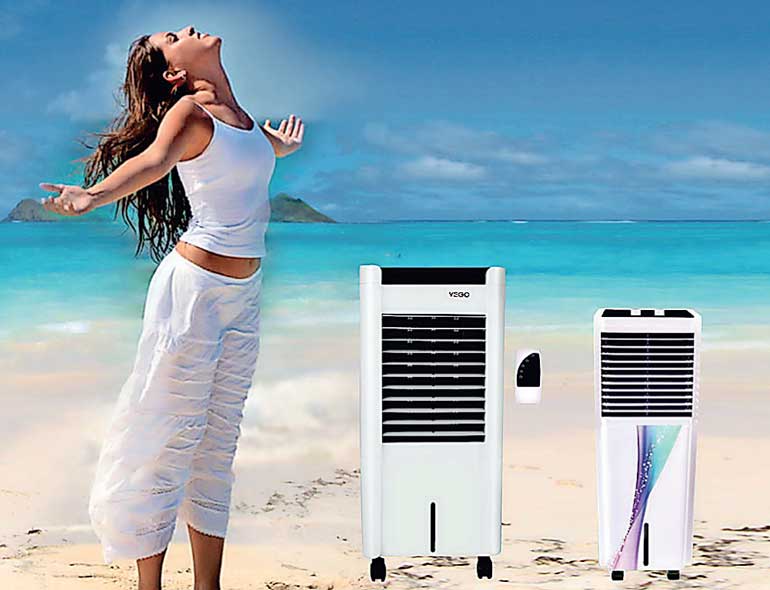 Launches innovative, eco-friendly, low cost room cooling solutions with leading Indian brand
As temperatures begin their ascendance towards the seasonal peak in Sri Lanka, Softlogic Holdings is offering a way to beat the heat without the high investment and operating costs associated with traditional air-conditioning.

The country's most dynamic retailer Softlogic Retail Ltd. has been appointed sole distributor for VEGO, one of India's leading air cooler brands and has announced the launch of two sophisticated models that operate on the evaporating air cooling principle – the most efficient environment-friendly cooling technology available.

With prices starting at just Rs. 15,000, the 'VEGO Typhoon' and 'VEGO Frost i' represent the most cost-effective solutions for room cooling and reducing humidity with minimal depletion of resources, Softlogic Retail Ltd., which will sells these units at selected Softlogic and Softlogic MAX showrooms, said.

"The Softlogic Group is already one of the strongest players in Sri Lanka in consumer electronics in which it represents a number of leading global brands," said Softlogic Retail Ltd. Product Group Manager Shehan Zahir. "We are delighted to add the VEGO brand to our portfolio, and to represent an innovative product range that is perfect for the local market and local conditions."

Weighing only 3.9 kg and consuming just 95 watts of electricity, the VEGO Typhoon compact portable air cooler has a 20 litre water tank, three-way speed control and motorised louvers. It delivers air flow of 550 cubic metres per hour, can throw air to a distance of 20 feet and cool an area of 200 square feet. It has a 'bed level air throw' feature for precision cooling, uses honeycomb cooling media and can work off an inverter.

The sophisticated and higher capacity touch pad controlled VEGO Frost i Air Cooler has a 42 litre water tank, top-loading ice compartment, a smart looking intelligent LCD display and remote control. It generates air flow of 1,950 cubic metres per hour, can throw air up to 40 feet through an intelligently designed 7-inch blower, and cool an area of 300 square feet. Like the Typhoon, the Frost i also has motorised louvers and bed level air throw, and can work off an inverter. It consumes just 175 watts of power.

The VEGO brand is owned by VEGO Home Science Ltd. of Mumbai, India, and is part of a business group that has nearly 40 years of hands-on experience in various sectors such as Exports, Imports, Raw materials processing, Plastic moulding, Original Equipment Manufacturing (OEM) of Apparels and Garments and a strong foothold in Real Estate. The Group's air cooler business is the result of a foray into white goods, home appliances, electronic appliances and kitchen appliances.

Softlogic Holdings PLC is one of Sri Lanka's foremost, dynamic conglomerates, with leading market positions in the country's growing economic sectors; retail, healthcare, ICT, automobiles, leisure and financial services. Softlogic holds authorised distributorships for key global brands and today, employs over 9,000 people in its offices located in Sri Lanka and Australia.