One of the most prestigious business entities in the country and the Leaders in Consumer durable goods market, Singer Sri Lanka PLC partnered with Sri Lanka's premier lifestyle exhibition Home & You Lifestyle Fair for the 19th consecutive year as the Principal Sponsor. The mega lifestyle exhibition is all set to bring everything you need to create the perfect surrounding at the place you live.

The Home & You Lifestyle Fair will be presented for the 19th consecutive year by Aitken Spence Conventions & Exhibitions at the Bandaranaike Memorial International Conference Hall (BMICH) in Colombo from 7 to 9 July.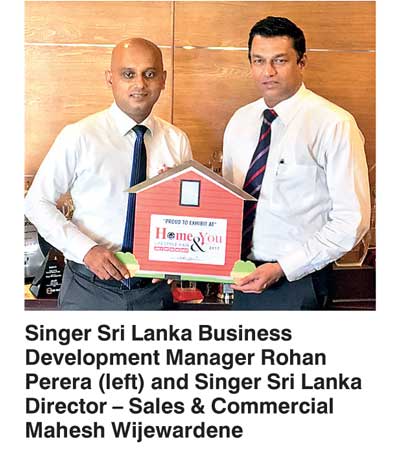 To many, home is a place where they are at peace and are able to be themselves. A home can be many things to many people. But most often it is the heaven on earth to live on with loved ones with beauty and serenity; whether it is a small house, apartment, a bungalow or a mansion.

Personal styles and designs may vary from taste to taste. However, each proud housekeeper will dream on beautifying and making their surroundings as comfortable and welcoming as possible. The Home & You Lifestyle Fair 2017 is the ideal place to be if you look for such serenity and it is all set to provide an unmatched experience to those who strive to take their living standards to the next level with brand new ideas and inspirations.

More than 15,000 visitors are expected at this annual showcase which unveils a vast array of products and services related to home decor, lighting, furnishing etc. while the collaboration with Singer Sri Lanka PLC will also strengthen the popular event, adding more colour and glamour.