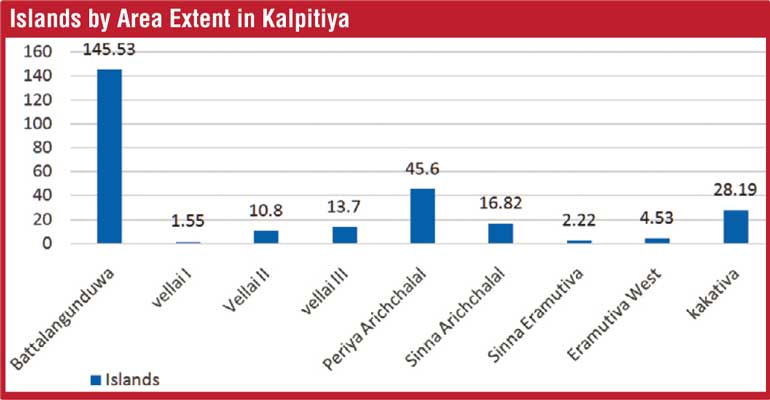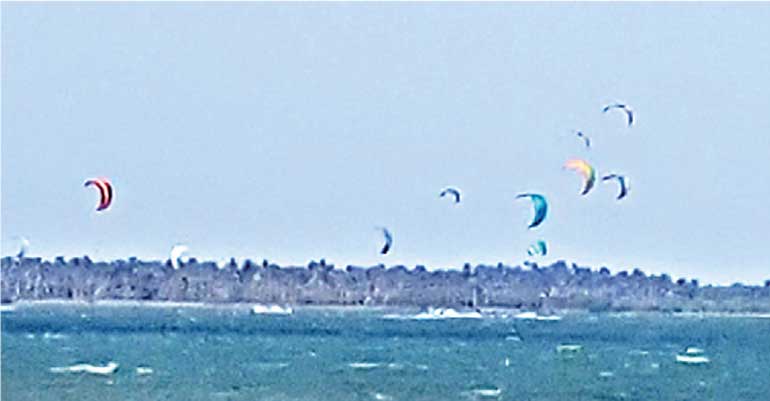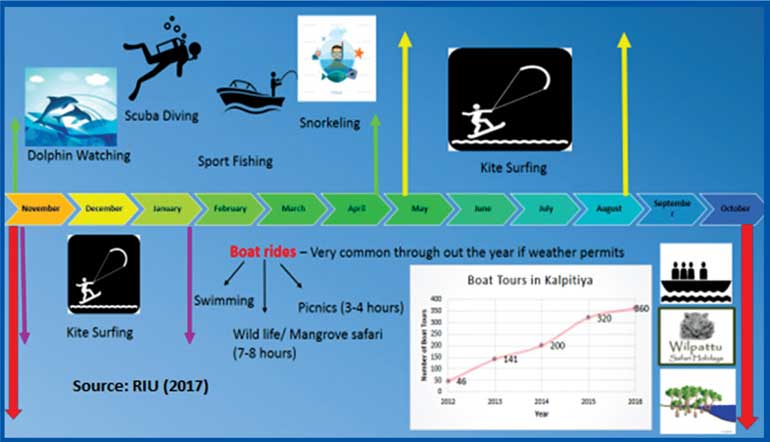 By Research

Intelligence Unit

Located in the Puttalam District along the northwest coast of Sri Lanka, Kalpitiya is a blooming area in terms of the country's tourism.

Its breezy tropical climate has attracted both marine life and tourists from around the world. The sandy and flat coastal lands and thick mangrove swamps and marshes attract many western tourists who tend to spend their summer and winter vacations in Kalpitiya.

The growing tourist population which arrives in Kalpitiya mostly consists of Western European travellers from countries such as Germany, England, France, Italy and Austria. Tourists usually arrive in Kalpitiya to engage in the water sports that are offered in the area regardless of their differing budget limitations.

The most popular water sports in the area are kitesurfing, windsurfing, sailing, parasailing, dolphin watching, dugong watching, whale watching, Island hopping, snorkelling, diving (largest bar reef in south Asia - 420 ha), fishing, a wildlife safari in Wilpattu by boat, beach activities (trail bikes and scooters) and lagoon water sports. Kalpitiya is also home to the bar reef, considered one of the best reefs in the whole of Asia which is an hour's ride by boat from Kalpitiya.

While being one of the hottest kite surfing destinations during most of the year, it is also best suited for swimming and snorkelling during the period between late November and early May each year.

In 2003 it was found that the waters surrounding Sri Lanka have the highest population of sperm whales. Research on sperm whales resumed in Kalpitiya after the Civil War as it was restricted due to security reasons. However, it has not only been a paradise for sperm whales but also dolphins, blue whales and many other large species.

Alankuda Beach in Kalpitiya is best known for whale watching starting points. The periods from November to December and March to April are the best seasons to admire the beauty of whales' movements. During the off season it is very difficult to enter the rough seas due to the monsoonal effects. The extremely rare and endangered humpback dolphin or pink dolphin is also found in the lagoon.

Another attraction is the boat safari which goes to the Wilpattu safari park in the mornings. Fees varying between $ 200 and $ 300 are charged for a boat ride of up to six people. There are popular sightings of elephants, deer, eagles, crocodiles, wildfowl and leopards.

The tourists range from budget backpackers to midrange travellers. Backpackers usually expect to spend a night for around $ 30 and Kalpitiya has a generous offering of such accommodation. More discerning travellers spend around $ 120 per night for more luxurious accommodation.

Kalpitiya comprises the 14 islands of Battalangunduwa, Palliyawatta, Vellai I, Vellai II, Vellai III, Uchchamunai, Ippantivu, Periya Arichchalai, Sinna Arichchalai, Eramutivu, Sinna Eramutivu, Eramutivu West, Kakativu and Mutwal (Dutch Bay) which together cover 1,673 hectares.

With varying land values, investors have been keen on analysing and choosing the best suited place for their investment. According to RIU's research report on Kalpitiya, the following details on land prices have been identified: The RIU report predicts an upward shift in the tourism market in Kalpitiya as more operators and investors enter by targeting midrange markets. For example, Maalu Maalu is an upper-midrange brand which already has an operational hotel on the East Coast of Sri Lanka and has a large hotel under construction in Kalpitiya. With another 13 islands being opened for international investment, it can be said that Kalpitiya can expect potential growth in investment flow and consequent growth in tourism.

However, the report warns of potential damage to the very sensitive physical and natural environment in Kalpitiya that is delicately balanced between the inland areas, lagoons, sand banks, islands and vast Indian Ocean. This unique blend of environmental characteristics combines to make this a unique and unrivalled location that will draw thousands of travellers for many years to come. However, the authorities must ensure that environmental guidelines are enforced and adhered to in order to protect this rich and valuable part of the island.

For more information on the RIU Leisure and Tourism report, contact roshan@riunit.com or dineesha@riunit.com.