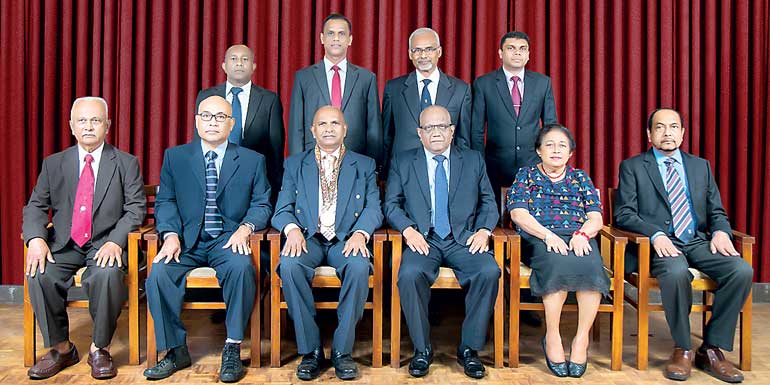 Seated from left: P.B. Kalugalagedara, ShihaanBurah, Russell Cooray, Sunil Fernando, Emeritus Prof. Chitra Wedikkara and Elmo Fernando. Standing from left: Dr. ChandanaJayalath, D.P. Rathapasinghe, Ajith Fernando and A.V.U. Wasanth
By Dr. Chandana Jayalath

The Royal Institution of Chartered Surveyors (RICS) was founded in London as the Surveyors' Club after a meeting of 49 surveyors at the Westminster Palace Hotel on 15 June 1868. In 1946, George VI granted the title 'Royal' and in 1947 this professional body became the Royal Institution of Chartered Surveyors.

The history of RICS is essentially a history of Britain, since its foundation occurred in large part to regulate building standards. It is now the mark of property professionalism with a membership of over 125,000 worldwide belonging to 17 faculties in the surveying disciplines. RICS members are always required to highly comply with professional and ethical standards in their judgments given.

RICS regulate and promote the profession; maintain the highest educational and professional standards; protect clients and consumers via a strict code of ethics; and provide impartial advice and guidance. Only qualified RICS professionals are recognised by designatory letters, FRICS (Fellow), MRICS (Member) and AssocRICS (Associate). RICS works at a cross-governmental level, delivering a solitary, international standard that will enhance a safe and vibrant marketplace in land, real estate, construction and infrastructure, for the benefit of all. RICS' South Asia region comprises the countries of India, Sri Lanka, Bangladesh, Myanmar and Nepal, and formally came into effect from 1 September 2011.

As the incumbent Chairman of the RICS Sri Lanka, Russell Cooray is to lead the functions of RICS within Sri Lanka responsible for the expansion of the RICS profile. To support this, Secretary Shihaan Burah, Treasurer P. Hettiarchchi and seven member RICS executive committee has been constituted and responsible for driving overall RICS plans by providing market insight and helping in membership growth. Working towards Assessment of Professional Competence and assisting potential candidates by guiding them in their career path for full membership, training assessors are to name a few such initiatives.

It is a known fact amongst the surveying disciplines, such as quantity surveying, land surveying, valuation and facilities management, that achieving RICS chartered status is a landmark to their professional career. This landmark of RICS signifies that the membership is competent and reliable to their clients in delivering qualitative outcome of their services. Continuing Professional Development is one such approach to make sure that their members are updated with the latest knowledge. RICS Sri Lanka has an annual planner to achieve this.

As per RICS requirements, members must undertake at least 20 hours of CPD each year, including 10 hours of formal (or structured) learning. Joining the most internationally acclimatised professional body in surveying can be great for future career plans, if it is known how. RICS Sri Lanka strongly believes in attending formal networking events as the best form of making contacts and finding out more about the industry. RICS Sri Lanka is taking the lead in introducing and embedding standards of education, training and practice which are recognised throughout the world.

These high level standards sit across surveying profession, providing a common framework for all practitioners. Where procedures are recommended for specific professional tasks, these codes are intended to embody 'best practice'. In RICS, all members must demonstrate that they act with integrity, always provide a high standard of service, act in a way that promotes trust in the profession, treat others with respect and take responsibility. Joining RICS therefore offers a genuine competitive advantage.