From left: Exhibition Committee Member Archt. Minda Gamanayake, Exhibition Committee Member Archt. Manjula Kumarihami, Exhibition Committee Vice President, Chairman Archt. Russell Dandeniya, President Archt. D.H. Wijewardene, Hon. Secretary Archt. Rohana Bandara Herath, BAP Chairman, Media Committee Archt. Sagara Jayasinghe
Sri Lanka Institute of Architects celebrates its 60th anniversary in the year 2018 and to make a memorable landmark in history it will introduce a virtual exhibition online on the web immediately after the conclusion of Architect 2018 Exhibition. It will feature the panorama view of individual stalls, photos of products on display and the copies of promotional literature.

Everybody who misses the opportunity to visit the exhibition can leisurely visit the virtual exhibition by logging into the Sri Lanka Architects website.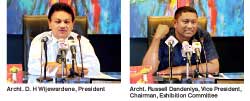 Every year around 200 companies who are suppliers of products related to the construction industry and allied service providers showcase their products and services at the exhibition which usually last for four days.

Architect 2018 will be inaugurated on 21 February 2018 followed up by National Congress on 22 February 2018. The inaugural opening of the exhibition will take place on 21 February evening and be open to the public for four days from 22 – 25 February 2018 from 10 a.m. to 10 p.m.

Architect exhibition, has evolved into the most desired platform for the public to access latest products, and services available in the construction industry.
The re-designed more user friendly layout for Architect 2018 will feature a more web base application to exclusive access for public with mobile apps, including walk through digital panels, physical architects models, public lectures by chartered architects, art competition for kids with valuable certificates, making it more attractive for the building trade in a very advanced manner.