From left: CCI Vice President Arct. Jayantha Perera, Secretary General and CEO Eng. Nissanka N. Wijeratne, President Dr. Surath Wickramasinghe, President Elect Eng. Maj. Ranjith Gunatilleke, Vice President Eng. D. D. Wijemanne and Vice President Mahanama Jayamanne
The Chamber of Construction Industry Sri Lanka (CCI) established in 2001 as the apex representative organisation of all the stakeholders of the local construction industry, having recognised the lacuna created due to the lack of a well-compiled dedicated trade directory for the construction sector, commenced publishing a Construction Industry Trade & Business Directory in 2006.

Now it is the fifth publication of this directory and the earlier publications were released in 2006, 2008, 2013 and 2015 respectively. It is also a technical reference document for industry professionals and will be invaluable for the potential investors and multilateral and bilateral donor agencies. As the umbrella organisation covering all the diverse business professional and sectors within the industry, CCI considers it incumbent upon itself to promote the expansion of services offered by its member institutions and other establishments.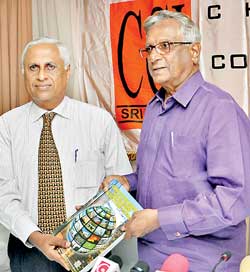 As a service to the construction industry, apart from this Trade Directory, CCI is publishing a Monthly Construction Bulletin along with the daily newspaper on the last Thursday of every month discussing the current issues in broad terms. By now this Bulletin, which is the only regular publication concerning construction sector, has received wide acceptance and many are treating it as a reference document. This news bulletin is also uploaded onto the website of CCI http://www.ccisrilanka.org where it will be kept for a duration of 24 months.

The fifth publication of the directory, intended to be used during the years 2017 and 2018, is more comprehensive than earlier issues and comes with many new features. This latest publication includes more than 300 business establishments engaged in the construction industry a considerable increase over the previous issue.

The directory will be uploaded on to the dedicated website of http://www.constructiondirectory.lk/ and the website of CCI, http://www.ccisrilanka.org, as a web directory with an advanced search facility. With this new feature, apart from being the only trade directory specially targeting the construction sector, it will also be the only web based directory in Sri Lanka.

Another novel feature introduced is the facility to replace the presentation of advertisements on a monthly basis in the Web Directory. The Web Directory is also open to new advertisers to insert their advertisements. This Web Directory will be available online until the release of next publication of the Trade Directory in January 2019. For easier location of the company offices, the Directory has included the QR codes of companies which have such codes.

For ease of use by mangers of construction work sites to locate reliable suppliers a mobile application is also introduced to enable the use of smart phones to browse the web directory.

The Directory will be issued free among all the contractors registered with Construction Industry Development Authority (CIDA) in grades CS1, CS2 and C1 – C6, Government ministries and institutions, commercial banks, foreign diplomatic missions in Sri Lanka, our diplomatic missions abroad and business chambers overseas.

This Directory will be of immense use to all the stakeholders of the construction industry including consultants, constructors, statutory agencies, materials manufactures and suppliers, home builders and other professionals.

Pix by Ruwan Walpola