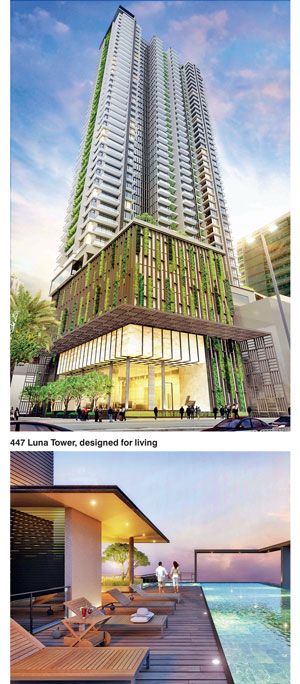 Belluna Co. Ltd, Japan, in a joint venture with Asia Capital PLC are set to transform the skyline of Colombo, with their exclusive apartment development project '447 Luna Tower', located in the heart of the city at Union Place.

Belluna Co. Ltd. Japan, a Tokyo Stock Exchange – First Section listed company, is a significant player in the global real estate industry with decades of experience. Belluna Co.'s existing projects span from Myanmar to the USA, including Hollywood and Los Angeles, and now, Sri Lanka. For Asia Capital PLC, a diversified Financial Service Conglomerate and the largest Investment Bank to be listed on the Colombo Stock Exchange, this project represents yet another milestone in its history of achievements both in investment banking and property development.

"In creating a world-class condominium, Belluna Co. and Asia Capital have forged partnerships with only the most reputed firms in the industry in both design and structural excellence," said Asia Capital PLC Director/Group CEO Stefan Abeyesinhe. He elaborates that to complement the different facets of the project, each with its own intricate requirements, a combination of both international and Sri Lankan firms have been commissioned.

Philip Weeraratne Associates (PWA) are the Principal Architects for '447 Luna Tower'. With extensive projects under its belt from upmarket hotels to minimalistic-designer homes, PWA's vision for 447 is that of vertical living in a visually compelling and functionally efficient manner.

Two global powerhouses have joined hands with PWA on 447 Luna Tower – Arup, a global leader in structural engineering who bring a certain depth of world class creative and technical expertise, by way of a complete structural review of the apartment complex. Ong & Ong of Singapore, that operate in 13 countries across three continents offer unrivalled expertise in cross-discipline, integrated design solutions. Collectively they will create exquisite living spaces that are both attractive and perfectly functional, ensuring a true contemporary urban oasis at Union Place.

447 Luna Tower, which is scheduled to be completed in the second quarter of 2020, offers investors a product that strikes an ideal balance between elegant design and a convenient location, positioned at a competitive price. Apartments are priced from Rs. 36 million upward with the option of 2, 3 and 4 bedroom units.

With construction already well underway, '447 Luna Tower', is the first of many projects undertaken through the Belluna Co. Ltd, Japan and Asia Capital PLC partnership. Other projects include a 48 villa ultra-luxurious resort in Galle for which the foundation stone was laid in October 2016 and a 300-room city hotel on Marine Drive in Colombo 3, for which the land has already been acquired. A further multi-development project in Colombo is in the planning stages, with land in the process of being sourced. Beyond the shores of Sri Lanka, Belluna Co. and Asia Capital are currently in partnership with the leading global hospitality company, Marriott International, Inc. and will open the 'The Westin Maldives Miriandhoo Resort', a 70-key luxury property focusing on wellness tourism in the near future. This collection of projects, both in Sri Lanka and overseas, spell out the long term vision of the collaboration between Belluna Co. Ltd, Japan and Asia Capital PLC.